The Takeaway
Why Some Are Defending the Dakota Access Pipeline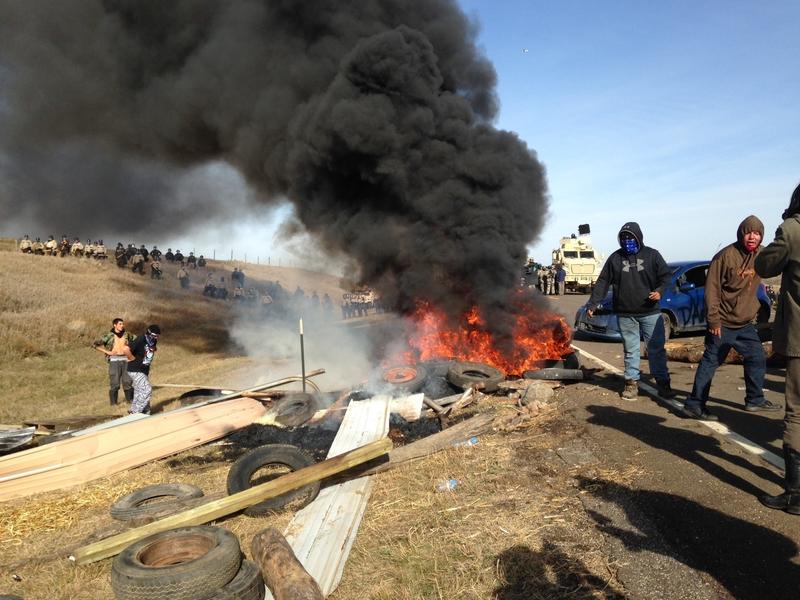 Click on the 'Listen' button above to hear this segment.
The latest developments at the Dakota Access Pipeline have furthered the the struggle between protesters and law enforcement at Standing Rock, which has become the bedrock for indigenous tribes protecting their ancestral land and environmental activists alike.
The pipeline plans to extend over four states - first it will travel through North and South Dakota, then through Iowa and finally end up in southern Illinois. If the pipeline is completed, it will cross over 1,172 miles and carry 400,000 barrels of crude a day. In late August, protesters led by the Standing Rock Sioux Tribe began blocking pipeline construction sites. The protests have grown larger, and the demonstrators have been joined by civil rights leader Jesse Jackson, actress Shailene Woodley, and actor Mark Ruffalo, among others.
"Unarmed water protectors suffered mace, tear gas grenades, rubber bullets, bean bag shots, deafening sirens, police batons and the utter psychological distress of being surrounded by hundreds of police in riot gear that day," says Sarah Manning, a columnist and contributing writer at Indian Country Today Media Network. "Horseman and their horses were also shot at, and one horse was put down after being shot at and being traumatized by the event."
Related: Native Tribes Fight for Equality Ahead of 2016 Election
She continues: "A Dakota Access security worker posing as a water protector also stormed into water protectors driving at a high speed that day, also armed with an assault rifle. He was soon apprehended by Bureau of Indian Affairs police. There have been other instances caught on camera from that same day, showing unidentified agitators pushing water protectors into the police lines in attempts to escalate violence. It appears as though that Dakota Access is paying infiltrators and agitators to create dangerous scenarios in order to discredit a peaceful demonstration. Also in past instances, Dakota Access security workers showed up with guard dogs and those guard dogs attacked water protectors, biting numerous individuals."
Last Thursday was filled with particularly intense violence, Manning says, when more than 100 protesters were arrested at a resistance camp in the path of the pipeline. More than 300 police across numerous states were brought into remove those protesters.  
Here to talk more about this is Craig Stevens, spokesperson for the Midwest Alliance for Infrastructure Now, a coalition that supports the construction and operation of the Dakota Access Pipeline. Click on the 'Listen' button above to hear the full conversation.