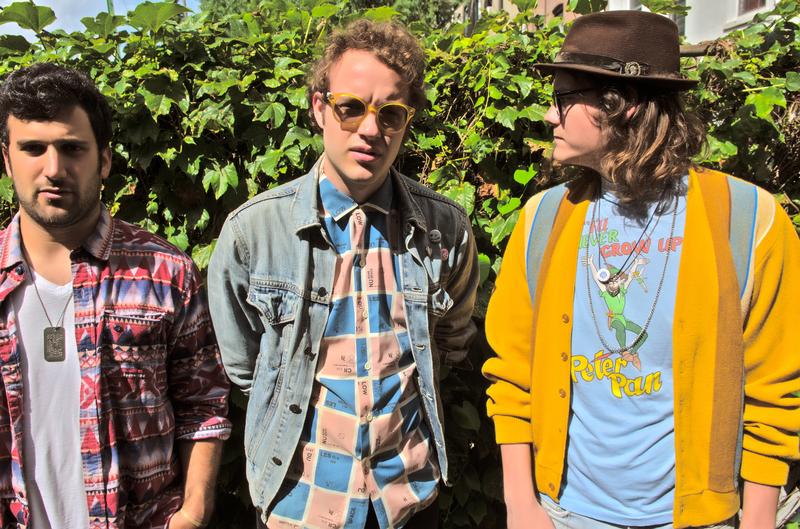 Until recently, New York-based garage bands had become somewhat of an improbability after The Strokes "saved" -- and subsequently oversaturated -- the music world in the early 2000's. Enter Raccoon Fighter, a young Brooklyn band with more than enough garage rock swagger to appease the leather jacket and Chuck Taylor-clad Lower East Side crowd. On ZIL (out Oct. 1), the band is louder and rawer than one might assume from a simple three-piece.
It's not clear why Raccoon Fighter is battling its pesky namesake but one thing is clear: ZIL would be the perfect soundtrack for any fight. And while it's the first proper full-length from the young band, the record sounds like it was made by musicians who've seen the underbelly of anything that has an underbelly.
ZIL's eight tracks are full of the raw bravado of Marc Bolan, The Modern Lovers, or '70s-era Rolling Stones. But with songs like "Street Urchins" and  "Down And Out In A Diamond City," Racoon Fighter offers a chaser of sleek melodies.
Still, even the scrappy trio needs a break sometimes, and "Pyramid Scheme to Heaven" shows a grungier, more stripped-down side. With singer Sean Gavigan's distant and droning voice just above the drums slow, barely there beat, Raccoon Fighter's music feels like a fighter who's just been knocked down. But with ZIL, Raccoon Fighter makes it clear they're ready to go a few more rounds.
We reached out to Sean Gavigan, via e-mail to find out more about the record, and the inspiration behind the band's name.
Alex Martinez: Raccoon Fighter and ZIL are both names that are pretty out there. What are they in reference to?
Sean Gavigan: We came up with the band name for a not so serious (at the time) recording project. We met this guy at one of our shows while we were playing under an alias and he told us he was having problems with a raccoon that was tearing up his mom's garden. He shot and killed that raccoon, and we named our band after him. Not sure who was the fighter in that story, but my heart goes out to the raccoon.
ZIL was originally inspired by these Turkish finger cymbals we used on the record. After meeting our Kickstarter goal we figured it was all or nothing. Zillion or zilch, or, ZIL for short. We're also huge fans of the letter Z.
AM: The sound on the album is a throwback to classic gritty garage rock. But the Brooklyn scene seems to be much sleeker nowadays. Where do you draw your influence from?
SG: Yeah, the majority of music coming out of Brooklyn these days is pretty sleek. I guess we're more attracted to the hard edge New York City that's lurking about somewhere out there. On this record I'd say we were more influenced by the CBGB's era New York. We love The Cramps and Television, The Ramones, and just straight up good punk rock and roll. Hoping to stay true to that formula, but put our own twist on it.
It's a shame there aren't more gritty rock bands in New York. Locally I'd say our biggest influence is The So So Glos; those dudes are rad. Maybe for the next record I'll buy a massive reverb unit, hire a guy to play floor tom and synthesizers, and we'll get some fat beat backing tracks to play to. Maybe we'd get invited to more parties.
Raccoon Fighter plays an album release show on October 4th at Cakeshop.
Audio is no longer available for this feature.