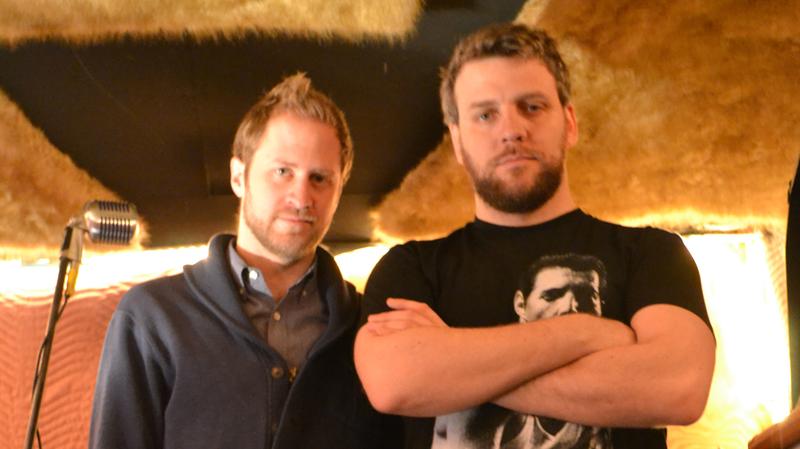 The first thing you'll hear in NØMADS' songs is the distortion. Slapped on thick like a coating of lead paint that envelopes everything in the room, this is heavy music built for getting lost in, and exorcising aggression. But listen more closely, beyond the scorched earth noise, the cathartic, growling vocals, and the drums' mighty wallop, and you'll hear a dynamic interplay at work. 
Based in Brooklyn, NØMADS is a lean-and-mean bass and drums duo -- the latest project from Nathan Lithgow and Garth Macaleavey. Both members have performed together in the band Inlets, but have also been banging around separately: Lithgow has played bass for My Brightest Diamond; Macaleavey has served as sound engineer for the Philip Glass Ensemble, as well as at esteemed New York venues like Joe's Pub and (le) Poisson Rouge. But with NØMADS, these longtime friends and collaborators have put together something raw and perhaps liberating.
Produced, recorded and mixed entirely by Lithgow and Macaleavey, NØMAD's debut full-length album, Free My Animal, is the by product of months of rigorous woodshedding, and what they have described as a "happy accident." The band self-tracked its meticulously rehearsed songs during a rehearsal session in a Bushwick practice space equipped with ProTools. Playing through each song in real time, the duo unleashed something in between punk, metal and prog rock, ultimately making the backbone that would later become this new record. And as you might expect, these songs -- from the smoldering opener "In The Mend" and '90s alt rock-leaning "Blood In The Water" to the lively title track -- capture the sound of a live band, in sync on a primal level, executed with precision.