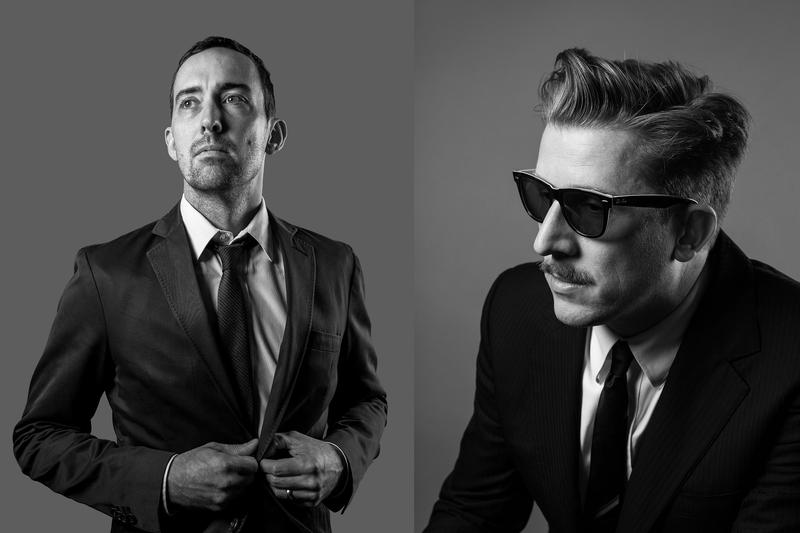 The self-titled record from Mikael Jorgensen and Greg O'Keeffe is an electronic album, but don't expect an EDM or dancefloor rager. It's a transcendent and ambitious electronic album that manages to sound like the past, present, and future all at once. But it's also one that doesn't immediately shake any memory of that other band Jorgensen has worked with, Wilco.
Jorgensen has played keyboards and been in charge of sound sampling manipulation with Wilco since 2002, and there are certainly moments on Mikael Jorgensen & Greg O'Keeffe (out Oct. 15) where the music sounds like an extension of tracks from Wilco's 2011 release, The Whole Love, especially the track "Angry Americans." But that's not to say that Jorgensen and O'Keeffe's work doesn't stand alone; it's definitely sonically different from anything out of Wilco's repertoire.
Jorgensen and O'Keeffe have been collaborating together for some time, namely in the band Pronto. But what makes this collection of music so much different from Jorgensen's previous work is the lack of guitars, a drastic change, and conscious decision.
Mikael Jorgensen & Greg O'Keeffe is a conglomerate of multi-layered synth soundscapes, and contrasting minimal beats -- both which can be found on opener "ARMZ."  Throughout, the music bounces between feeling right at home as the soundtrack to an '80s sci-fi flick to the more recent minimal glitch pop of bands like The Postal Service. The latter happens especially whenever Jorgensen actually sings in his gentle monotone, or when he distorts his voice enough to sound like an alien creature, as on "Where To Begin."
We reached out to Mikael Jorgensen, via email to find more about the record, and why he choose to ditch guitars for synths.
Alex Martinez: This is a record very heavy on electronics and not many vocals. But when there are vocals, the lyrics and voices sound very intentional. Listening to "Where To Begin" gives me the impression that I'm listening to an alien life form's lament. Would you say that's an accurate assumption? 
Mikael Jorgensen: That's great! It's so fascinating to hear other interpretations of this music that I've grown so perspectivelessly [sic] close to.
AM:Where did the inspiration for this song come from?
MJ: This song began its life cycle as a finger-picked folk song about a very different time and place in my life. It was always fun to play and there are several variations, ranging from sombre solo acoustic guitar to a full sludged-out rock band version. Ultimately, I scrapped the original lyrics and the guitar parts and found this synthetic vocal effect that creeped me out and put it against this lush choral background. It was far more interesting and oblique to give it this treatment and thus it embodied the spirit of what I've been working towards, process-wise. That felt more appropriate to put on this record than what the song was in its early stages.
The lyrics and singing on this record are the result of trying to evaluate each song sonically and then decide if they needed some human element to make them more, or possibly less, relatable. Since most of the songs began as elemental and traditional as I could make them, naturally there were lyrics and melodies and when it seemed appropriate, they were included.
AM: When you first started recording this album, you decided to replace every sound on it -- except the drums  -- with a synthesizer. What caused you to do that?
MJ: Greg and I had been working together on a new batch of songs after the release of our last record together under then name Pronto called All Is Golden. We brought bassist Adam Chilenski into The Bunker Studio in Brooklyn with us to record these new songs and it was fantastic. Engineers John Davis & Aaron Nevezie captured some really beautiful sounds and Greg and Adam played beautifully and I was really happy and proud of the songs and recordings.
I took these basic tracks back to my studio and began editing and fleshing them out using traditional rock instruments and after a week or so of working on them, I sat back and listened to what they had become. There was no doubt that these recordings were releasable and well done, but I became so bored with how kind of regular they sounded. So I did an experiment.
I took one song and took all the instruments away except for the drums and rebuilt the song using anything but guitars, pianos, etc. That song turned out to be "ARMZ." After toiling away on it for some time, I made this exhilarating and exhausting realization that this was the direction to go and each song would have to be rebuilt using any electronic synthesizer, plug-in or gizmo I could find. So now that I had this new course plotted, it was time to get to work.
AM: What were some of the challenges on working on the record after making that decision?
MJ: What proved to be the most difficult was not only figuring out what the parts should be, but what sound should they be. With the synthesizer, the sound making options and variations are so limitless that there was a lot of time spent spinning my wheels and tediously changing settings. At times it felt hopeless, but just as I was about to go home for the night, one little change would alter the balance of everything else in the song for the better and the cycle would continue.
After all the songs were more or less finished, or felt finished, I brought them to Allen Farmelo at The Snow Farm to mix them. It was a joy to simply drop these files off after two-plus years of working on them and say, "Make these sound better than my rough reference mixes."
He did just that, song after song: We re-tracked the drums on "BizDev" and added an upright piano part and then we re-recorded the vocals to "Angry Americans." Greg and I are grateful to Allen for seeing this project through to the end, not just with mixing, but also releasing this record on his label Butterscotch Records.
See Jorgensen perform in New York on October 19th as part of the Odd Harmonics art and performance series. Details here.