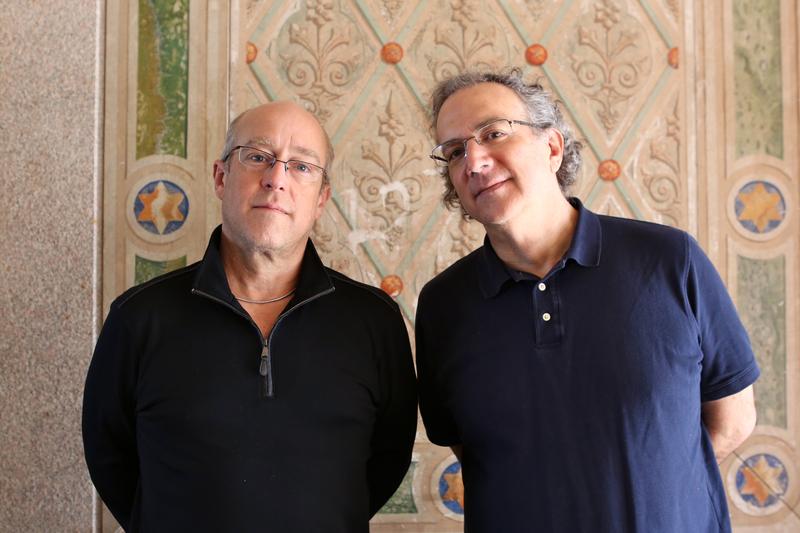 Trumpeter Dave Douglas and pianist Uri Caine are as gifted as they are restless. Both are usually termed jazz musicians, but they've played everything from Franz Schubert to klezmer to electronic music. And they have worked in numerous bands together for many years. 
But Present Joys still manages to be surprising, for a number of reasons. First, it's a rare opportunity for the two to work in a simple, duo format. And second, the music here is inspired by American shape-note hymns.
This form of music grew up in the 19th century, and revolves around a large but variable set of tunes and texts which were meant to be sung by untrained voices – hence the different shapes of the notes (circles, triangles, squares), which made it easy for singers to figure out what notes to sing. Shape-note hymns have a wide-open, rough-hewn quality that is somehow distinctly America. And Douglas and Caine have transferred four of those songs to the trumpet and piano format, and then created original pieces that comment upon and extend this old tradition.
Dave Douglas has dipped into this music before, on his quintet album, Be Still, which featured vocals by Aoife O'Donovan (of Crooked Still). Yet Present Joys (out July 22) dispenses with the biblical texts and focuses on the tunes and the harmonies. The results are intimate, beautiful, and again, surprisingly varied. We like "Soar Away," "Supplication," and "Confidence," but you may have your own faves.