Chaz Ebert on Life Without Roger
Wednesday, August 27, 2014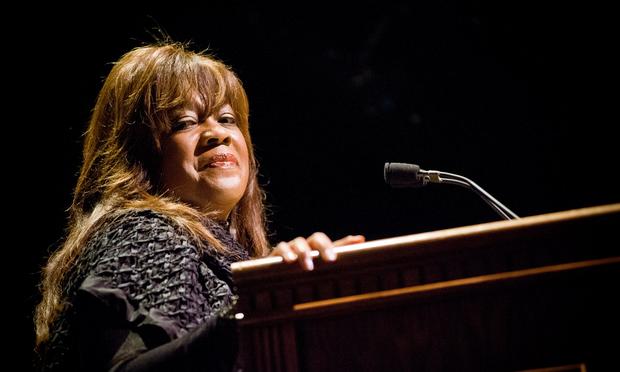 (Timothy Hiatt/Getty)
Don't call Chaz Ebert a widow. She's Roger's wife. Since his death in April of 2013, she says she still feels his presence. She knows it sounds a little crazy, but she says they still communicate in their own way.
There was always magic in their relationship. She admits that their partnership was unlikely. He was a white, Catholic film critic and television star who'd been a life-long bachelor. She was a black lawyer and mother with a proud history as a civil rights activist. They first met after an AA meeting, and their connection was instant. Whatever hang-ups about personal history or race she may have had, she knew she loved Roger Ebert.
When they married in 1992, she left her law practice to manage his business dealings. After he was diagnosed with cancer in 2002, she also became a full-time caretaker, buoying him through years of treatments, setbacks, and recovery. His lower jaw was removed in 2006, and Roger eventually lost the ability to eat solid food, and to speak. He continued writing and reviewing movies, and when he asked her, Chaz spoke for him. 
Now, she's touring the country talking about Roger and the documentary about him, Life Itself. She spoke to me about mourning her husband in public, and the presence he still has in her life today. 
INTERVIEW HIGHLIGHTS
What happened when Roger lost his ability to speak:
Almost nothing, because Roger and I developed almost a mental telepathy. We were so in tune with each other that we actually could speak to each other without words or without even being in the same room . . . And I know that happens—sometimes when he was in the hospital, I would wake up in the middle of the night, and I would call the hospital and I would say, oh my God, he is so cold. Would you please go in and put the warming blanket on him? And the nurse would come back and go, how do you know? Did he call you? And they would say, he couldn't call you. He can't speak. And I said, I don't know, but he just told me it was cold.
How she still feels Roger in her life:
He still talks to me. Yeah, he does....It's very comforting, because he lets me know that he's okay. He's more than okay. He is blissful. It is so reassuring, It just makes me smile to know that he is this...I don't know what he is. I don't know what form we're in. But I know that it's something that's comforting. And it feels so natural and so normal, and I know that there are a lot of things that we shut down talking about in our society, things that we can't prove. But now I firmly, firmly believe in an afterlife.
How sobriety helped their relationship from the beginning:
I tell you, I think it was a gift, because when you are someone who is sober and you're very grateful for being sober, you realize, that's a process that increases your compassion for other people. It really helps you to minimize the small talk, and you're more willing to talk more openly and honestly with someone about the things that are important in life. And so, when Roger and I first met, I think we fell right into a conversation that turned out to be our lifelong conversation with each other.
You can read a full transcript of our interview, and see the documentary Life Itself in select theaters or on demand. Here's a preview:
Music Playlist

When You're Away

Artist:

Kenneth J Brahmstedt, BMI

Label:

BWN Music

"Through the Night"

Composer:

Kenneth J Brahmstedt, BMI

Artist:

Kenneth J Brahmstedt, BMI

Label:

BWN Music

"Quiet Horizon"

Composer:

Daniel Jensen, BMI

Artist:

Daniel Jensen, BMI