Chasing a Golden Generation of New York City Runners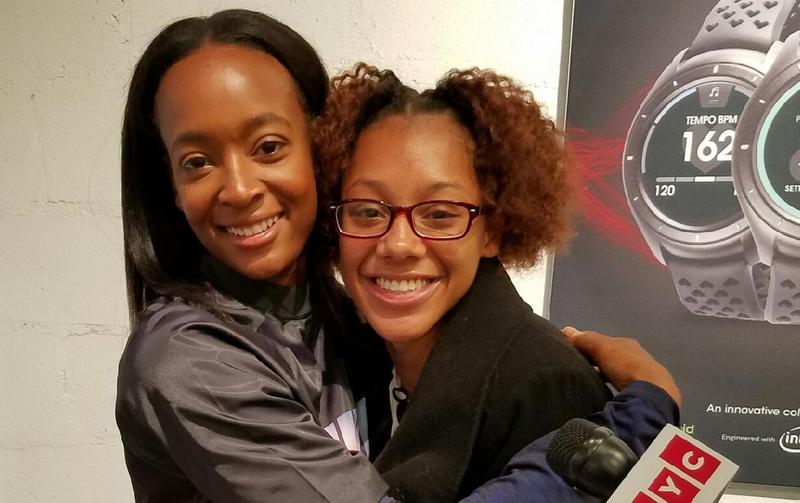 New York City track and field is in the midst of a golden age. Literally: three former city high school runners won gold medals at the Rio Olympics last summer, while another made the finals in her event. All of them were women.
Two of those runners will be back in New York this weekend to compete in The Millrose Games, the best-known indoor track meet in the country. (At 110 years, it's also the oldest.) High school runners say they love the event because it lets them step on the same track as some of the most celebrated athletes in their sport — sometimes moments after their idols have bombed down the homestretch and leaned at the tape.
Bryann Sandy, a senior at Paul Robeson High School in Harlem, will be anchoring a relay team on Saturday. Her hero is Dalilah Muhammad, a graduate of Benjamin Cardozo High School in Bayside Queens and the reigning Olympic champion at the 400 meter hurdles. "I love her," Sandy said. "I watch her run and I feel like one day I will blossom like she has blossomed, because everyone comes from somewhere and she comes from here."
Sandy will be competing against Amber Ayala of DeWitt Clinton High School in the Bronx. Amber's favorite runner is Natasha Hastings, an alum of A. Philip Randolph Campus High School in Harlem. Hastings won gold at Rio as part of the American 4 x 400 meter relay team. She ran the second leg of the race and handed off the baton to Phyllis Francis, formerly of Catherine McAuley High School in East Flatbush. (Alyson Felix brought the victory home on the anchor leg.) That's two out of four former city kids on the same winning relay team.
"She's like an inspiration to me," Ayala said of Hastings, whose race times she Googles and whose poster she has hung on the wall of her bedroom. "It's the way she runs the 400 meters: the strides, how she stays so calm. God, I want to run like that."
Muhammad, Hastings and Francis may have won gold at Rio, but Dejeah Stevens did something almost as impressive: she made it to the finals of the 200 meters at the age of 21, less than four years after graduating from Cardozo High School in Bayside.
"That's amazing," said Dwayne Burnett, track and field commissioner for the Public School Athletic League. "And New York's young women runners are taking notice of all that success." Burnett said that in recent years more girls than boys have been gravitating to running: of the league's 5,275 athletes running track, more than 3,000 of them are girls. 
Given the recent crop of superstars that have sprung from city schools, those runners have a lot to live up to.
They'll take their crack at The Millrose Games on Saturday.
(That's Dalilah Muhammad hugging Bryann Sandy in the photo above. Play the story to hear what it sounded like when they met.)