SchoolBook
Charter Schools Push for Continued Growth Under New Mayor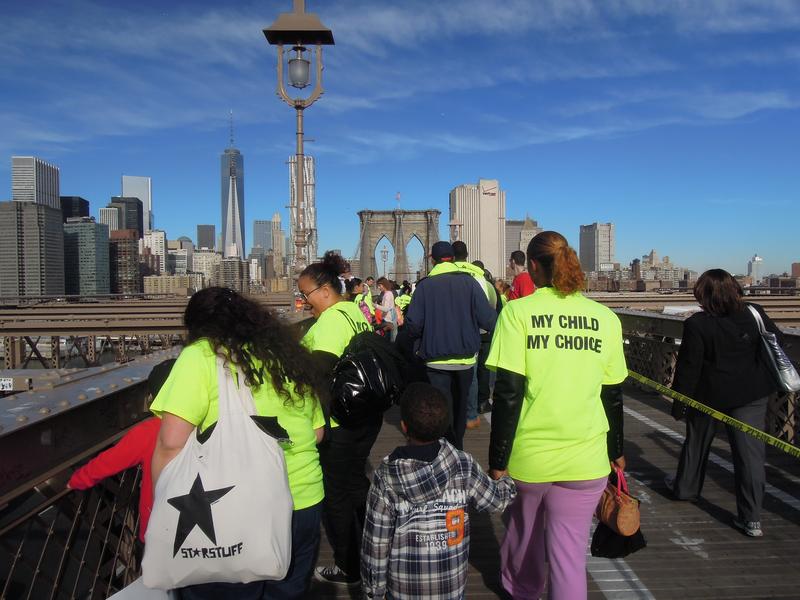 With a friend like Mayor Michael Bloomberg, the charter sector has greatly expanded over the last decade, from 17 charter schools when Bloomberg took office to 183 now. But future growth under a new mayor is uncertain — especially if that new mayor is Bill de Blasio.
De Blasio, the Democratic candidate, could slow charter expansion by limiting access to free space in public school buildings. It's a plan which would significantly hamper charter schools' expansion plans, both for opening new schools and meeting the needs of existing schools that are adding new grades each year.
Department of Education attendance data and school progress reports showed an enrollment increase in charter schools of nearly 25 percent each year since 2009, bringing the total number of students enrolled to about 70,000 this year. Charter school advocates and operators also point to a waiting list with more than 50,000 students.
"I think it would be great if we could continue a rate of growth such that all the parents who wanted to attend charter schools had that opportunity," said Jacob Mnookin, executive director of Coney Island Prep charter schools, a small charter operator with two schools. He spoke near City Hall after large pro-charter school march and rally on Tuesday morning.
Dave Levin, co-founder of KIPP, a charter network with 10 schools in New York City, repeated the message from the march that "charter schools are public schools" and should be available to more families.
"We should really be able to continue to grow at the rate that we can attract to the public schools," said Levin. "I mean, we have a long way to go before we would meet the existing demand."
(Hector Betanzo and his son, Victor, participated in the pro-charter march Tuesday.)
Thousands of advocates, parents and students marched across the Brooklyn Bridge Tuesday in an effort to get this message across to public officials and the leading candidates running for mayor.
"I live in a neighborhood with a failing elementary school, and I think it should be my choice," said Keysha Gordon as she walked across the bridge with her daughter, a kindergarten student at a newly-opened Success Academy charter in Hell's Kitchen.
"I pay my taxes," Gordon said. "I should be able to send my child to a school that's doing better."
Sabrina Peñaherrera, whose son attends a Success Academy school in Crown Heights, said she believes that charter schools can help improve the school system as a whole.
"We gotta better things, you know? So charter schools are another option," she said.
Joe Lhota, the Republican candidate for mayor, has said he would like to double the number of charter schools, and he took his message to parents Tuesday after the march.
"We cannot put up roadblocks the way some candidates want to put up roadblocks to stop charter schools," Lhota said.
"Some candidates," in Lhota's scenario, is Bill de Blasio, who did not explicitly mention his proposal to charge some charters rent at a press conference Tuesday. He said that he would work within the current cap on charter schools, and would scrutinize charters that did not appear to accept a representative number of English language learners or children in special education programs.
"We're going to be critical and careful, but good charters are by and large — they're going to be fine and I don't think it's appropriate for adults to give children any other impression than that."
Critics of the charter school movement said the charter school system created a "separate and unequal" educational system in the city. They directed most of their venom at the head of the Success network of charter schools, Eva Moskowitz. 
"Closing schools and forcing students, parents and staff to attend a partisan political event is totally inappropriate," said teachers union president Michael Mulgrew in a statement. He referred to Success Academy's late start to the school day to accommodate the rally, and a message to parents imploring them to attend.
"Eva Moskowitz is supposed to educate students, not pull them from school for a thinly-disguised campaign rally," Mulgrew said.
The group New Yorkers for Great Public Schools also took aim at Moskowitz, along with Lhota.
"Eva Moskowitz and Joe Lhota tried unsuccessfully to divide parents and students today, while Bill de Blasio continues to unite the city around the urgency of addressing long-ignored inequities in our public schools," said Zakiyah Ansari, a spokeswoman for the group in a statement. "We thank Bill de Blasio for remaining true to his progressive vision of a fair and equitable public school system that works for all students, and no longer gives special treatment and advantages to charter schools."