SchoolBook
Charter Leader Moskowitz Says She's Not Interested in Working for Trump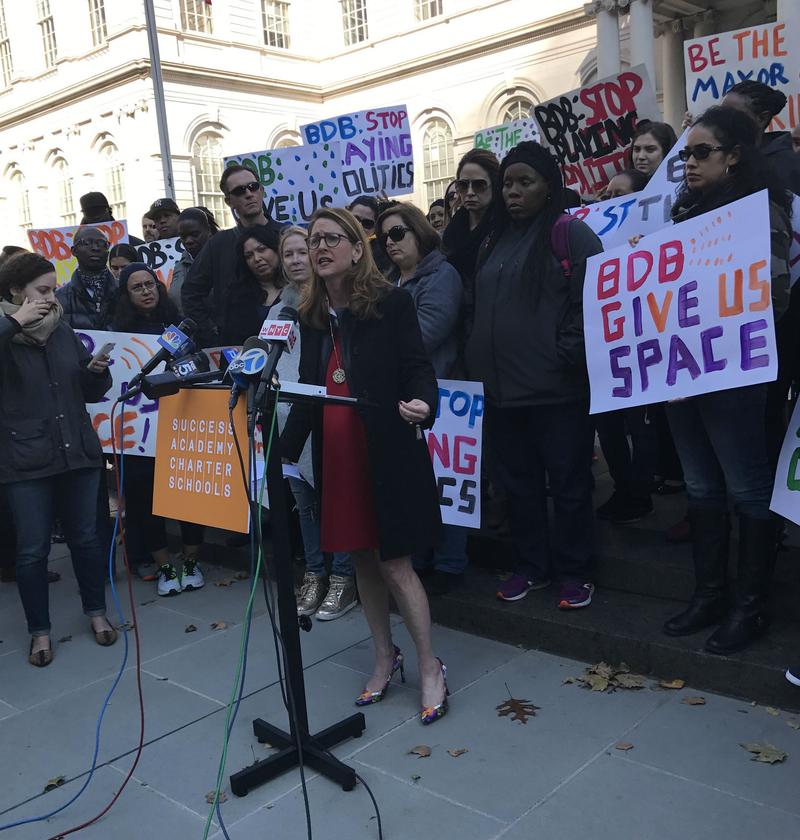 A day after meeting with President-elect Donald Trump at his midtown skyscraper, Eva Moskowitz said she planned to stay put in New York to focus on her Success Academy network of charter schools.
Moskowitz would not divulge whether she was asked to serve as U.S. Education Secretary but rumors to that effect had been swirling for days. 
"I will not be entertaining any prospective opportunities," she said on Thursday, reading from a statement outside City Hall. "I believe I can best serve our country's children by continuing to expand Success Academies, developing the best educational practices that can be used around the country and by working as a private citizen to advance educational reform at the national level, just as I have done in New York."
Besides, she added to the laughter of some Success parents, "if I left and went to D.C., who would keep their eyes on Mayor de Blasio?"
Moskowitz, a longtime Democrat and former City Council member, said she had voted for Hillary Clinton and was "disappointed" by the election result. She said she would not discuss her private conversation with Trump. Nor would she answer reporters' questions about whether she was concerned about possible deportations of immigrant students - a worry expressed by many educators in New York and around the country.
Instead, she focused on how she agreed with Trump on his promise to expand charter schools.
"He believes that school choice can provide an opportunity for all Americans. And I agree with Mister President-elect Trump and I stand ready to support his efforts in any way I can."
Moskowitz also said she was "troubled by what I see as sort of rooting for Trump's failure, because that is rooting for our own failure."
She stated that presidents can change, noting Lyndon Johnson passed a sweeping package of civil rights legislation even though he opposed such reforms when he was a congressman. "There are many positive signs that President Trump will be different than the candidate Trump," she added, referring to his meeting with de Blasio as a signal he may be listening to "new voices." 
She also reiterated that she is not running for mayor next year.
The stated purpose of the Moskowitz news conference was to pressure City Hall to provide her charter school students more space in public school buildings. She claimed there are 49,000 empty seats in the same Brooklyn district as five of her elementary schools that will soon add middle grades.
But Department of Education spokeswoman Devora Kaye denied that claim.
"These political accusations fall flat as we've repeatedly told Success this process is underway," she said, referring to legislation that requires the city to pay for private space when it can't find room for charters in public buildings. "We'll continue to maximize the equitable use of public space and funding to ensure all children in New York City receive a high quality education."