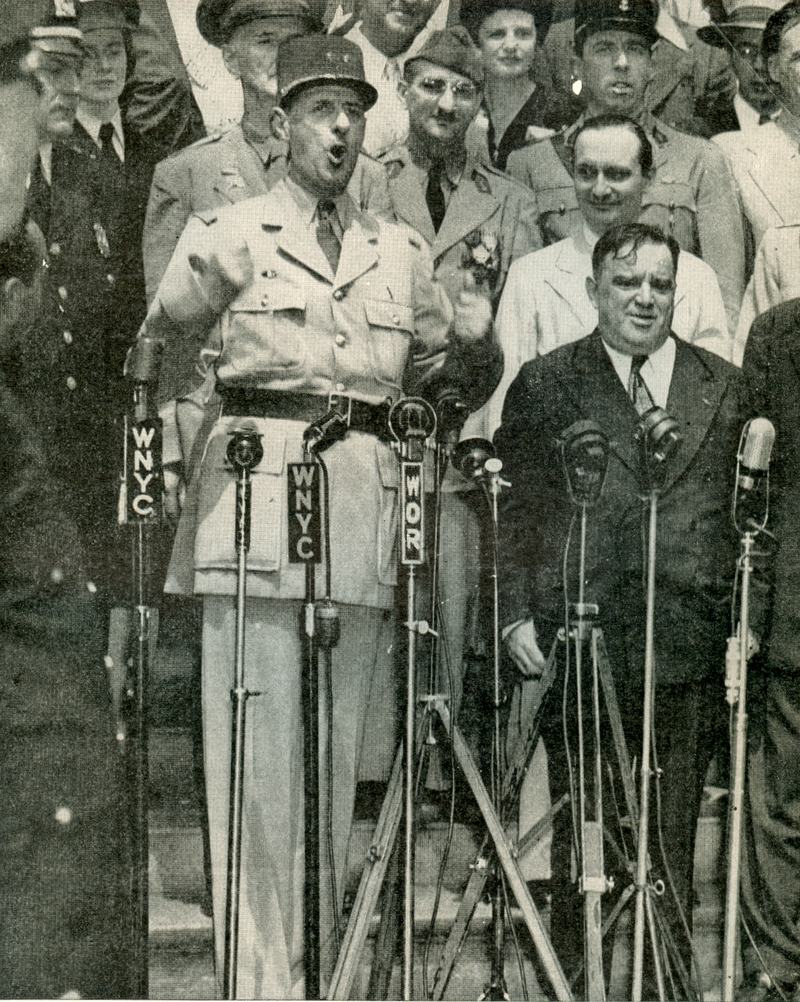 This episode is from the WNYC archives. It may contain language which is no longer politically or socially appropriate.
Joe Fishler reports on Charles de Gualle's arrival at City Hall Plaza. He describes General de Gaulle's route to City Hall, from the newly built Idlewild Airport through Queens, Brooklyn and Manhattan. (According to the New York Times this was a 62 mile journey.)

Exercises begin with the playing of Four Ruffles and Flourishes. Marcelle Denya, soprano of the Paris Opera, sings "La Marseillaise," the national anthem of France, accompanied by the Department of Sanitation Band. Helen Jepson, soprano of the Metropolitan Opera sings "The Star Spangled Banner," accompanied by the Fire Department Band.

Mayor La Guardia welcomes General de Gaulle to the city and extends the admiration of the city of New York, and their love and good wishes to the people of France. He speaks of the long road to recovery ahead for the people of France.

General de Gaulle responds. In his speech he declares, "Long live the United States of America!" Fishler interrupts, apparently thinking de Gaulle's speech over, however de Gaulle surpried LaGuadia and the audience by presenting La Guardia with the Grand Croix of the Legion of Honor and the Officer of Legion of Honor to Newbold Morris.
Audio courtesy of the NYC Municipal Archives WNYC Collection
WNYC archives id: 70003
Municipal archives id: LT18