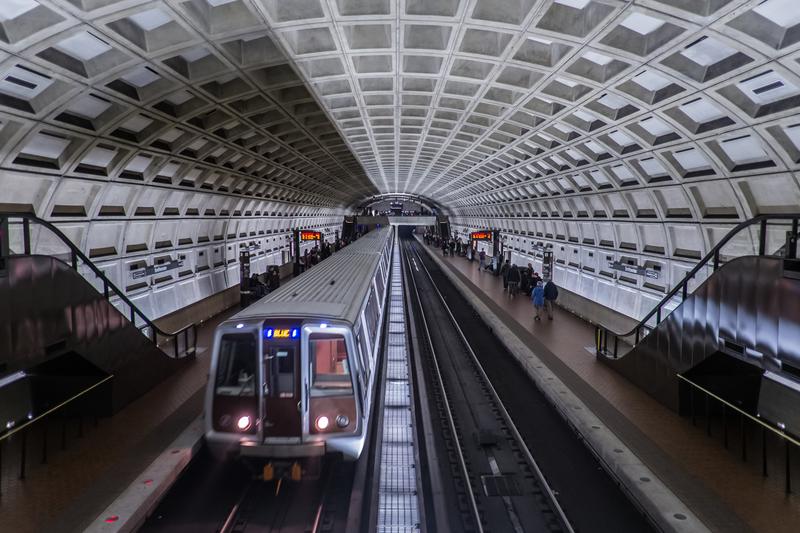 Some Metro rail commuters began their work week on a grumpy note, and it had nothing to do with the mere fact that it was Monday morning.
Reductions in Blue Line service to one train every 12 minutes went into effect, lengthening the commute for some workers heading into D.C. from Virginia at rail stations from Pentagon south to Franconia-Springfield. The new rail schedule is necessary to accommodate the opening of the Silver Line this Saturday, July 26.
Because of the bottleneck at the Rosslyn tunnel, which will now handle Blue, Orange, and Silver Line trains, two Blue Line trains per hour were switched to the Yellow Line.
While riders grumbled about enduring longer wait times for the Blue Line or having to hop a Yellow Line train instead to L'Enfant Plaza to transfer to the crowded Orange Line to complete their trip into downtown Washington, Metro downplayed the inconvenience, saying only five percent of all Metro rail riders are being negatively affected.
"During rush hour you are still waiting at L'Enfant… you never know, really. It really doesn't make that much of a difference," said frustrated commuter Lakesh Nigam as he waited on the platform at the Crystal City station. He said he did not believe the Yellow Line would help him get to work faster, and when his lease is up in June he plans on moving away from the Blue Line.
Metro disagrees. For instance, a trip from Pentagon to McPherson Square takes 11 minutes on a Blue Line train with no wait time on the platform. Taking the Yellow Line to L'Enfant Plaza and switching to the Blue, Orange, or Silver Lines takes just three minutes longer. So if the next Blue Line train is more than three minutes away, taking the Yellow Line would be faster under normal operating conditions.
At least that is how Metro is explaining commuters' options in its official literature. But whether commuters who are creatures of habit make the effort to compute the time savings remains to be seen.
"Taking the Yellow Line takes just as long as waiting for a Blue Line train," said commuter Marie Murphy at Crystal City station. "In theory I understand why they have to make the changes, but in practice it seems like they could have made it a little better."
Metro says Blue Line trains ran every 8.5 minutes during rush hour before the Silver Line-related changes were instituted. So the average additional wait time will be about four minutes, which can be avoided by using the Yellow Line instead, depending on your departure and destination points. Blue Line riders from Virginia who must go to Rosslyn or Foggy Bottom, to name two stations west of downtown, are stuck with longer waits.
"Everybody is probably a little dissatisfied...and this just adds to it for anybody riding the Blue Line," said Karen Brigham as she rode into Washington Monday morning.
"It's kind of ridiculous but I guess they have no other choice given the lack of capacity in the Rosslyn tunnel," said commuter Matt Hourihan.
Metro says the Rosslyn tunnel can handle a maximum of 26 trains per hour.
"Any more frequent than that and there would be congestion delays, i.e. trains holding in tunnels with nowhere to move until the parade advances. That is more frequent than headways on the NYC subway," said Metro spokesman Dan Stessel.
The transit authority said most of the changes coming with the arrival of the Silver Line will be positive.
About 37 percent of existing Metrorail riders, accounting for 260,000 Metrorail trips, will benefit from shorter wait times, Metro said in a statement.
"These include rush-hour riders traveling to or from stations north of L'Enfant Plaza on the Green/Yellow lines, those traveling to or from stations east of Stadium-Armory on the Blue Line, and those along the Orange Line in Arlington County."
Ninety percent of all riders will have either a shorter or the same wait times once the Silver Line starts running, according to Metro.