SchoolBook
Chancellor To Principals: Experience Matters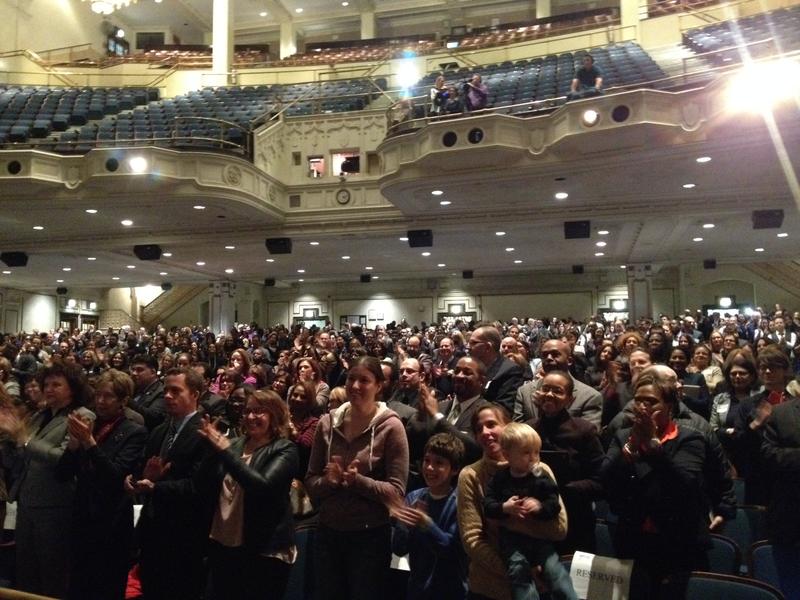 Schools Chancellor Carmen Fariña told hundreds of city principals that going forward, anyone who wants to be a principal will need at least seven years' experience.
"Being a principal's not easy and I think being a principal also deserves a certain amount of a pre-requisite," she said, while adding that she didn't mean disrespect to any individuals.
The announcement marks a departure from the policy during Mayor Michael Bloomberg's administration, when he encouraged outsiders to enter the field. There was a time when Bloomberg's Leadership Academy accepted applicants with just three years of teaching experience. The academy's web site has been changed to say they now need seven years.
Fariña's announcement got a thunderous applause by the school leaders who attended the Wednesday evening meeting at Brooklyn Technical High School's auditorium. 
Ben Sherman, principal of East-West School of International Studies in Queens, agreed that experience matters. "There are many paths to leadership but I think the more experience someone has as a teacher for different years, different children, different classrooms the better."
The new chancellor, who was a longtime teacher and principal, told the audience she also wants to reduce the paperwork "that's driving you crazy." In deference to principals, she said no policy decisions will be made without first going through advisory councils for elementary, middle and high schools, which will initially consist of principals.
Fariña was joined by her two top deputies, Dorita Gibson and Phil Weinberg, whose appointments were also announced on Wednesday. Weinberg, a former principal of the High School of Telecommunication Arts and Technology in Brooklyn, also got huge cheers when he announced that principals' email inboxes will now get bigger. School leaders have complained for years about how the Department of Education's system can't handle the amount of email their jobs require.
Mayor Bill de Blasio joined the chancellor later in the evening, along with his wife, Chirlane McCray. Their son, Dante, attends Brooklyn Tech. The mayor spoke about the respect he has for principals and how he wanted a chancellor who had walked in their shoes. He also emphasized that he is not trying to bring in outsiders or corporate models to "a public sector endeavor."
De Blasio also talked up his plan to provide universal pre-kindergarten by taxing New Yorkers who earn more than $500,000 annually. The plan still faces resistance from Governor Andrew Cuomo, who opposes raising taxes, and State Senator Dean Skelos, a Republican co-leader in the chamber.
The Department of Education is already planning in case it does get the funds for the coming fall. City principals have been urged to complete an online survey asking whether they would be interested in applying for the ability to have new full-day pre-k seats or in converting existing half-day classes to full-day classes. Many elementary principals at Wednesday's meeting said they would welcome the chance to offer more full-day seats.
Jacqueline Danvers Coombs, principal of the Fresh Creek School in East New York, said she currently has one pre-k class of 18 students. But she has a waiting list each year of 26-30 students. "Parents are always coming in," she said, adding that she has extra space. 
Patricia Balbuena, principal of P.S. 133 in Harlem, said she also has a waiting list of about 10 students each year for her one pre-k class. Both school leaders said students who start kindergarten after attending pre-k classes always have an advantage in being ready to read and sound out letters.
"The way they socialize, you can definitely see a difference," said Balbuena, adding that with the new Common Core standards, young students need to be ready for school right away.