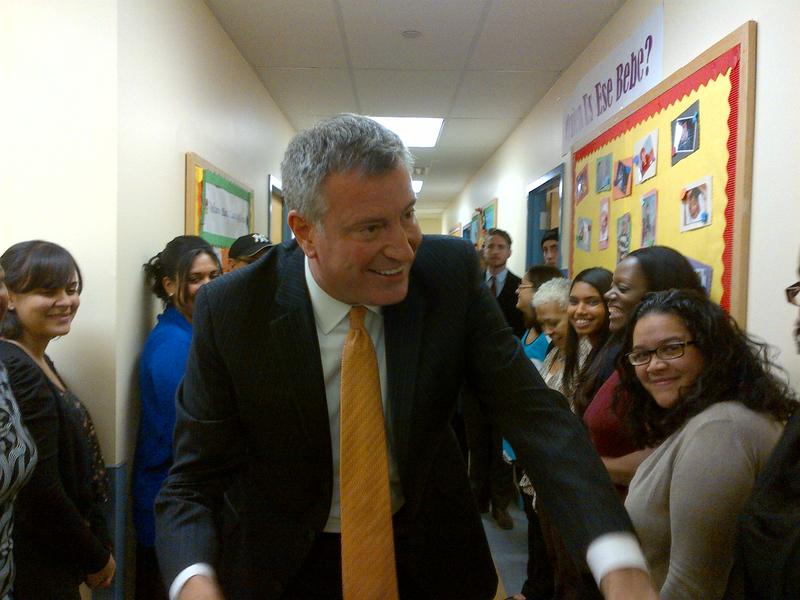 Bill de Blasio said he expects to make some more announcements this week about who will join his new administration, but "not necessarily" schools chancellor. 
"It is a decision that we are doing very carefully," he said on Sunday. "We are talking to a lot of people we respect, there are still nominations coming in, so this one we're going to do very, very mindfully and carefully."
The incoming mayor has said very little about his requirements for a new schools chancellor except that he wants an experienced educator in the job, a criteria not seen since Rudy Crew was chancellor in the 1990's. And that alone narrows the field, according to education observers.
Daniel Domenech, executive director of the American Association of School Administrators, said many experienced superintendents have been retiring. And not anyone can run the nation's largest school district; it takes a particularly strong set of skills.
"Because this individual is going to be talking to the public on a regular basis" communication is key, said Domenech. "And political savvy, because in a system like New York City there are tremendous politics that are involved. And not at all in the least is business acumen. The ability to run what amounts to a major corporation or multi-billion-dollar corporation, with a substantial number of employees responsible for over 1 million students. So it's a very, very big job."
David Bloomfield, a CUNY professor of urban education and former D.O.E. general counsel, said local experience should matter too.
"Recent knowledge of New York City and the current D.O.E. structure are key, since the city's players and school system are too complex to learn on the job, especially in the middle of the school year."
De Blasio, a former Brooklyn community school board member, said on Sunday that "some of the leading candidates are people that I have worked with at various points along the way." He declined to name any. But the ones that keep surfacing in conversations with education insiders include six individuals who once worked in New York City:
-Andres Alonso: former C.E.O. of Baltimore public schools.
-Barbara Byrd Bennett: C.E.O. of the Chicago public schools.
-Kathleen Cashin: member of the New York State Board of Regents.
-Carmen Farina: former Deputy Chancellor for New York City, now retired.
-Kaya Henderson: Chancellor of the Washington, DC public schools.
-Joshua Starr: Superintendent of the Montgomery County, Maryland schools.
Although it's a difficult job, Domenech said it's also an attractive one because the new mayor has said he wants to put less reliance on standardized tests, and he made education a central theme of his campaign.
"These are all things I think can make a lot of candidates out there, a lot of experienced educators out there, really anxious to have the opportunity to do that job," he said. "If I were 20 years younger I would be throwing my hat in the ring."
At least one of the educators whose name has come up has been critical of standardized testing. Last year, Starr – of Montgomery County - called for a three-year moratorium on standardized testing, to "stop the insanity" of evaluating teachers according to test scores.
Cashin, as a Regent, criticized the roll-out of the state's Common Core standards.
Farina, who was also a superintendent of the same Brooklyn district where De Blasio was a school board member, has been very critical of the current wave of school reforms but she told WNYC she is enjoying her retirement very much. That hasn't put speculation to rest, however, that she could serve as an interim chancellor until the end of the school year.
Henderson is widely known for having improved relations with the union after the controversial tenure of chancellor Michelle Rhee, but teachers are still rankled by their evaluation system.
Alonso has received words of praise by American Federation of Teachers president Randi Weingarten for an evaluation system developed with the union.
Byrd-Bennett, in Chicago, has had a more contentious relationship with her union after the school board voted this year to close dozens of schools.