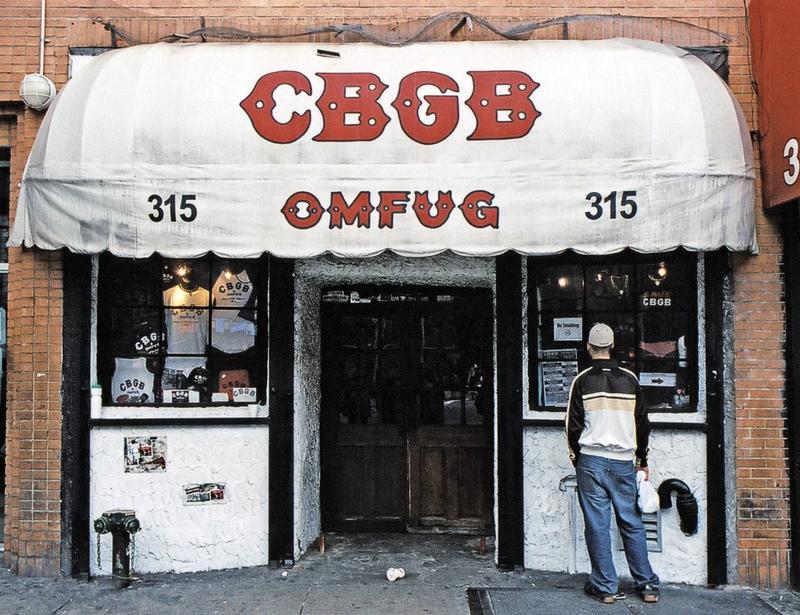 Between watching the new CBGB movie and preparing for our CBGB Music and Film Festival show this Saturday with the Meat Puppets, I've been thinking a lot about the time I spent at CBGB's (and yes, we always used the "s" even though it's not part of the official name) when I was in high school. The punk scene was my first exposure to music that wasn't mainstream, and to underground art, whatever that meant.
In fact, my first punk concert -- the Brooklyn band The Shirts -- took place not at CBGB but in a loft as part of an evening of performance art. A friend from school had a brother and two cousins in the band, so we would occasionally go watch them play; and since they were close to being the unofficial house band at CBGB, they were my gateway drug into that community.
So I decided to put together a playlist of ten songs: Most of the bands included were groups I saw at CB's (read on for the surprising exception). The recordings were made in the period between 1975 and 1979. Some of them are now considered classics, while others are simply the songs that I most associate with that place and that time.
All of them are worth remembering, if you don't already.
Listen to the Spotify playlist, and read about the tracks below.
Talking Heads, "Love Goes To Building On Fire"
My earliest memory of this band is as a trio, with David Byrne hiding behind an enormous dreadnought-style acoustic guitar and looking genuinely terrified. But there was definitely something going on there. "Psycho Killer" was their signature tune once the first record came out, but this was the song that first hooked me.

 
Television, "Marquee Moon"
What a great song. Eerie, catchy and, like, ten minutes long, and full of stinging guitar solos, "Marquee Moon" is everything the press said punk wasn't. The songs are really short and fast, they said; no one really knows how to play. Really? Just listen.
Mink DeVille, "Cadillac Moon"
Willy DeVille and his band were one of my absolute favorite live acts at CBs. This recording comes from the Live At CBGB's compilation from 1976. Another song that doesn't follow the so-called punk template.
Dead Boys, "Sonic Reducer"
This one, on the other hand, is exactly what punk was supposed to sound like. A roar of youthful abandon, with one tiny, short hook, but a hook that helped define the sound of CBGB. 
The Shirts, "Poe"
Singer Annie Golden and the boys made a couple of records in the late '70s, but they never matched the band's live energy and sound. I was there the night they recorded this version of "Poe," for the Live At CBGB's album. Even here, the recorded sound pales against my now-dimmed memories of this song done live. 
Tuff Darts, "(Your Love Is Like) Nuclear Waste"
Robert Gordon would go on to a notable solo career, but Tuff Darts were the forgotten band/secret weapon of the CB's scene. "All For The Love Of Rock And Roll" was the band's best-known song, but this is the one that summed up the Tuff Darts sound for me.
The Ramones, "Beat on the Brat"
I never actually saw the Ramones live at CBGB. I don't know why or how that happened, since I saw them elsewhere. But they were on the jukebox, and that is where I first heard the band that everyone at CB's seemed to be talking about.
Blondie, "Rip Her To Shreds"
Again, there were other songs that were more popular in Blondie's earliest days. "Sex Offender" would later be released as the slightly sanitized "X Offender," and "You Look Good In Blue" was every teenage boy's wet dream. But this song was Blondie's punkiest. 
Patti Smith, "Gloria"
One of the most famous opening lines in all of rock. One of my most memorable nights at CBGB's (I'm afraid there are quite a few I don't remember at all) was watching Patti Smith perform in a neck brace after she had fallen off a stage and fractured her neck. Would she tone down the show in deference to the possibility of a life-altering injury? She would not.
Richard Hell And The Voidoids, "Blank Generation"
This song was the anthem of the CBGB's scene, from the former Television bassist and originator of the "punk look" –- you know, the rips and safety pins and all that -- which, for the record, most of us did not wear. There was no uniform, until punk became a "thing." 
The Cramps, "Human Fly"
They were CBs regulars but they were late to put out a full-length album.  This was a single, and later came out on their Gravest Hits EP.  Another band whose recordings didn't do justice to their live sets, but you can hear the telltale twang that would send the band into a kind of psycho-rockabilly direction.