["Cat on a Hot Tin Roof"]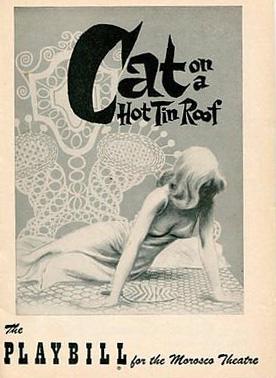 This episode is from the WNYC archives. It may contain language which is no longer politically or socially appropriate.
Seldes talks Tennessee Williams and his new play "Cat on a Hot Tin Roof." Williams stated that there weren't any solutions to some of the problems that were brought up. To render a play fixed in its purpose makes it an inaccurate portrayal of life. Drama vs. popular entertainment, where solutions are given to us. Everything is wrapped up, no loose ends. Gives audience a sense of security. Will go through harrowing experience but want some sort of satisfaction at the end of it. Not that people don't like tragedy. Intellectuals don't like it. Good doesn't conquer evil. Makes a comment about the title being an unpleasing one. Several critics reviewed the play but only one mentioned the name Lillian Hellman. Talks about Hellman's extraordinary play "The Children's Hour" which is about an "abnormal relationship between two women school teachers." "Cat on a Hot Tin Roof" is based in part on the same kind of relation between two men. Summarizes the acts of the play. Mentions play "The Little Foxes." Calls "Cat on a Hot Tin Roof derivative of "The Children's Hour and The Little Foxes." Play is derivative and badly handled but still manages to get the tragedy of life onto the stage. Tradition in melodramas of playing melancholy piece on violin, Hearts and Flowers. In "Cat on a Hot Tin Roof" the hero sings "Light of the Silvery Moon." Complaints about Williams' obscenity. Seldes thinks that it was deliberate and Williams felt the necessity of it. Moves on to talk about ANTA Album. Reads part of a letter from a listener about subscription television. Devoted to the first ammendment. Freedom of speech, freedom of thought, freedom of expression.
Audio courtesy of the NYC Municipal Archives WNYC Collection
WNYC archives id: 70367
Municipal archives id: LT6406