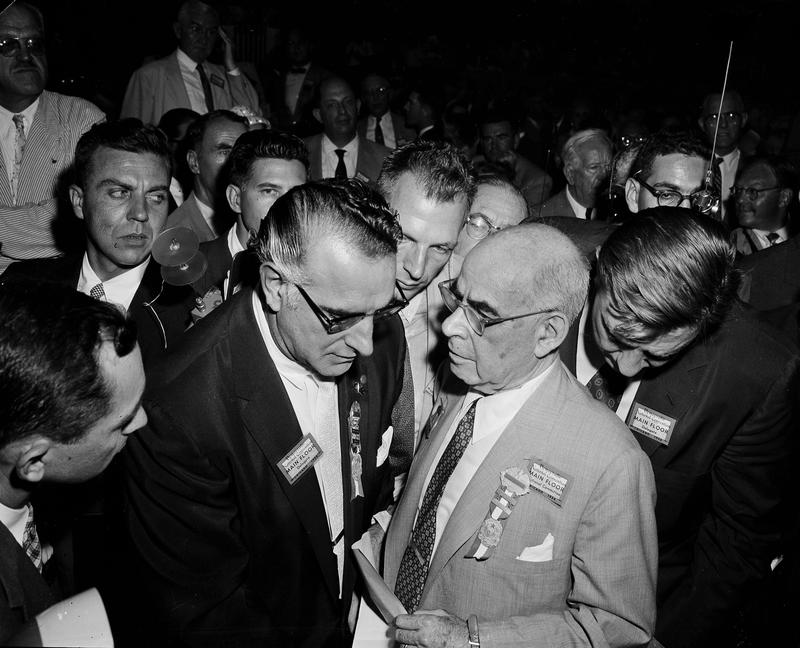 Summary
This episode is from the WNYC archives. It may contain language which is no longer politically or socially appropriate.
DeSapio, Secretary of State, answers questions.

Moderated by Marvin Sleeper.

Panelists: Larry Barrett, Bruno Wassathiel, Penny Fox

Questions:

Health question of any of the Presidential candidates will be an issue, considering that only a heartbeat separates the VP from the presidency.

Since 1952, the Eisenhower administration has been characterized by indecision and lack of performance and accomplishments. Since the President's illness, we have had a government by regency and secrecy.

Harriman has indicated his position on civil rights clearly: there can be no compromise. Democratic leaders in the South will reflect on the many problems and by convention time will have solved those problems. There was no walk out of any consequence in 1952, and that year had a stronger civil rights platform than in 1948.

Harriman and Stevenson are both qualified for the nomination. Harriman's acknowledged reputation in national and international affairs is of the highest, and that speaks for itself. His experience in government in every level and participation in assignments on every level has singled him out as one of the most experienced men in government. It's difficult to find a substitute for experience.
Audio courtesy of the NYC Municipal Archives WNYC Collection
WNYC archives id: 72284
Municipal archives id: LT7072
Transcript
This is a machine-generated transcript. Text is unformatted and may contain errors.
If the Democratic Party healthier than the Republican Party of Florida governor I'm in the right and I'm so used to his active candidacy till just last week a governor who has nominated will the Dixiecrats revolt for the answers to these and other questions listen now to campus press conference I transcribed program in which college editors interview prominent personalities on the news here now to introduce the panel and tonight's guest is our moderator mob and sleeper award winning reporter for The New York Journal American Mr sleeper that evening and welcome to another edition of Tampa's press conference I guess tonight is the honorable Carline G. to sap E.O. as we all know most of the sappy I was governor Harmon secretary of state and it's no secret that most of the sappy I was the number one booster of Abraham and presidential candidate no one could be accused of going out on a limb by saying that if Governor I haven't done carry the presidential banner in the elections next November more than anyone else the one man who will be credited with the Copas combine to sappy Oh that's a long pole between this mid June evening and August thirteenth when the Democrats made to pick their candidate in Chicago and I'm sure these eager college journalists have a passel of questions ready to toss at our guest the absence of the SAT be able to give us some answers that will bridge the gap between now and convention time you know ask the questions I Larry back out of the N.Y.U. square journal through the loss of title of the C.C.N.Y. observation post and Penny Fox of them on a college arrow and how about the first question to you Larry Mr to sappy Al if President Eisenhower is renominated and wins again do you think he will be a part time president like some of your colleagues in the Democratic Party saying thank you. For all I can say to that question is. President Eisenhower must be elected first and until that happens. Everything else is speculative do you think his health will play a big part in the in the campaign the Democrats put up I believe that the the president's health. Will be an issue by virtue of the president's own statements in that regard To Do you think that the health of the Democratic leaders will be an issue I believe mess that's the health question. And any of the. Presidential candidates in both parties will be an issue considering me. That only a heartbeat separates the vice presidency and the presidency and on that theory alone I'm sure that the health question will be vitally concerned the people of this country well Governor Hiram and I sent President Eisenhower's help what not be an issue I believe you said on television show last week what you said just the opposite How do you reconcile the opposite point of view well as it's not really an opposite kind of you mob and I think what the governor was. Intending to get across was the idea that the nature of the president's operation was such that that Governor Harman's opinion was that it would not impede or preclude his candidacy and I'm like many other Democrats he was hopeful of the president's speedy recovery so that he would become the Republican candidate for the presidency is this happy as you think that President Eisenhower has been a part time president. Well. Since nine hundred fifty two mess I I personally characterize the Eisenhower administration as one of. Indecision and one of promises and. No performance and no accomplishments and no deeds. Since the. President's illness several months back and we have had a government in my opinion by and not only Regency but secrecy. When you say reaches a do you mean that Mr Adams chairman Adams has been. Put in as president how difficult Ma been to ascertain. Presently whether or not Scheinman Adams is. Undertaking more duties. Presently than he did here before before the president. On the question of health our Governor Huntsman recently underwent an operation also how would you contrast the governess health against that of THE PRESIDENT Well I just happened fortunately to see the governor Harum and quite frequently and if appearances as speak for themselves. I'm sure his. Batting average and is around the know will be great day on the health question I want to she was would you say that Mr Stevenson is the Harman disagree on. I don't know if any issues that they disagree on. I'd just like to. Say in me in a positive in a famine of manner some of the things that I believe Governor Harriman stands for. And. If you ask me a specific question well I How about civil rights. Well Governor I have men as indicated his position quite clearly on civil rights which is that can they can be no compromise. With you would call it a strong position in favor of a strong civil rights program would you not I think unquestionably that's the well how do you think this will affect the southern Democrats I believe I believe so that the. Democratic leaders in the south. We'll sell the lady reflect and materially consign themselves about the many problems that confront the Democratic Party in that come convention time that sincere and genuine efforts will be made to resolve those problems I think we had an evidence of the failing on the pod of responsible suddenly it is only yesterday indicated. In replied to a request made I believe from one of the party leaders in South Carolina that they want no truck with a walkout. That dedicated to the Democratic Party and I believe they want to stay in the Democratic Party and I have every confidence that there will be no walk out of the convention but what did I tell you between now and nine hundred forty eight when they did walk out because of a strong wind what factors or what conditions have changed that makes you think they will behave differently in one thousand fifty six well there wasn't any walkout of any consequence in one nine hundred fifty two and in one nine hundred fifty two you had a much stronger civil rights platform than even in forty eight not a Democratic Party can't go backward and won't go backward. With its program for the future welfare of the people of this country and I'm confident that to whether the Democratic candidate would be. He will stand on the civil rights platform in the nine hundred fifty two Convention plus the subsequent developments that have taken place on that specific issue since nineteen fifty two and that is the Supreme Court decision the law of the land the obedience to the law. This is a sappy Oh and what specific respect do you consider Governor Heineman better suited to the presidency than Governor STEVENSON Well I don't want to make any comparison between the two are distinguished gentlemen them both exceptionally qualified I would again would just like to speak in behalf of. My own personal opinion and I'm sure that's shared by countless thousands of people all over this country and in many parts of the well that govern the Harmons acknowledged reputation in national and international. Affairs. Is of the highest and that speaks for itself his experience in government on every level. His. Participation in the many assignments on every level about domestically and foreign affairs has singled him out as one of the most experienced men in government today on every level with your implication therefore be that government experience makes him better qualified Well young lady it's very difficult to find a substitute for experience. Why Governor Herman wait so long before saying finally that he was an active candidate and the answer to that question young man is very simple and that is that you know that Governor Harmon has only been in office as governor of New York state for fifteen months he inherited a hostile Republican legislature it's only reasonable to assume that if he had announced his candidacy. He would have been subjected to all kinds of criticism he entered into a contract in my opinion when he was elected governor by the people of this state to this judge's duties and responsibilities. And that his main objective then do you feel that he gained anything by dealing with an argument well I don't know whether there's been any gain or any loss as such except to give the reasons why I believe he could not have announced his candidacy any early and he did sappy Iowa sent a layman to lay a WAG where of course there are two of Mr Stevenson strongest supporters at this point and it was recently reported that both of them would be released delegates because of their pro Stevensville feelings that they would go to the convention with the same unofficial capacity as fall President Truman is there any truth to that report mob and the answer to that will take place. Next Tuesday in the hotel Biltmore June nineteenth in a meeting of the Democratic State Committee. And I together with many other Democratic leaders will proudly present and recommend the names of male Wagner and send in the Lehman to be delegates at the lodge the Democratic Party free to vote as day they choose everybody's freedom voters states your mama. Do you go with the theory that the president's most recent Elice makes the Democratic nomination a much more valued prize I don't like to think of it in that light and that vein. I sincerely and I know everybody else does mob and feel that we hope there's a complete and full recovery on the part of the presidency so that we can go before the people on the important issues that affect their welfare and let them make that decision that fight leak and signs their welfare as between who is the best candidate now about these important issues what do you see as the best I'm going points for the Democrats. Well as far as the Democratic Party is consigned I think they have many legitimate. Arguments to present to the American people I think the type of administration that's been conducted in Washington since the one nine hundred fifty two is a marked specifically for the benefit of the privileged few. And the special interest which is tantamount to Republicanism as against the welfare of the many which is the doctrine and philosophy of the Democratic Party what about the conviction this week of too long a Troma aid do you think that this will bring back memories that the Republican fifty two campaign that you know I don't think it'll have any bearing and I don't want no. Presumed to in far that perhaps the timing of this situation was such to take place during a presidential election yeah but it has this trial has been delayed for three as but that's not unusual about the Republicans that's the way they do things they have been delaying their promises which they agreed to fulfill the American people since the one nine hundred fifty two. Not they promised the farmers and and they promised the program for the people and. Middle income housing and they promised the small businessman relief and none of these promises of been fulfilled and I think the people and very clearly a going to look at the Eisenhower record as to the lack of accomplishments and make their way decision on the basis of. The failure of deeds in accomplishments as against the broken promises of the Eisenhower administration if we get back a minute the civil rights you said a while ago the Democrats will campaign with the strong civil rights plank now. Despite that isn't it true that when these civil rights maggots come up in Congress that it's always a Democrat or a group of Democrats of kill them had that been true over the past three years no I wouldn't say that's an accurate statement. Well for instance that every one has knowledge that you are a committee and he isn't bragging how he helped kill the program a couple of years ago when President Truman was in office. You recall that no not specifically but I'd like to. Remind you that for three and a half years we've had no positives and see a specific action by the Republican Party or the White House and B have civil rights again I'd like to point out to you so that here we are on the eve of a national election when the Eisenhower administration again waits three and a half years to bring this important issue before the people when it should have been given the attention that it justly desired that the time that it needed it most Not now to fan the flames do in an election the end just have to play politics with human misery and second class citizenship and we're back to the civil rights by staying with us for a moment. Do you think that the reason the south won't move out of the party or walk out is that they would like to have a vice presidential candidate from their section of the country well I don't know whether that is the is the. Factor that's going though and inflow instead decision not to walk out I believe Bob and I have talked to many leaders and PADI in the south both in Congress and the Senate and party leaders and I and I detect a very genuine and sincere. Conclusion in Nam online to try to find a solution to describe them and I'm sure that. They will approach it intelligently sensibly and mature leave you with a degree in the final analysis for an equation of equality for all well for the good of the party and for the vote do you think I can and I through the south would be an advantage on the tech Well I don't see how it would be a disadvantage if we just go back a little mob and we've had we've had Truman and Buckley we've had a Rose those from gonna we've had Roosevelt Truman of course Truman and some a borderline state but we've always had representation from the Deep South or the borderline States and we've had Stevens and Spock and tickets and so on there would be nothing unusual for us to have that kind of a combination with a view to give representation when I can file for a heretic if our ticket wouldn't be. Out of the realm of possibility would well I I don't want to venture to. Go into past analogies I confine myself to the geographical line all getting down to local affairs that rumors about. Is that the sappy of that you are going to face a fight in your own district by the district leadership is there any truth to those rumors Well I've been a lead a young man since one thousand nine hundred eighty nine and I'm a very strong proponent of participation in primaries and I've always welcomed and think it's very healthy for the Democratic Party just speaking for the party at that moment I don't think the Republicans feel this way but we do not discourage fights. Very healthy in many situations and if there is anyone in my area or in any area New York County who has that desire our ambition very much welcome Well the people will make the final decision it wasn't you know this specific choice coming up that the people in your district going to have to make I mean is there any movement to substantiate these rumors you know not that I know of it's a long way off and anything can happen talking about the the recen