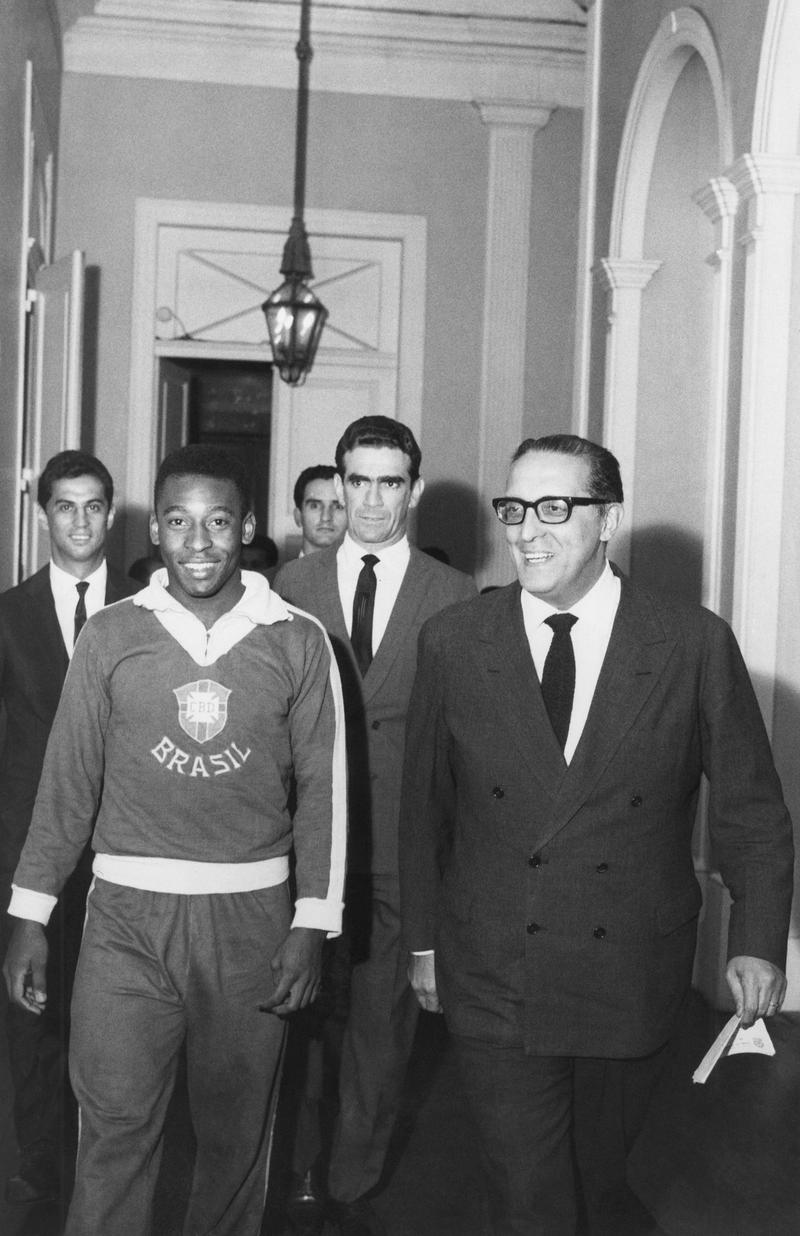 Summary
This episode is from the WNYC archives. It may contain language which is no longer politically or socially appropriate.
Card catalog: Juracy Magalhaes, Ambassador from Brazil to US, speaks of administration of President Humberto Castelo Branco, problem of country, etc.

Note: Magalhaes is in attendance, but Lacerda is the speaker. In the copy we have, there is a rough edit during the introduction that indicates missing content. Perhaps the ambassador speaking?

NY Times listing: Lincoln Gordon, Ambassador to Brazil; Juracy Magalhaes, Brazilian Ambassador to the US; Carlos Lacerda.

Host presents the main table, introduces Lacerda, Governor of the Brazilian state of Guanabara.

Talk comes on the heels of a revolution in Brazil in which President Joao Goulart was deposed. Discusses the revolution and the new government's progress reducing the deficit, agrarian reform, increase in education opportunities, improvements in state services. His own experience with the previous President.

Joe Newman leads Question and Answer period. Lacerda is asked why he is considered a communist, about future elections in Brazil.

Program ends, Q & A continues: plans for slums in Rio (favelas), Juscelino Kubitschek. Questions are barely audible, so long gaps of near-silence.
Audio courtesy of the NYC Municipal Archives WNYC Collection
WNYC archives id: 70374
Municipal archives id: T412
Transcript
This is a machine-generated transcript. Text is unformatted and may contain errors.
I have one announcement to make we have a reception tonight for the Overseas Press Club flight to Europe which is just returned and I hope that as many as possible will be with us at six thirty tonight to welcome Mattie Ross and all the others back from their trip I'd like to begin by presenting the at the head table. Representing Governor Rockefeller here today is very and freely friendly. It's my pleasure to introduce the new Brazilian ambassador to Washington who has just arrived in the last few hours ambassador my go to guy as. You well know our program director Joe Newman Joe. It's a very special pleasure to when produce ambassador Lincoln Gordon the American ambassador to Brazil for two reasons the second of which will be obvious in a moment and the first of which of course is to have our American I'm represented to Brazil here with us Ambassador good and. On the other end Joshua powers who is chairman of evidence press services who has had a very long exposed in with journalists in Latin America and especially in Brazil. So much of that's. One of the leading industrialists of so. Kind of tone your Carlos Braga the president of the bank of the state of I want to borrow. And our own beloved member of the mother of a basket of God Mr. Minister Mesquita the Brazilian representative to the United Nations. And the very charming lady who three years ago delighted all the O.P.C. years by going home to our own kitchen and cooking black beans for one of our Brazilian nights she is also the ranking woman a diplomat in the United States with the rank of minister she is consul general of Brazil in New York daughter. Without further ado pleasure to introduce Governor last third who has been very much in the headlines in the United States very much in the minds of Americans at this critical moment through which our close friend the Republic of Brazil has been passing governor lesser. Mages and gentlemen is by the better to be here again. That give me. That good memories of the days gone by when I was a sort of a self exists here and I've. Got sanctuary I'm in this club now. I'm about to go back to my job. I'm very proud to say I live here one of my best friends and one of my best compatriots a man of outstanding call it has you know seventh of democracy the fight of freedom in my country should I see my god yes our president and bastard. I always think that. Having the privilege of being one of the few politicians who can claim actually and honestly that he's also a journalist. Should not inflict upon you and Electra we journalists hate to be in and all genes and humility as you know is not one of the virtues of ah profession. So I go straight ahead and ask you to stop shooting not before I say that yesterday one in the National Press Club in Washington I tried to give testimonies I believe in a Salvation Army technique of getting testimonies instead of just using my own words I used the testimony of the Morgan trust that in its latest bulletin of this current June issue gave a wonderful report on the situation Brazil it's quite a piece of specialized journalism. But later on when I visit the headquarters of a the a i never can say that A F L C O my friend's dad said Well but you missed one point Yoko did Morgan trust but you did not go. So I got it. And I think it's far better than the mark and trust report this estate and by a five I'll see I owe Executive Council on Brazil date of one thousand May and completed by another in the current edition of The Bulletin on June they say the recent recent events in Brazil which culminated in the successful civil military revolution of April first demonstrated the great good demonstration of the freedom loving people to wend the grave threat Constitution and the democratic process the Communists and the corrupt elements in the former government aided by ex-president good are. Systematically exploiting a rapidly deteriorating economic situation they were no overing deliberately to create an atmosphere of political chaos which would culminate in a push and a suppression of all false as opposed to them and it go on in the same scene but I have a better approach to it given you all know of the Fabian Society this is a pamphlet pamphlet just printed in London by the paper and society in Brazil it's dated June sixteenth for Page twenty one it's a story in sixty three a not untypical. Federal Revenue a mountain to the nine hundred thirty billion conservatives and federal expenditure to one trillion four hundred thirty five billion reserves dust the deficit was five hundred and five bill and preserve those seven sixty six of fifty fifty six percent of revenue I am proud to say that that is it is already cut to cut to a half in two months of the new government and then they say again between forty eight and sixty two the cost of living in Brazil multiplied by approximately twenty times and then about their great and great form that was one of the basic cause of confusion inside and outside the country that Fabian Society not to Morgan trust have to say this about Brazil great and reform page twenty four a great and great form for the not simply a matter of breaking up large states states in some parts of Brazil the council edition of small farms is almost as necessary a great and before would be in a tent to shatter a particular frame of mind and to drag the rural community into the twentieth century it would also of course have political effects and could markedly change the political character of Brazil Well that kind of a greater but is already proposed by President gust of a Bronco to the Congress for you know. Workers in Brazil have been striking outside of law it was a matter of favor. Seventy percent of our workers are not yet organizing labor unions basically because labor unions was just a weapon and the hands of the government the workers did not have to pay fees to the unions for one good simple reason they paid it in the form of a tax the so called Labor tax representing one day wage area that the government collected and distributed among the labor unions according to their behavior towards the government this was the labor movement on the Volga Scoobie check and call out now the government is beginning to take measures to suppress that tax to open labor unions with free. Movement and to call free elections in the labor movement for the first time in its life I think there's examples would be enough to make a point in it and the point is that we are not reactionaries and I would like to see some prove some evidence whatsoever of our reactionary character not only in words but in fact in action if you allow me to take myself as an example and I am not the only one by all means when I arrived in the ministration about four years ago Sir part of our children in school did not have a place in school today we have about thirty thousand vacant since waiting for children we increased by about three hundred percent. The place is in the high school public high school system but more than that more than things that would sound like boasting such as increasing by seventy percent out sewage system and rail by more than doubling the system of distribution and of water by tackling and dealing finally in a realistic approach was to slum problem by building houses by selling houses to the work workers and more important than that by integrating the slum inhabitants into the community we did nothing we are very proud of we did give back to the people confidence and hope that was that was the point we were fighting for in the last four years. We tried to show that there were democratic ways of so our problems in Brazil and that evidence as it accumulated through results part of them was you know help but the major part on our own became sort of a scandal this start saying well they can build houses they can make schools because they are paid by the Americans and to an ambassador gotten challenge in the receipt by Governor Rice had to prove that actually did all these has got more much more money from the United States than the governorship of going about or the very presence of a few governors that in their own way. Well being successful in proving the point that adds that Democritus is still the best solution on the best way of solving popular problems became such a scandal that they could not take it anymore since we had this there promoted by the government since we had a federal government fully interested and committed to provoke this although what a first time in our lives and I think in many people's life the opposition was asking for civic peace and the government posse the war wire Dick the economy of the country was going to pieces we had such a joy among the official circles that I think every failure was saluted as a new step towards the new regime that was being prepared at a certain moment even my physical presence in government became intolerable to present cooler last December his government gave orders to arrest me are kill me if necessary a group of paratroopers got the author thanks God a lot of them refused and they were punished for refusing and the only one who accepted that mission was later rewarded by being appointed military attache to our embassy in Paris and when a congressional investigation did start on it Mr Cooper shacked loses his influence in Congress to block the investigation and impeach it so if we would go on details such as that we would go very far I think it's better to stop here and ask my colleagues from the. Pressed to have the priority on the question period Thank you. Thank you Governor Lessard I will ask Joe Norman to take the question. I think we all know that Carlos lots there is not just the one of the leading political figures of Brazil he is of course has been one of the leading newspaper man of Latin America I knew him many years ago knew him then to have been one of the toughest of the newspaper reporters we gave him a rather tough time this morning milk protein Heineman myself on a television program and I think he enjoyed it as much as we did so that just by way of invitation on his behalf to go ahead and put your questions is straightforward and choppy as you waste and I'm sure you'll get a straightforward or even a chopper answer we'll start with the press table any questions you'd better put them in quickly because I've still got a lot that I haven't been able to ask myself why are you called an extreme rightist and a former Communist Well I will begin by the end because I was a fellow traveler and my use base is so uses that I never actually belong to the Communist Party but I would belong to it easily if it was not for some technical reasons of internal No organization of the common spotted then. You know many people here is think that that is my contests I'm in Brazil but they are going doing McCotter in the contrary sense because every time day recalled me that I was a Communist that was exactly what Makati used to say. The first part is quite difficult to answer I don't know what the intentions would be and I know I know the reasons for it what I know is this and justice and. More than that in terms of professional journalism the BE NOT curacy of it but it seems to me it comes out of a tendency to simplify where does this fellow stand on communism he's against so he must be a reactionary there was a time in which everyone who didn't have sympathy for fascism would be considered a communist and vice versa let's not do the same thing again I am anti communists basically for the same reasons that made me an anti fossil but anticommunism is not a profession for me and it's not only it's not even my solo or my main preoccupation I believe more in things pro in doings prose things than auntie's things every school I do opened there is a weapon against communism much more than actually to put a communist in prison that web couple of communists in prison for a few hours in Rio up to now I did not dismiss as things go public worker public functionary in Rio because of being or being suspect of being communist I don't believe in that I believe if a fellow went to be stupid let him him be stupid provided he does not that distributed becomes a malignancy to the country. My concern about communist I should say our concern about common is is that they were ruling the country by proxy. There were never numerous enough men all powerful enough to compete with us and they don't care about competition they never made a minister day made the secretary to the minister they were not making speeches they were writing it for the others to rig their way out of power behind the throne if there was a throne whatsoever as soon as they got out of power they became a minority as they actually are. And the only chance they have to go back is that. If we do two things one to allow corruption to go on because corruption in Latin America is the best ally that come one is may have the other one is not to do the sings we are supposed to do schools curbing inflation developing country making mode in this nation of Agriculture helping private initiative curbing its abuses eventually but considering that the right to produce is a part of the Rights of Man I think this perhaps answers the question but I don't know it does answer the question for those who prefer to call us rightists and their right to call it but they are not influencing my thoughts. The next question please would you comment on the new bill presented to the Brazilian congress May I then for the. Or rather just announced by the right the president of Brazil for the benefit of the radio audience let me just explain briefly what it is. It. It is a proposal by the president whereby the next president at the time of elections will be elected not by a plurality as in the past but by a majority that is over fifty percent and in the event no single candidate gets a majority then the whole issue goes to the Congress where the Congress can decide between the candidates in the election and any other candidates that might be advanced in the Congress this is a matter of great concern I think the Congress was set up in any others who are likely to be candidates for the president's. Yes it is Joe but. I think this is a part of a series of reforms of the political system that just beginning personally very much afraid of this rule I was in favor of it some time ago as a tactic not as a doctrine I don't believe there's a doctrine I think it's just a tactic as saying that you can have or have not and it does not interfere was a democratic process anyway I think it could be good eventually but at least it would require a bipartisan system not with thirteen or so parties as we have we would think you are in the grave danger of splitting Brazil into fields the popular vote and the congressional vote that is people one side and politicians on the other side I would