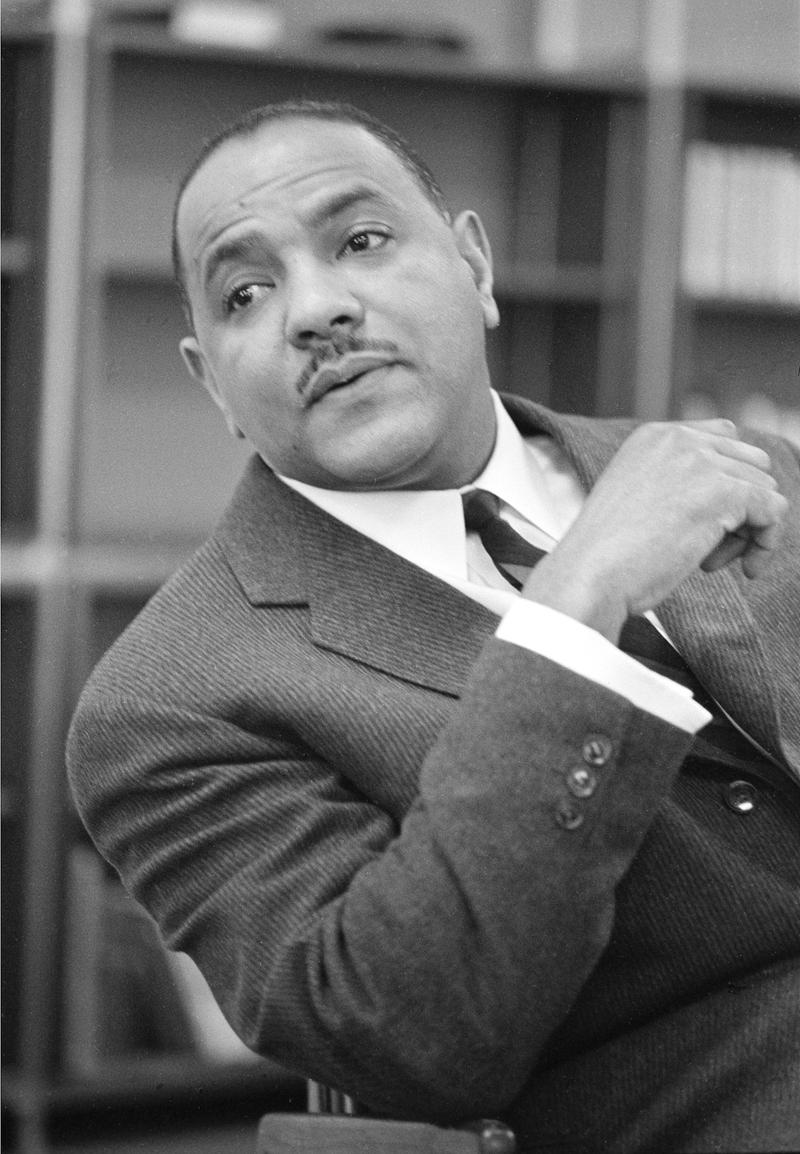 Summary
This episode is from the WNYC archives. It may contain language which is no longer politically or socially appropriate.
From card catalog: Carl T. Rowan, head of USIA and Voice of America, talks about the United States government's activities in spreading information and ideas. He also emphasizes the need for this.
McGurn introduces Rowan by listing his accomplishments. Rowan opens with a story about President Wilson and quotes Jefferson and Milton to illustrate the issues of nuclear warfare. Quotes Kruschev.
USIA has the job of protecting the nation's vital interests by influencing what foreigners know and believe. The first friend of tyranny is information. Information versus Propaganda.
Gulf of Tonkin example: After the attack, it was decided that US Military response was needed. To avoid escalation, it was deemed wise to inform the world of the limited nature of the response and "stern intentions of the future." Show that we are using our power responsibly.
Just how well are we doing in this ideological struggle? The US is #3 (after Radio Moscow and Radio Peking) in international broadcasting. Increasing language services in other countries in an effort to spread political ideals.
Greatest resource for USIA is the people, not the budget. We don't have all the money we need, but every year we learn to stretch the tax dollar.
Transmitter in Thailand.
Audio courtesy of the NYC Municipal Archives WNYC Collection
WNYC archives id: 70417
Municipal archives id: T583
Transcript
This is a machine-generated transcript. Text is unformatted and may contain errors.
It's my very great pleasure to. Introduce. Our guest today caller on who needs no introduction he is a man who has achieved more firsts than. Most other Americans ever. At the age of nineteen he was one of the first Negroes to become and sin in the United States Navy he was chosen by the Minneapolis Junior Chamber of Commerce as the outstanding young man of the year United States Junior Chamber of Commerce chose him in one hundred fifty three eleven years ago as one of the ten outstanding men of the United States he is the first Negro to sit regularly at cabinet and National Security Council meetings and he is also one of the most accomplished members of our profession he won. The Hillmen award for the best news reporting in the United States in one nine hundred fifty one he. Also won the award of the Sigma Delta cut I as the best foreign correspondent of The Year in one nine hundred fifty five he covered the Bandung Conference in Southeast Asia and wrote one of his four books on that subject last year he was ambassador to Finland before that he was deputy assistant secretary of state and now as the man who supervised the spending of one hundred thirty five million dollars a year for us. As the man who supervises supervises daily broadcasts in thirty six languages as a man who has a two edged knife in his throat as the Herald Tribune put it that is to say if U.S. prestige sinks. He gets the blame for it and if he tries to hide the seamy side of the United States he gets blamed for censorship the man who is the Voice of America the head of the United States Information Agency. Call rowing. Thank you very much Mr MCGURN distinguished guests members of the Overseas Press Club I don't care what my wife says I still like to go out and give speeches and hear the nice things said in introductions I mention my wife because she's been doing her darndest to fix me where I can't appreciate introductions I should have told you that not too long ago I'd turn to or in complete innocence and ask her if she had any idea how many famous ex newspaper men were serving in government. She thought a while and said Look Carl I don't know the exact number but I'll bet it's one fewer than you think and. So we come out on these speaking tours to sort of get our ego was built back up but on this one as several others in recent days I had a few worries at the last minute those things that come up to tell you ought not go and somebody runs and suggest you have somebody else take your place but I certainly wasn't going to have anybody take my place here today not after a story one of my colleagues told me about President Wilson's views on people taking other people's places it seems as the story went President Wilson's aide awakened him about three A.M. one morning and said Mr President. I'm terribly sorry to disturb you at such an hour but there's a telephone call from New York from a man who says it's an absolute life and death matter President Wilson picked up the telephone said yes voice on the other end said Mr President I'm one of your loyal customs officials in New York and I had to telephone to let you know that your chief customs collector just dropped dead I'm sorry to hear that President Wilson but my good man couldn't you have waited till around breakfast time to give me the sad news if you don't know Mr President I had to call you right away because I'm next in line and I want to know if I can take his place. President Wilson thought of brief second and said Well my good friend if it's all right with the undertaker It sure is hell all right with me. So in my secretary was telling me late yesterday about all the woes we had in Washington today and talked about somebody taking my place I said no thank you I'll go up myself and I'm here because it's always a pleasure to share a few convivial moments with my former colleagues you of the fourth to stay but it's a special privilege to speak to you of the Overseas Press Club because in a sense you represent a fusing of my past and present interests you are before all communicators dedicated to spreading the truth about man's state and man's behavior in this air of unparalleled danger on the other hand you're also political animals. Intensely interested in what today's widespread exchange of information and ideas means in terms of reshaping social and political institutions in terms of man's future on this revolt and trouble Laden planet now I come today to talk a bit about the U.S. government's activities in spreading information and ideas and I shall began by making an assertion which for all its seeming Immodesty is indeed a fact of life today and that fact is that our information our psychological our propaganda program call it what you will is today vital part of this country's first line of defense I say this because while it's true and obviously so that we moved into a thermonuclear age it's also true though less obviously so that we've moved into what I like to call the Age of Persuasion. In seven hundred eighty seven and a letter to Thomas Jefferson John Adams wrote these words neither philosophy in our religion nor morality nor wisdom in our interest will ever govern nations apart is against their vanity their pride their resentment our revenge are their avarice our ambition nothing but force and power and strength can restrain them unquote Now John Adams comment tells a lot about the world of the century and a half that followed because it was a world before a world where sheer power was a restraint but mostly of the strong up on the weak. The world continued to be racked by smaller conflicts and considerably larger wars because as Milton said in Paradise Lost who overcomes by force path overcome but have his phone in our age of weapons that are horrible beyond the ordinary man's imagination forced takes on a more appalling meaning the thought of thermonuclear conflict leads us to paraphrase Milton and. Who overcomes by force will overcome himself as well as Phone The fact is that that now for the first time in history force does represent something of a restraint on men and nations it limits their overt responses to their feelings of resentment and revenge of avarice and ambition still you know and I know that these feelings these emotions and many more are as much in abundance today as they were in John Adams time. These international contests of pride of avarice of ambition of revenge go wrong the difference is that with force more or less rude out and I think any sane man would have have to hope that in the thermonuclear age it's ruled out with force ruled out except in the most extreme circumstances it has become a contest in which the gentle art of persuasion is a paramount importance to express this point and it sharpens context let me quote Soviet premier crew shop in a recent interview with a correspondent from an Italian newspaper but to Khrushchev said we have always advocated that war should be excluded for ever from the life of human society. But at the same time we Communists have never agreed and will never agree to the idea of peaceful coexistence and ideologies in this there can be no compromise. Unquote Now there are many aspects of this art of persuasion that do not involve my agency most notably for example the activities of our many State Department diplomats but for the most part it is the US Information Agency that has the job of protecting this nation's vital interest by influencing what foreigners know and believe I say no and believe because we think our first function is to inform We believe that the first friend of tyranny is ignorance and that we're ever we can provide the light of knowledge freedoms chances grow brighter it is our hope that out of new knowledge of man's past and of today's problems and possibilities the peoples of the world will gain a new appreciation and respect for what we are as a nation and what we strive to be but let me illustrate this distinction this the importance of the informational as compared with the propaganda function and to do it let me refer to us eyes activities during the recent Gulf of Tonkin crisis after the August fourth attack in international waters on our naval vessel it was decided at the highest levels that some U.S. military response was necessary plans were made for our planes to attack bases from which the aggressor boats had come in the nuclear age we know prudence requires that all nations avoid miscalculations that could lead to escalation to widespread and horrible conflict. Thus we deemed it wise to ensure that the world and surely any potential Miss calculators should know of the limited nature of our response as well as of our stern intentions for the future and it was because of this desire that the president would say that evening and I quote but repeated acts of violence against the armed forces of the United States must be met not only with alert defense but with positive reply that replies being given as I speak to you ere action is now an execution against gunboats and certain supporting facilities of North Vietnam which have been used in these hostile operations yet our response for the present will be limited and fitting we Americans know although others appear to forget the risks of spreading conflict we still seek no wider war. When the president broadcast his decision to attack the bases and spelled out the US policy for the future peak radio listening time was long passed in the Far East and US I transmitters normally would have been off the air but because today US is a part of the decision making process and because the president and other Washington leaders know the danger of having the rest of the world respond out of ignorance us I couldn't did make advance preparation to get the president's speech to get our whole story told where it needed most to be heard by the time the president spoke that evening we had by telephone roused our people in the Philippines Oakland California Vietnam. And we had an operation in the Far East alone. Four million wops radio facilities are eighty times the power of the most powerful station in the United States so in thirty six languages and worldwide English we told people abroad the facts the who what where and why of this Gulf of Tonkin crisis and we pretty much decided that in telling the facts we had presented a package of persuasion and its most effective sense of persuasion a people of the fact that we were a nation using our force our power responsibly to restrain they have a Rishis an ambitious but ever careful not to destroy in what could be called an act of revenge man's fragile dreams of peas No I need not add I'm sure that we while we are telling our story our way our adversaries seek to paint a different picture of the communist propaganda apparatus constantly makes that clear the US today. As doggedly as any action in the foxholes and trenches of past wars this battle of ideas and ideologies goes on at fever pitch it's not an all together flattering commentary that while the American people may argue about our military posture about Suppose it Missile Gap So whether there is or is not a need for new manned bombers we rarely hear in a debate about the adequacy or the end adequacy of the resources that we're putting into this ideological struggle so it occurred to me that you have the Overseas Press Club might well ask just how well are we doing in this ideological struggle Well let's consider international broadcasting. I wish I could tell you that the rich United States we're the most professional a man's technically competent domestic radio facilities on earth is also number one in international broadcasting but we're not we're not number one and we're not even Number two the United States is number three after Radio Moscow which broadcast thirteen hundred fifty hours a week and radio peaking with nine hundred nine hours a week we're broadcasting seven hundred ninety hours a week on The Voice of America total output of international broadcasting by all communist countries today as a weathering four thousand three hundred seventy five hours a week and in no less than sixty seven different languages What's more the Communist International Broadcasting effort is not only large and growing larger but it's subtle and flexible in its scheduling and apparently just as red it is sheer change cancel and replace shows as any American network mogul after he pours over the latest Nielsen are trend X. ratings Consider for example. So you saw a battle that's been going on between Radio Moscow Radio peaking over more than a year first the Chinese increased drastically their broadcasting in Russia. Radio Moscow bounced back with a huge increase in Mandarin so as to move ahead of the Chinese again the Chinese put on another burst and the Russians did the same the Chinese added some more and the Russians adopted the tactic of playing music on the frequencies on which the Chinese were broadcasting the Chinese then got so angry that they dropped their old custom of prefacing their Russian broadcast with the words Dear friends and simply said Dear radio listeners. At a recent international conference the Russian delegate castigated the Chinese delegate because of the hostility of Chinese broadcasts some of which had gotten not only so. Mean and vicious but so long that they were broadcast in installments over several days when I you may think that we and us sit back and chuckle over this development as we wish a plague on both their houses well we may chuckle but we don't sit back we remember Mr Cruise ship warning we will bury you and we know that this quarrel between Radio Moscow and radio Peking is for the most part to decide whether we get a Russian or a Chinese undertake the fact is that while those intramural scrap is taking place these communist gang communist Johns were extending their bids for power and influence by boosting substantially their broadcast of the Far East to Africa just Near East and to South Asia. In April of this year Radio Moscow made what we consider a significant change in emphasis while increasing its attention to the under developed world it cut its broadcast to Western Europe by sixteen percent and to North America by ten percent now what they did was to add eight new language services for example they began to broadcast in Mali all of which is spoken in Kerala State and south India it just happens that Carolus States got elections coming up in January and the pollsters and the pundits say that the communists have an excellent chance of winning those elections so it was obvious to us that Radio Moscow introduced Mali Allam in the hopes of in him saying communist chances of winning that election but they also added Lindelof of the Congo Zulu for South Africa Malagasy for Madagascar and weaker for the western Chinese province of sinking what Radio Moscow all so beefed up substa