Bronx Man Charged With Murder for Driving Into Pedestrians in Times Square, Killing One and Injuring 20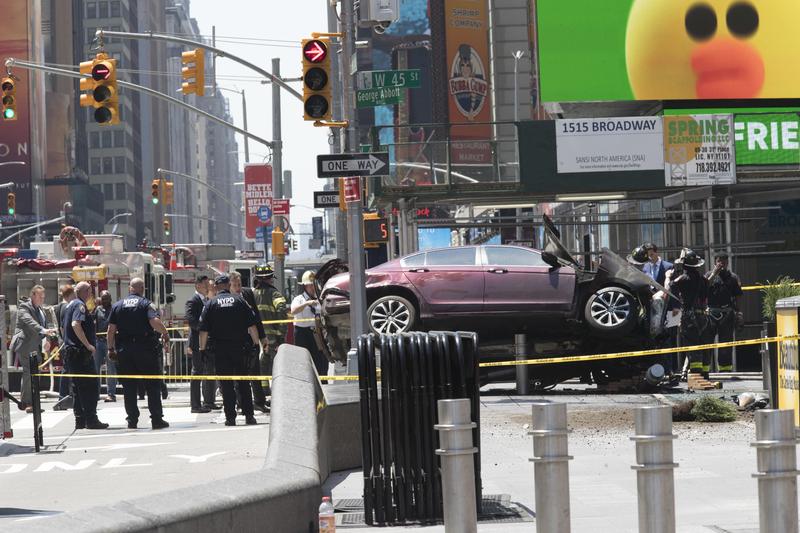 Updated: Friday, 7:00 p.m.
The New York Police Department says 26-year-old Richard Rojas, of the Bronx, was charged late Thursday with second-degree murder, 20 counts of attempted murder and aggravated vehicular homicide.
Police say he drove his car for three blocks in Times Square, hitting nearly two dozen people before steel security barriers finally stopped him. An 18-year-old tourist from Michigan, Alyssa Elsman, was killed. Her 13-year-old sister, Ava, was among the 20 injured — three of whom are in critical condition, and one of whom is in very critical condition.
His lawyer had no comment.
Officials say Rojas had served in the U.S. Navy but was discharged following disciplinary problems.
Two law enforcement officials say Rojas told police he was hearing voices and expected to die. The officials weren't authorized to speak publicly and spoke to The Associated Press on the condition of anonymity.
After the wreck, Rojas emerged from his vehicle running, yelling and jumping before being subdued by police and bystanders.
Police do not suspect a link to terrorism, but the bomb squad did respond as a precaution to check the vehicle.
The maroon-colored Honda sedan came to rest with two of its wheels in the air, leaning on a lamppost and steel barriers intended to block vehicles from getting onto the sidewalk. Video posted online showed steam or smoke pouring from the car for a few moments after it stopped moving.
The scene at Times Square now. Gov Cuomo just arrived. pic.twitter.com/pErB4jg4sS

— Stephen Nessen (@s_nessen) May 18, 2017
Rojas has been arrested two times before for drunk driving, in 2008 and 2015. Police believe he was under the influence of drugs at the time of the incident, but are still awaiting a full toxicology report. 
New York Gov. Andrew Cuomo was at the scene of the crash, along with police and city officials. 
The crash happened at midday on a hot, clear day that brought large crowds of people into the streets to enjoy the good weather.
The sidewalks in many parts of Times Square and surrounding blocks are lined with metal posts called bollards that are designed to prevent cars from getting onto the sidewalks and other public areas.
That network of barricades, though, is far from a complete defense. There are many areas where vehicles could be driven onto packed sidewalks or public plazas.
Times Square also has a heavy police presence at all hours of the day and night.
Gov. Cuomo released the following statement Thursday afternoon:
"Today's events at Times Square were nothing short of horrific. I was briefed at the scene by Commissioner O'Neill and saw firsthand the professionalism and diligence of New York's first responders. As facts continue to emerge, my heart goes out to the victims of this terrible tragedy, as well as their families."