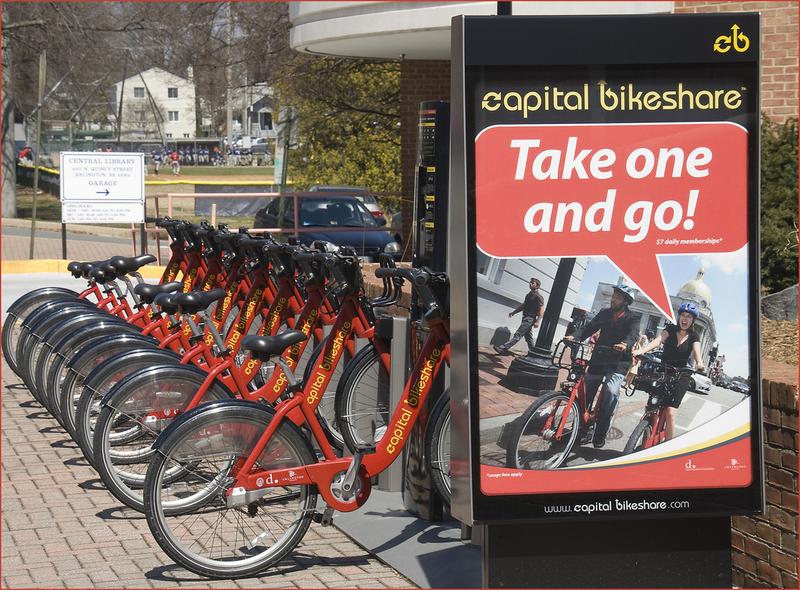 It's been three years since Capital Bikeshare's iconic—if bulky and somewhat slow-rolling—red bikes started appearing in the region, and the bike-sharing system is continuing its expansion in D.C. and the surrounding areas.
When it was launched in September 2010, Capital Bikeshare boasted 400 bikes at 49 rental stations in D.C. and Arlington. Three years on, the system includes more than 1,800 bikes at over 250 stations—and by the end of the month bikes should be coming online in parts of Montgomery County, including Rockville, Silver Spring, Takoma Park, and Friendship Heights.
Usage has also increased rapidly as the system has expanded. (Users can pay an annual, weekly or daily membership fee; the first 30 minutes of use are free, with charges coming thereafter.) While it took a full year for the system to register its first one million rides, it took only seven months to add the second million. In early September, Capital Bikeshare hit five million rides.
A recent survey of the system's users found that they say that Capital Bikeshare allows them to make trips they otherwise wouldn't, are less likely to use a car or other forms of transit, save some $800 per year on personal travel, and even feel healthier than they used to.
Ever since Capital Bikeshare launched, other cities have jumped on the bike-sharing bandwagon, including New York, whose system, which launched this year, is the only bigger one in the country. Seattle is also planning on its own system, and, oddly enough, one of the Capital Bikeshare bikes ended up there in late August.
The D.C. Department of Transportation is celebrating Capital Bikeshare's third birthday today at the station located at Seventh and F Streets NW. DDOT will also be hosting a Capital Bikeshare trivia contest via Twitter; just use the hashtag #bikesharetrivia for a chance to win gift cards and other prizes.