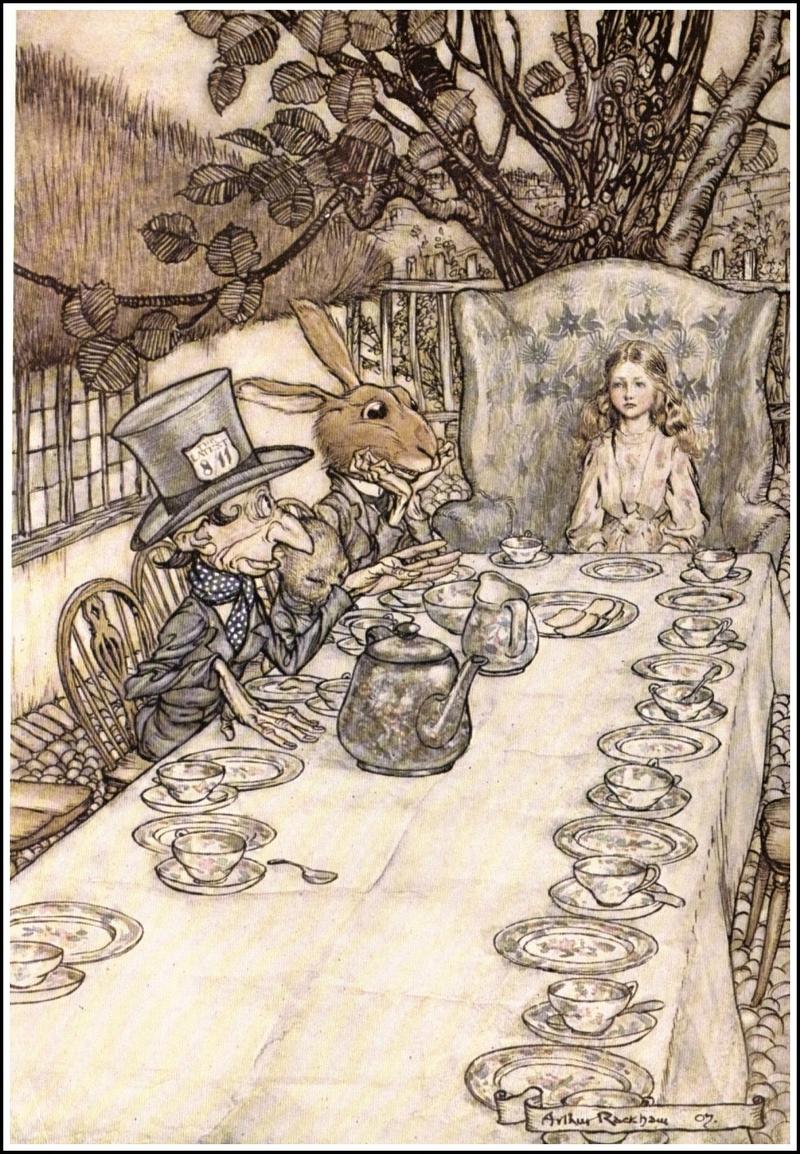 There was a table set out under a tree in front of the house, and the March Hare and the Hatter were having tea at it: a Dormouse was sitting between them, fast asleep, and the other two were using it as a cushion, resting their elbows on it, and the talking over its head. `Very uncomfortable for the Dormouse,' thought Alice; `only, as it's asleep, I suppose it doesn't mind.'
The table was a large one, but the three were all crowded together at one corner of it: `No room! No room!' they cried out when they saw Alice coming. `There's PLENTY of room!' said Alice indignantly, and she sat down in a large arm-chair at one end of the table. —Lewis Carroll, "Alice's Adventures in Wonderland."
For a food-themed series of programs, performed live at the Getty Center in Los Angeles, SELECTED SHORTS presented a wide range of funny, provocative, and touching works in which food, and the eating of food, plays a big role. Guest host Robert Sean Leonard presents two of them on this show.
The first is Ann Hood's "The Occasional Pignoli Tart" a wistful mother-daughter story. Its heroine wonders if there's any more to life than her job at an Italian bakery, where her mother is the world's best cannoli stuffer. The author comes by her sense of wanderlust first hand: she was flight attendant before becoming a full-time writer and contributor to a host of publications including The New York Times, The Washington Post, Ploughshares, Story, and The Paris Review. Her works include the novels The Knitting Circle, The Obituary Writer, The Properties of Water, and Waiting to Vanish, the memoir Comfort: A Journey Though Grief, and the short-story collection An Ornithologist's Guide to Life.
The reader is Amber Tamblyn, who starred in the television series "Joan of Arcadia" and whose other work includes the film "Sisterhood of the Travelling Pants," and featured roles on "House, M.D." and "Two and a Half Men."
Our second work is an excerpt from the celebrated classic Alice's Adventures in Wonderland, written by Charles Dodgson under the name Lewis Carroll. The tale of a proper—but not timid—English schoolgirl falling down a rabbit hole into a fantastical world of talking creatures and inverted logic has been a mainstay of children's literature since its publication in 1865.   And it is equally popular with adults as a source of fantastical language and prankish social satire. All are in evidence in the excerpt heard here: Chapter 7: "A Mad Tea Party." In it, Alice encounters The Mad Hatter and his eccentric dining companions The March Hare and the Dormouse. In a tour de force reading, all the parts are played by the versatile actor Christopher Lloyd, no stranger to fantasy and humor as his many film credits include "Back to the Future" and "Who Framed Roger Rabbit?"
"The Occasional Pignoli Tart," by Ann Hood, performed by Amber Tamblyn
"A Mad Tea Party," by Lewis Carroll, performed by Christopher Lloyd
The SELECTED SHORTS theme is David Peterson's "That's the Deal," performed by the Deardorf/Peterson Group.
For additional works featured on SELECTED SHORTS, please visit http://www.symphonyspace.org/events/series/71/selected-shorts
We're interested in your response to these programs. Please comment on this site or visit www.selectedshorts.org