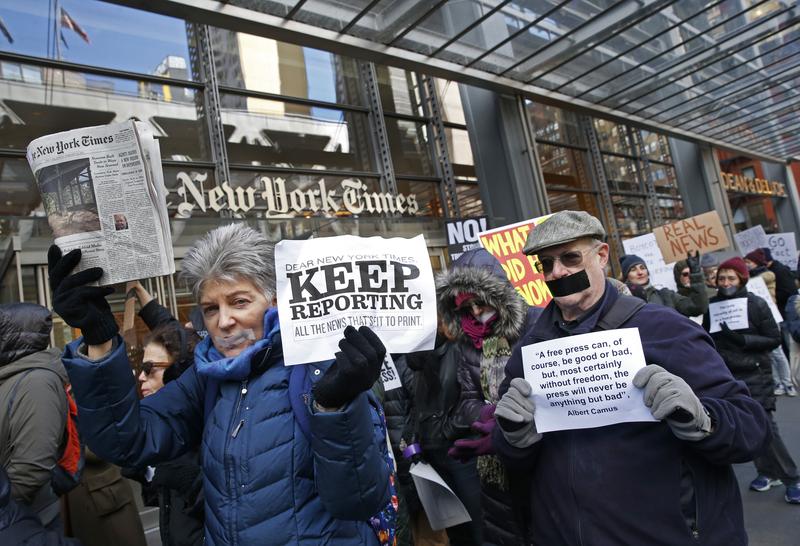 Last Friday, several news outlets including The New York Times were prevented from attending a briefing with White House Press Secretary Sean Spicer. In response, the Times ran ads in its own paper over the weekend, as well as during the Oscars.
And despite Trump's claims that the paper is failing, the election has given The Times a much-needed boost. More than 276,000 people bought digital news subscriptions in the last three months of 2016 -- the best quarter for The New York Times since they launched the pay model in 2011.
On this episode of Indivisible, conservative host Charlie Sykes speaks with New York Times media columnist Jim Rutenberg about the strained relationship between the White House and his paper, the Times' new campaign calling for truth, as well as the changing nature of the media landscape under Donald Trump.
Do you think President Trump's bias against the media is valid? Tweet us #IndivisibleRadio or call us: 844-745-TALK

— WNYC 🎙 (@WNYC) March 2, 2017
Charlie also opens the phones to get listener reactions on the President's Congressional address -- especially on the controversy around President Trump's choice to honor the wife of fallen Navy SEAL Ryan Owens. 
Tonight on #IndivisibleRadio Was Trump's tribute to dead Marine moving & presidential? Or cynical exploitation? WNYC Live 8 ET 844-745-TALK

— Charlie Sykes (@SykesCharlie) March 2, 2017
Here are some tweets from this episode: