Can Museums Cash In On Art?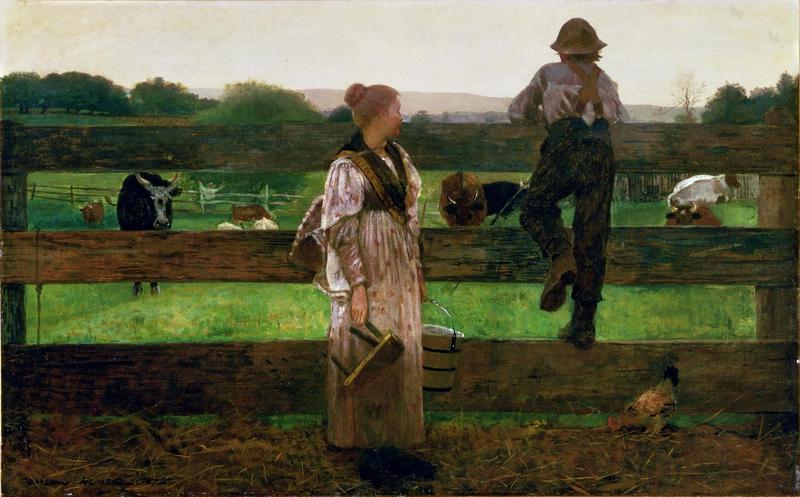 Winslow Homer's "Milking Time" (1875) is a masterpiece of American genre painting. It's a quietly intense farm scene in which a mother and son turn away and gaze over a wooden fence that seems to say something about held-back emotions.
The painting is owned by the Delaware Art Museum, but it will be offered at a Sotheby's auction this fall, unless a buyer turns up beforehand. It will be the second painting sold by the museum in a practice known as deaccessioning — when museums sell artwork to fund operations.
Art critic Deborah Solomon thinks the practice is very troubling. "Trustees who sell paintings are cannibalizing their own collections," she said. "The gesture is seen as self-defeating. It's a little bit like burning your roof to heat your kitchen."
The museum says it needs to sell the works to help settle a $19.8 million expansion debt. Solomon says this is a cautionary tale about the perils of over-expansion, something that several New York museums are embarking into — The Metropolitan Museum of Art, the Museum of Modern Art, the Whitney Museum of American Art, and probably also the Frick Collection. "Everybody wants to put new wings, assuming that architecture draw viewers, every museum wants to be a destination," she said. "But sometimes expansions do send museums into debt that they cannot get out of."
One famous example, Solomon said, is the American Folk Art Museum, which built a new building on 53rd Street and got into so much debt that it moved back to its original small space at 2 Lincoln Square in 2011.
Solomon also believes deaccessioning is often only a short-term solution. She mentions the example of the National Academy Museum, which, in 2008, sold two Hudson River paintings from its collection — one by Frederic Edwin Church and another by Sanford Robinson Gifford — to help defray operating expenses. The sale brought in $13.5 million. Six years later, the museum is mired in financial problems and laying off staff. "At best, selling a painting is a temporary fix. It gets you out of the hole right now but it doesn't save you in the long-term, because in the long-term, you need to have a collection for people to come see."
What do you think? Is it okay for museums to sell their artwork to raise money to pay their bills? Why or why not? Join the conversation.