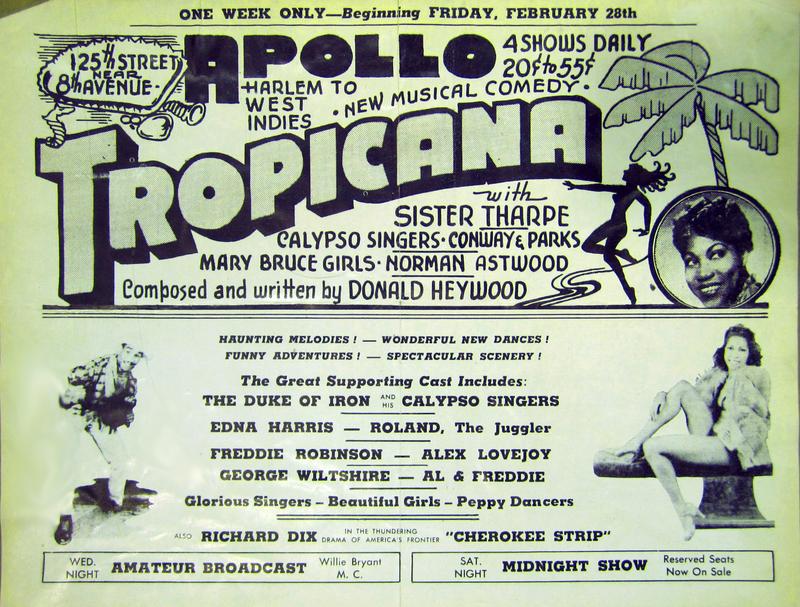 Lots of people have heard Day-O!, which kicked off the Calypso Craze of 1957. Fewer know that calypso had been in vogue in the U.S. twice before: once in the late 1930s to early '40s, and again at the end of World War II. New York City, seat of the entertainment industry and home to a large West Indian-American population, was the epicenter of all three booms. In this centennial year of the first recorded vocal calypso, New York Public Radio explores pioneering calypso broadcasts on WNYC.
When 23-year-old Henrietta Yurchenco wangled a job at WNYC in 1939, she "didn't know a microphone from a monkey wrench" (as she recalled decades later). But station director Morris Novik, who was "determined to change the station's unimaginative programming," couldn't have made a better hire. The young leftist's bohemian social circle put her "in the center of all that was new and exciting in New York's musical scene," and although Yurchenco was a classically trained pianist, she had long maintained an open-eared interest in "ethnic" music. Soon, she was featuring live performances of Flamenco guitar, African marimba, Chinese pipa, Indian sitar, and Brazilian folksong on her aptly named Adventures in Music.
It was American folk music, however, that quickly emerged as her chief interest; in fact, one of the first episodes of Adventures featured Woody Guthrie, Sarah Ogan, and Jim Garland singing songs of the Kentucky miners' strike. But like Guthrie and his comrades in the Folk Revival (and "Chenk" would come to know all of them: Pete Seeger, Lee Hays, Millard Lampell, Alan Lomax, Leadbelly, Burl Ives, Josh White, Aunt Molly Jackson, et al.), Yurchenco took a broad view of both "American" and "folk."  That's why Yurchenco put Trinidadian calypso on the air —years before Seeger and the "People's Songs" crew made a point of including it in their Hootenannies and Midnight Specials.
As it happens, calypso was already in the air in late 1930s New York: since 1934, top calypsonians from Trinidad had made annual visits to the city, recording for Decca and gigging in clubs. The initial contingent appeared on Rudy Vallee's "Fleischmann's Hour" on NBC (their accompanying bandleader, Trinidadian expatriate Gerald Clark, subsequently got his own weekly radio show on WHN), while the 1937 cohort had patrons at Le Ruban Bleu standing on their chairs. By 1938, demand for calypso records—which for the first time were being sought in great numbers outside of the West Indies, Harlem, and San Juan Hill—sparked what Time magazine hailed as a "Calypso Boom"; soon Newsweek, Life, Billboard, and Modern Music (the League of Composers' quarterly journal) noted the trend, too. In 1939 Decca issued an album of American-themed calypsos in its popular, rather than its "race" or export, series; its author, the Trinidadian Wilmoth Houdini, who'd been living and recording in New York for more than a decade, was profiled in the New Yorker and asked to sing at the opening of the World's Fair. Meanwhile Max Gordon, proprietor of the up trending Village Vanguard, booked the "Calypso Recorders of Trinidad" in September 1939 and found his business had "more than doubled" at the end of ten weeks; not surprisingly, he continued to sign calypso acts regularly through the '40s and '50s.
The lead vocalist for the original Vanguard engagement was a lanky Trinidadian émigré who performed as "The Duke of Iron" (real name Cecil Anderson). At the time, Anderson's resumé wasn't long: he had recorded a handful of sides for Decca—pop tunes and novelty songs, oddly—with Gregory Felix's "Krazy Kats" and four calypsos for the upstart budget label Varsity. Taking a chance, Yurchenco tapped Anderson to appear on WNYC, and his career took a decided jump.
Between April 13 and August 27, 1940, Yurchenco devoted seven or more episodes of Adventures in Music to calypso, and at least five of them featured the Duke of Iron and his Trinidad Calypso Troubadors. By October she had given the Duke his own show, Calypso, which aired Saturdays at 1:30 (it later moved to 5:45); it's likely that members of Gerald Clark's Caribbean Serenaders served as the program's house band. Surviving scripts show that the Duke typically sang a mix of originals, popular favorites and carnival hits by veteran calypsonians ("Ugly Woman," "King Edward the VIII," "Roosevelt in Trinidad," "Mathilda," etc.), and older tunes sung in patois. For one appearance on Adventures he composed an ode to WNYC and its champion, Mayor Fiorello LaGuardia, who had recently saved the municipal station from the budget ax; for another, the Duke introduced coverage of the Democratic National Convention with a topical number about FDR's nomination.
In the excerpt above, from the February 1, 1941 edition of Calypso, the Duke of Iron sings "Never Me In Matrimony", one of several 1930s calypsos on the topic of marriage. Clearly meant for two singers, this debate sounds like one of the famous duets by Attila the Hun (Raymond Quevedo) and The Lion (Hubert Raphael Charles), composer of the hit "Ugly Woman."
In April 1941, Yurchenco left WNYC to accompany her husband on a Mexican trip that turned out to be the start of her long career as a bona fide ethnomusicologist. Calypso continued for several more months without her, however, and the Duke also hosted a second calypso show on Tuesday nights over the summer. (By the fall, when both programs ended their runs, the Duke had taken a season-long gig at Harlem's Congress Casino, and --the evidence is inconclusive-- he may have moved his radio show over to station WOV, which at the time catered to an African-American audience at night.)
Yurchenco was extraordinarily proud of her two years' work at the station, however. She produced countless hours of folk music, a program focused on the contemporary avant-garde (Composers of Today and Tomorrow), and other Adventures "spin-offs" (South American Way, devoted to Latin popular music; Folk Songs of America, hosted by Leadbelly), as well as the first two American Music Festivals, for which she coordinated a diverse array of talent from the worlds of jazz, modern classical, and folk –including the Duke of Iron himself in 1941. But she regarded Adventures in Music as her crowning achievement, the earliest example of her lifelong dedication to what she called "world folk." 
Her enthusiasm for calypso seems to have spread to others at the station. On the back side of a page of one draft script is a fragment of a mock-calypso about "Mrs. Yurchenco," apparently penned by her longtime writer, Paul Kresh. "She keep the boys at the station in line," it begins, in mid-stanza:
She come down each day at one
And then the folk singers start havin' fun.
One likes to think the listeners enjoyed themselves, too.