Occupy Wall Street Protesters Call for Leniency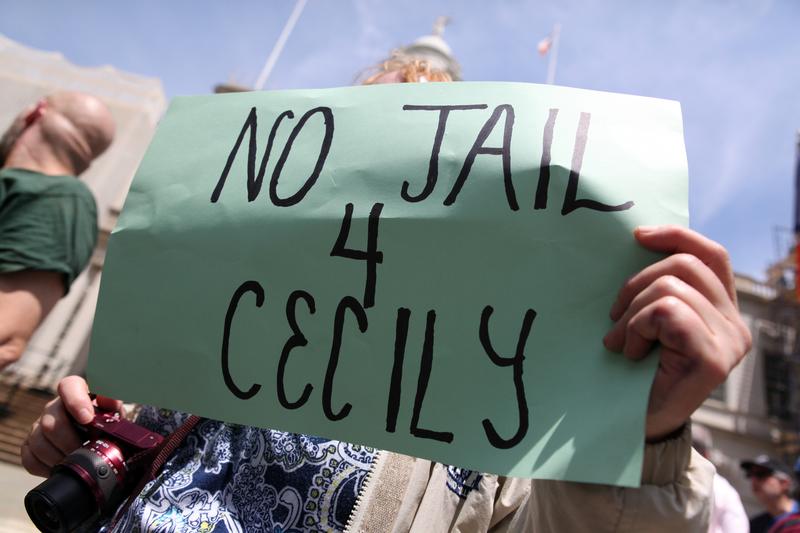 Dozens of Occupy Wall Street protesters took to the steps of City Hall on Monday, demanding leniency for fellow protester Cecily McMillan. Last week, McMillan, 25, was found guilty of assaulting a police officer, a felony crime.
Protesters brandished a letter from one of the jurors, claiming he represented nine of the 12, and asked Justice Ronald A. Zweibel to consider probation and community service, rather than jail time for McMillan.
Yetta Kurland, a civil rights attorney with the National Lawyers Guild, said she's hoping at sentencing next week the judge will give McMillan community service rather than the maximum sentence of seven years in prison. "Cecily has already suffered enough in this proceeding," Kurland said. "I think it's significant that the overwhelming majority of jurors are asking the judge not to give her any jail time."
McMillan had been charged with deliberately elbowing an officer in the eye as police cleared people out of the movement's home base, Zuccotti Park, at Occupy's six-month observance in March 2012. But her defense had said that McMillan was startled and knocked the officer accidentally after he grabbed her left breast from behind, leaving her bruised.
McMillian spoke with her friend Mariah Young-Jones over the weekend from Rikers prison. Young-Jones said McMillan hopes that her case will draw attention to larger social issues. "She doesn't want this to just be about her, she wants it to be about women's issues and injustice in general," Young-Jones said.
With reports from the Associated Press.