Soundcheck
Calle 13's Residente, On 'Multi_Viral,' Latin American Politics, And Julian Assange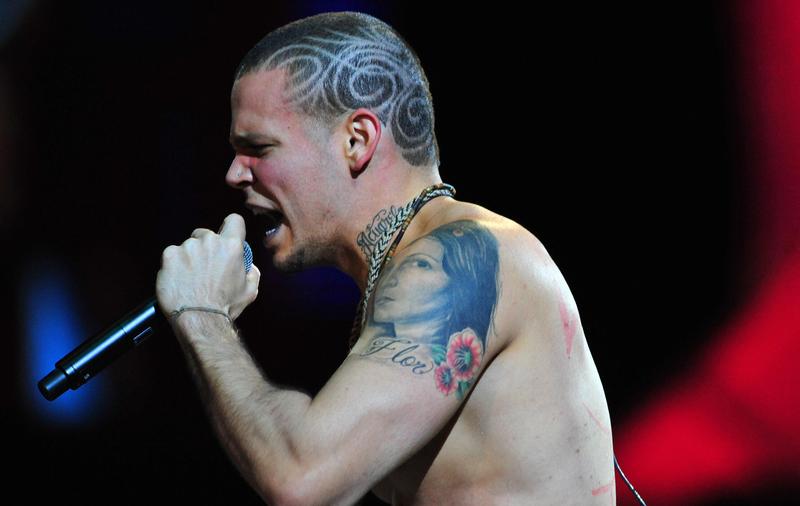 It's no exaggeration to say that Calle 13 is divisive within the Spanish-speaking world. The Puerto Rican rap duo first gained notoriety in the mid-2000s as vulgar jokesters with undeniable talent for cranking out raunchy club hits full of big beats and catchy hooks. But over the years, the funny, self-deprecating lyrics of frontman Rene Perez Joglar (a.k.a. Residente) and his collaborator and stepbrother Eduardo Cabra have veered deeper into social commentary, and the group has evolved into Latin America's premier political act.
Earlier this month, Calle 13 unveiled the music video for "El Aguante" -- a track from its latest album Multi_Viral, which translates to "tolerance" or "endurance" in English. And in true Calle 13 fashion, the Irish folk-infused song and its rapid-fire, witty lyrics don't mince words, delivering a list of grievances that humanity must "tolerate" -- from politics and religion, to economic struggles and war and natural disasters to second-hand smoking and more. The track is emblematic of the duo's mix of satire, sarcasm and call to action on Multi_Viral. 
In an interview with Soundcheck host John Schaefer, Rene Perez Joglar talks about his turn towards being a socially conscious band, and the new album which features contributions from Uruguayan poet Eduardo Galeano, Cuban trova singer Silvio Rodriguez, and Wikileaks founder Julian Assange.
Interview Highlights
On Puerto Rico's status as a U.S. territory: 
We are a colony.... We don't have a president -- or yeah, we have a president, but we can't vote for the President. Obama is our president, but we didn't vote for him.... I am pro-independence because I want to be like you guys, with freedom and one flag. And because I know that it's better in terms of -- business. Like us, for me, being an independent in music -- it's way better. 
On writing and rapping exclusively in Spanish: 
Right now I want to do a project in English -- my project, not a Calle 13 thing. I don't want to mix it -- we are protecting the brand. If we start with Calle 13 making English lyrics, some of the Latin American people, they are not going to understand. It's a different concept. But I don't feel that comfortable, either, writing in English -- but I'm trying, I'm doing it. And I think maybe I can do it for this year -- I can have a few songs. 
On working with Wikileaks founder Julian Assange on the title track from Multi_Viral: 
I called the government of Ecuador to ask them -- and they let me go [to the] Ecuadorian embassy in London. So I went there -- he know about the band... and he knew he liked it, he liked the idea of doing something with us. He was a nice guy; you can see in his eyes, he wanted to be free and go out. He was very open, and we started working together. The idea was to do something with the people using the Internet, talking about media and all the movements that are happening right now. So we started making questions, and using the answers of the people on the Internet to write the song.