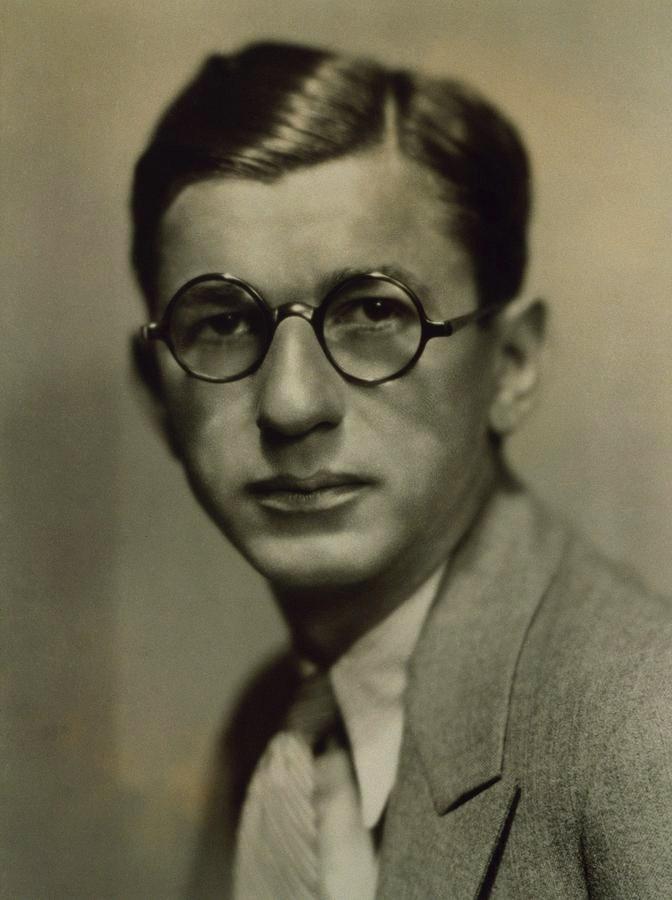 From the June 1944 WQXR Program Guide:
Mr. Caesar has been before the public as lyricist and librettist for twenty-five years. Among his better-known lyrics are "Tea for Two," "Sometimes I'm Happy," "Lady Play Your Mandolin," "Swanee," "Crazy Rhythm," and a series of children's songs. "Sing a Song of Safety," in wide use throughout our public school system. He is a member of the Board of Directors of ASCAP, and a former president of the Songwriters' Protective Association.
PLAY, DOCTOR, PLAY --When I was a very little boy I had two ambitions. I wanted to be a pianist and a surgeon, the general idea being to operate with my right hand and bring comfort and joy to the poor victim by concertizing for him with my left. These were to be simultaneous performances. Neither of my ambitions was achieved, but they are by way of being achieved for me.
While there is as yet no record of a symphonic background to a surgical operation, there are growing signs of music being introduced in the treatment of the sick, of war casualties and others. Excellent results have already been obtained in the case of the neuro-psychiatric, of course, and there is every reason to presume that after further research and experimentation, the music publishers of tomorrow may be firms like McKesson & Robbins, Squibbs, Lilly, et al. Then, if you are suffering from low blood pressure, you will send little Abner to the apothecary's with your doctor's prescription calling for one Toscanini recording, to be played every hour on the hour. And at the Mayo Clinic we may find listed as consulting members of the staff, the names of Bing Crosby, Leopold Stokowski, Dinah Shore, and Lily Pons. Perhaps Dr. A.A. Berg, who has been donating libraries lately, will get Mount Sinai Hospital to sponsor Symphony Hall. Incidentally, we have reason to believe that there are already a sufficient variety of compositions to prescribe for all cases of acute insomnia.
WIQXR -- How about a survey to establish the I.Q. of radio audiences? I leave it to others to work out the formulae that shall govern the research, but I offer the suggestion that a council of educators, psychologists and advertising wizards might, with profit to all, lay the groundwork for the undertaking. Naturally, I expect WQXR to embrace my notion with enthusiasm because the results would make especially pleasant reading and listening for the WQXR family. The call letters of the station might then be changed to WIQXR.
REPETITION IS REPUTATION -- The other evening at the home of a friend we were listening to the broadcast of a program featuring currently popular songs. This friend turned to me after a particular song had been played and said, "I guess it's a hit...I hear it all the time." He didn't say, "I like that song; it should be a hit...I think I'll buy a copy" but, shrugging his shoulders and shaking his head as though he had resigned himself to the inevitable, he merely observed that the song must be a hit because he had heard it so often, or rather, could not escape hearing it. On investigation, I discovered that the item under discussion had received no less than thirty network performances in one week, even though it was only five or six weeks old.
REPUTATION MAKES REPETITION -- Now, WQXR has solved the problem for itself and its listeners. In the course of the year it repeats many compositions. But they are those master works of established greatness, of indestructible vitality that have persisted through the decades not as the result of commercial plugging, but rather through the slowly gathering momentum that is the rhythm of longevity for all true art. These great works created for themselves the demand for repetition.
MUSIC DOES IT -- In Great Britain for several years now, and here too, lately, music has been used in many large industrial plants with astonishing results. Production has been speeded up, absenteeism cut down, general morale improved, and accidents reduced. We recall when a New York department store introduced music in its various departments, suiting the type of music to the activity of the floor. For instance, a very crowded floor was treated to languorous waltzes, and we know the waltz is not the rhythm of the shove and push. For departments where the patron was tempted to linger beyond the endurance of the patient salesclerk, music of a more exciting nature was the rule. It worked. A friend of ours, the owner of a leading Fifth Avenue bazaar, advises us that he has had his wares flattered by the attentions of a disproportionate number of kleptomaniacs, and is now thinking seriously of introducing a round-the-clock rendition of the song, "Lay That Package Down, Lady, Lay That Package Down."
I know a jockey who, when he is exercising his horse in the early dawn, sings to the animal, which he tells me in the case of two-year-olds, seems to steady them, and at the same time gets more speed out of them than by the whip. Now I don't know what that jockey's repertory consists of, but if that horse doesn't hurry up and win a race soon, I am going to suggest a change of composers.