The Takeaway
Bypassing the West, Russia Strikes Major, Multi-Decade Energy Deal With China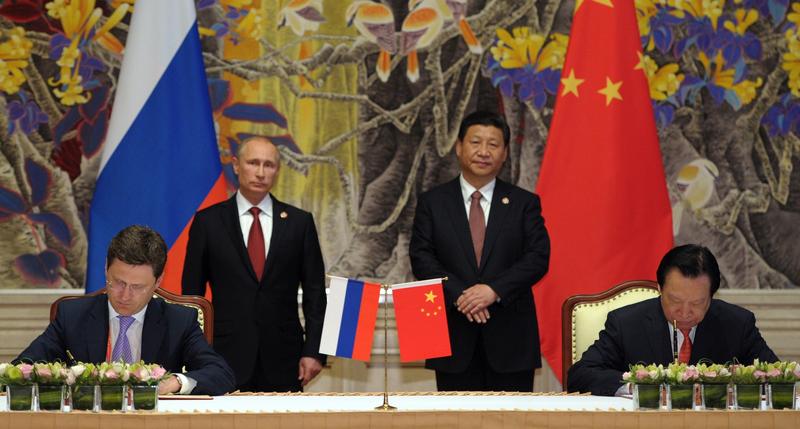 In what looks a major deal that could change the energy landscape from Eastern Europe to Asia, Russia and China have come to terms on a major natural gas agreement.
At an estimated price of over $400 billion, the deal ensures that a 30-year supply of gas will be sent from Siberia to China via a pipeline.
The deal has been 10 years in the making and comes as Russia is looking for an alternate energy market with the threat of sanctions from Europe looming.
Kimberly Marten, a political science professor at Barnard College, Columbia University, weighs in on the deal and what it could mean for the West.
"We've been watching the negotiations on this take place over many, many years," says Marten. "It looks like what happened is that Russia caved on the price and was willing to meet the requirements that China had, which had been delaying the deal up until now."
Marten says that the deal was supposed to be originally signed last June at an international conference in St. Petersburg, but was put off because of negotiations around pricing. 
"What it looks like happened is Russia is now willing to accept the lower rate that China pays to Turkmenistan for its gas, which is significantly less than the price that Russia has been getting from Europe for its gas," says Marten.
According to Marten, for many years Gazprom, Russia's state-owned natural gas company, has been working to develop a pipeline to reach China. In 2012, Russian President Vladimir Putin ordered its construction ahead of this deal.
"The problem was that they weren't sure what the end market was going to be—all they knew for sure is that there would be a liquid natural gas (LNG) terminal that would probably ship things to Japan," she says. "But with liquid natural gas, the prices are changing on the global market and it's still not quite competitive in pricing when comparing gas that's just shipped normally by pipeline. So this also is a way of allowing Gazprom to get the funds to build this very expensive pipeline."
Some oil and gas industry experts are saying that this pipeline might be the most expensive one to ever be built, according to Marten, who says this deal with China gives Gazprom a form of low-cost financing for construction of the pipeline.
"It's really Russian state interests and the cronies closest to Putin that are benefitting the most," adds Marten.
The gas flowing to China will likely come from Russia's far northeastern region, among other places, so it's not likely that Europe will be competing with Asia for Russian resources, says Marten.
"But one thing to keep in mind about gas pipelines is that once they're there, they are expensive to move or change," she says. "Once you have a relationship set up by a pipeline, it isn't easy to undo that relationship."
Marten says that "the gas market is in incredible flux right now," which is why it is in Putin's main interest to get new clients for Gazprom.
"Everything that is happening in the oil and gas market has largely been disturbed by what's been happening over the last couple of years," she says. "Gas has never been, up until this point, a globally traded commodity—it's always been based on bilateral negations. That may be changing with LNG coming online and with shale gas making LNG cheaper in the future. At the moment, I think the most important thing is that this is just a way of really salvaging Russian state interests at a time of uncertainty because of what's going on in Europe."