What It's Like to Wear a Burqa — and a Bikini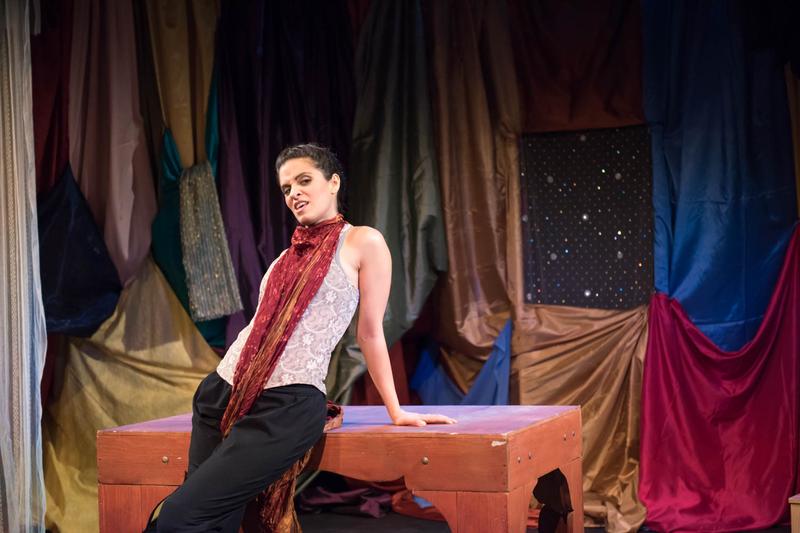 I would love to see Nadia P. Manzoor's next play. 
She clearly has a lot to say — about how women are treated in Muslim communities, about how Muslims are viewed in the West, about her relationship with her mother, her brother, her father and her best friend. About the freedom that clothes can bring. And about how she discovered her sexuality in a repressive society. 
That's enough material for a full-length memoir, but Manzoor and director Tara Elliott try to cram it into an over-long 90-minute, autobiographical, one-woman show, "Burq Off!" now at Teatro Circulo. That's not unusual. Many artists use their first show (or first novel) to explore their autobiography and work through the difficulties of growing up. 
Manzoor, who is Pakistani British and Muslim herself, is a charismatic and funny performer with a gift for impressions (she does 21 of them here, everything from her strict Muslim teacher to her warm mother to the Irish guy she eventually falls for). A slimmed-down, 45-minute version of this show that focused tightly on one aspect of her upbringing and raced through fewer characters and situations would likely dazzle.
Instead, we hit all the milestones, from when she first discovered sex at age 5, to when she met her best friend, to her decision to go off to college, to a death that transformed how she felt about herself. Yet ironically, audience members might walk away feeling like they don't know much about her own experiences at all. Manzoor tends to go for easy jokes or slick transitions instead of tough explorations. We don't feel her pain — or her joy — because she doesn't share those things with us.
For example, when she puts on a burqa for the first time, she feels free — and she shows us through dance. The same thing happens when she puts on a bikini: there's a freedom dance. But she never explains to us why both a burqa and bikini make her feel so liberated, or shows us how those events changed her. I wanted her to go deeper and help us empathize with the people from her life (including herself) whom she's portraying, instead of just encouraging us to laugh at them.
It's rare to hear a Muslim woman's viewpoint on stage and it's terrific that Manzoor is sharing her experiences. But I can't wait to see what she does next.
Burq Off! is running through Jan. 18 at Teatro Circulo, 64 E 4th Street.