A Bulletproof Black Man in Harlem: Marvel's 'Luke Cage'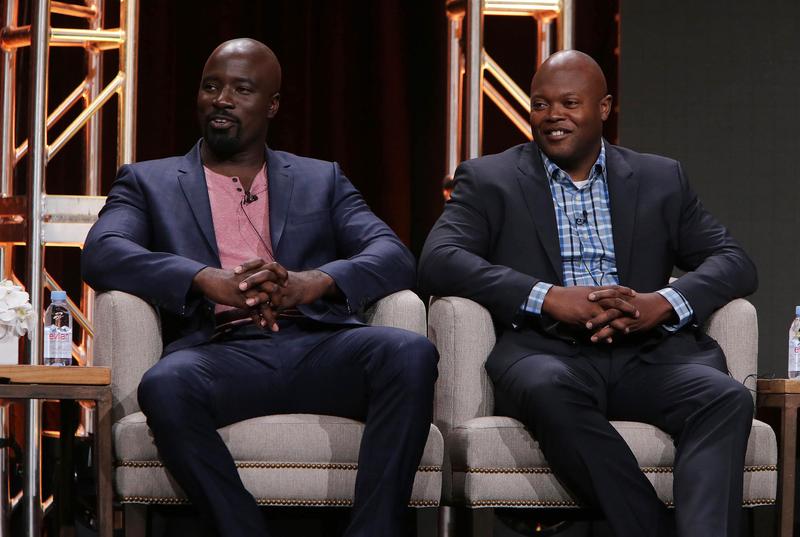 A new Marvel show hits Netflix today. It's set in Harlem, and the main character — Luke Cage — is one of Marvel's first black superheroes.
Marvel painted a pretty grimy, undesirable picture of Harlem when Luke Cage first appeared in comic books in the 1970s. Emily Gaudette, the comics editor at Inverse, says the subtitle for the original books was: "Out of Hell, a Hero."
.@emilygmonster wrote a very good piece on Luke Cage's Harlem and what it means to the Marvel universe https://t.co/fUGY2ivDdv

— Tonya Riley (@TonyaJoRiley) September 14, 2016
The Netflix series seeks to modernize its depiction of Harlem, featuring cameos of landmarks like the Apollo and the Cotton Club and a musical score courtesy of Ali Shaheed Muhammad from A Tribe Called Quest, Method Man of the Wu-Tang Clan and other hip-hop heavyweights.
A primer on the Luke Cage origin story: Cage was imprisoned for a crime he didn't commit. While in jail, he agreed to be subjected to experimental treatments, hoping to earn time off for good behavior. But those experiments went awry, and he ended up with accidental superpowers: unbreakable skin and superhuman strength.
In the age of Black Lives Matter though, what does it mean to see a bulletproof black man on the small screen?
Joshua Adams, an arts and culture writer, says it's complicated. This month's police shootings in Tulsa and Charlotte have only confirmed to him that black bodies are perceived differently by people with implicit biases, as older, bigger and more threatening.
"So when you're seeing a black male that can't get shot, that's great," said Adams. "But in some ways it uses a stereotype and in some ways it subverts it. It's problematic in a certain sense."
Cheo Coker, the executive producer of "Luke Cage" on Netflix, said at San Diego's Comic Con in July, "When I think about what's going on in the world right now, the world is ready for a bulletproof black man."
Adams thinks it's more nuanced than that.
"I do think [Coker] was talking about needing a space where you can watch, even though it's fictional, a black person be essentially completely impervious to institutional racism…but I don't think the world wants a bulletproof black man. I think the world wants a society where black people don't have to be bulletproof."
Luke Cage: A Bulletproof Black Man in the #BlackLivesMatter Era https://t.co/Rpa73LFZk3 via @colorlines

— Joshua (@JournoJoshua) September 6, 2016
Actor Mike Colter, plays the title character Luke Cage in the series.