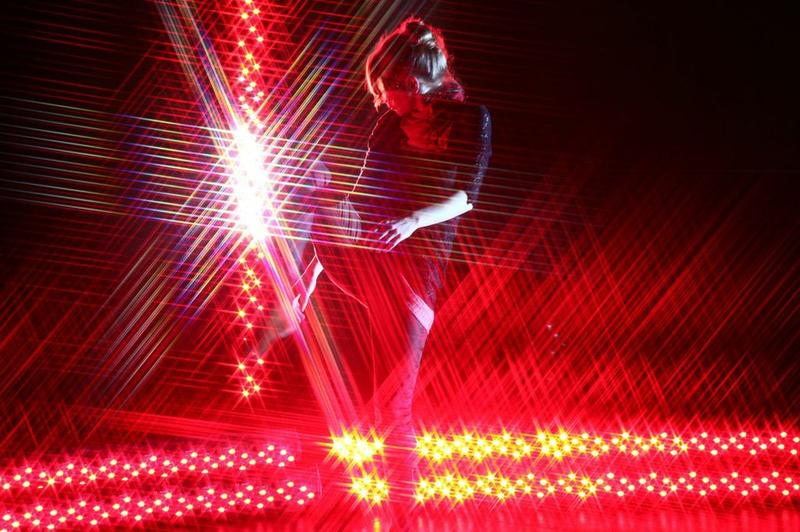 There's a frenetic and rollicking quality to Buke & Gase, the prog-punk rock duo known for its hybrid Frankenstein instruments they use: Arone Dyer plays a souped-up bass ukulele; Aron Sanchez, a guitar-bass crossbreed played through two homemade amp speakers. The group is decidedly DIY, but it's no gimmick: On this year's General Dome, Buke & Gase's songs burst out with fizzy distorted melodies and throttling syncopated drums -- all while Dyer's voice flutters and chants and sneers. The music is a glorious mess of noisy riffs and taut arrangements, and wholly unique, especially when seen in concert.
That signature live wire energy is fantastically captured in the new video for "Revel In Contempt," a track from 2010's superb Riposte. But the music video is no typical band concert film. Instead, the simply titled "Revel" was created by renowned postmodern dance choreographer Susan Marshall, in conjunction with her new dance work Play/Pause, which premiered this September.
An evening-length performance work for six, Play/Pause couples the sharp edges of indie rock with Marshall's deconstruction of sleek, high-end music video dance moves, but strips away the context making it far more subtle and expressive. On stage, the work will be set to an original commissioned score by Pulitzer Prize-winning composer David Lang and played live by members of the quartet Dither and Mantra Percussion.
The "Revel" video, directed by William Cusick, amps up Marshall's composed, yet natural choreography with a hyper-kinetic fever-dream flair. Where most only get to see live dance performances from afar, Cusick and Marshall drop you right into the fray, amidst the dancers as if in a mosh pit or part of some free-form line dance. Set in a spare studio space accentuated only with flittering strobe lights and glowing J.J. Abrams-esque lens flares, Cusick's rapid-fire smash cuts, intimate camerawork, and tight pacing allows us to follow the action and footwork up close and personal. It will also leave you feeling a bit woozy.
When you think about dancing to indie rock -- and especially the punkier, more dissonant variety like Buke & Gase -- its easy to imagine lanky guys, arms folded, nodding along. Or you might picture stage diving and crowd surfing and dudes banging around in a mosh pit frenzy. But with Marshall and her company's loose and seductive choreography, the off-kilter dance rhythms of Buke & Gase's song "Revel In Contempt" feel even more pronounced and connected. The result is an inspired and fun mashup.
Buke and Gase play at Le Poisson Rouge, in New York City on Friday, Oct. 4.
Susan Marshall & Company's performance of Play/Pause comes to BAM from Nov. 20-23.