A Famous Roof Gets a Glass Garden Maze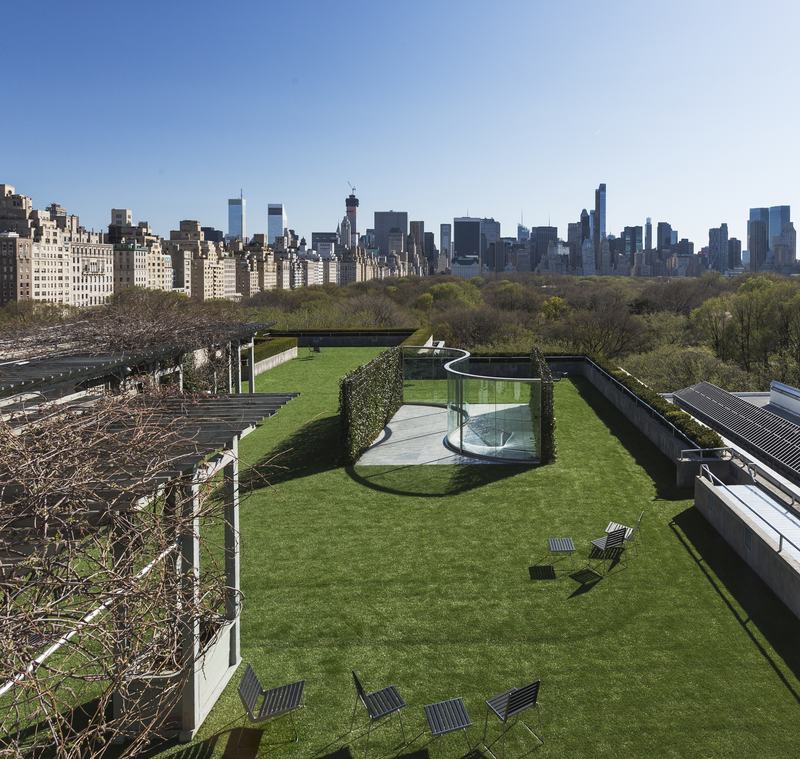 A new installation by American artist Dan Graham at the Metropolitan Museum's Roof Garden is part garden maze, part skyscraper facade.
The piece consists of S-shaped mirrored glass between two ivy hedgerows. People can see through the glass on one side and see their distorted reflections on the other. Hedge Two-Way Mirror Walkabout was done in collaboration with Swiss landscape architect Gunther Vogt, who designed the specially-engineered terrain where the ivy is planted.
Artist Graham explained that his pieces are often playful — because he is an Aries. "We are the infants of the zodiac. So, I don't know what these pieces are going to be even until I see them, but I can see they are very much about a child discovering herself," he said.
(Photo by Gisele Regatao)
Graham said the piece is a fun house for kids, and a photo opportunity for parents. "Girls like to dance in front and boys like to pretend to be Superman," he said, laughing. "Of course if I were a teenager I might try to destroy this piece with graffiti," he said.
Graham's piece also references the city's skyline that one can see from the roof and the man-made aspect of Central Park, said Ian Alteveer, curator of the exhibit. "Urban-ism, garden design, architectural history, all of them are in direct dialogue with what is around us," he said.
The piece was partially paid for by Bloomberg and it was the second commissioned by the museum's Roof Garden. The first one was by Pakistani artist Imran Qureshi last year.