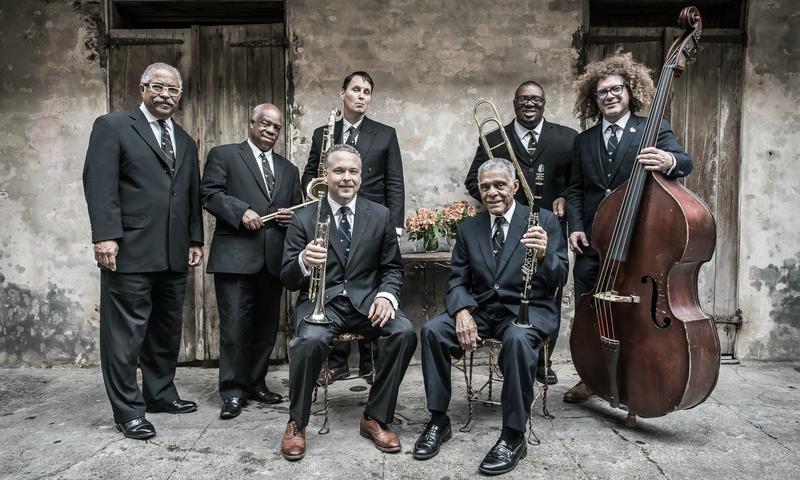 With the recent diplomatic thaw, there are new opportunities for Americans to travel to Cuba. New Orleans' seven member Preservation Hall Jazz Band, with its mission of preserving Louisiana jazz traditions, is seeking to reestablish long-forgotten musical connections between the cities.
That quest led the band to travel from New Orleans to the island. It all started when one of Cuba's premier jazz pianists, Ernan Lopez-Nussa, paid a visit to Preservation Hall's tiny performance space in New Orleans. "When Herman visited he was playing something on the piano," the band's director and bass player, Benjamin Jaffe, recalls. "I said, 'Oh, that sounds like ragtime.' He said, 'No, this is a danzón.'" 
Lopez-Nussa took this friendly debate as an opportunity to compose a piece that explores where Cuban and New Orleans music "kiss each other." The piece premiered to a roaring ovation when the band and Lopez-Nussa co-headlined at Havana's grand Teatro Mella. 
The saxophonist Charlie Gabriel is Preservation Hall's oldest member at 83. For Gabriel, these Havana shows were nearly 60 years in the making. "In 1956, a friend of mine [and I] were supposed to come to Cuba," Gabriel says. "We made a big preparation to come, and at the last minute, I got a job and said, 'Well look baby, I don't think I'm gonna make it.'" Gabriel didn't get another opportunity to visit — until now.
"I am very pleased that I made this journey," Gabriel says. "It's been a wonderful experience and really completed my dream. But that doesn't mean I want to leave now… I still want to live long!"
Music Playlist
Afro Cuban Jazz Suite

Artist: Charlie Parker

Album: The Latin Bird

Label: HDJ

Black Chicken 37

Artist: Buena Vista Social Club

Album: Lost and Found

Label: World Circuit