Brooklyn Voter Purge Hit Hispanics Hardest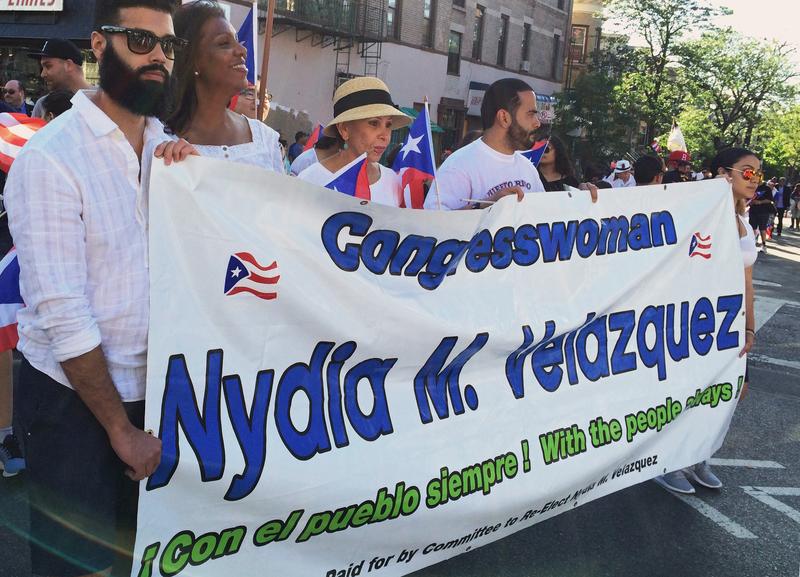 Ever since New York State's presidential primary in April, officials from the city Board of Elections have been trying to explain what led to two illegal voter purges that removed more than 120,000 voters from the rolls.
Board officials have said repeatedly that the purges were a mistake. The two top clerks at the Brooklyn office have been suspended without pay since shortly after the primary. Executive Director Michael Ryan announced earlier this month that the board would return all the purged voters to the rolls in time for Tuesday's congressional primary.
Ryan has apologized publicly, but he's also tried to debunk claims that any specific group of voters was unduly effected by the purge. Testifying under oath at a City Council hearing last month, Ryan said that "a broad cross-section of voters [was] removed from the voter rolls."
But a WNYC analysis found something very different. Under the state Freedom of Information Law, WNYC obtained the list of every voter the board says was removed from the books in a major purge over two days last summer. When mapped by election district, our analysis shows that Hispanic voters were disproportionately purged from the rolls when compared to all other groups.
The election districts with the largest number of purged voters are heavily concentrated in the neighborhoods of Sunset Park, East New York, and parts of Bushwick and Williamsburg — largely within the bounds of the 7th congressional district, whose incumbent, Democrat Nydia Velázquez, faces a primary challenge later this month from two candidates.
According to New York State election law, there are legitimate reasons why voters should be removed from the rolls — they move, they die, they are convicted of felonies. But the distribution of these voter purges raises a series of troubling questions about how the board performs some of its most basic and essential functions, and whether the weakening of the federal Voting Rights Act in 2013 allowed the board's misconduct to slip under the radar.
WHERE PEOPLE WERE PURGED
Before the purge, as of November 2014, there were 1,308,871 voters registered in Brooklyn. The distribution of registered voters, by individual election district, looked like this:
On two dates — June 18 and July 5, 2015 — a total of 122,454 voters were removed from the rolls of registered voters in Brooklyn. This map shows the percentage of registered voters purged in each election district:
The concentrations of purged voters generally align with election districts where the majority of the population is Hispanic, based on the population of individual blocks that make up each election district in the 2010 Census. 
In fact, 13.9 percent of voters in Hispanic-majority election districts were purged, compared to 8.7 percent of voters in all other election districts. 1 That means voters in Hispanic-majority election districts were removed at a rate about 60 percent greater than everyone else.
THE NAMES OF THOSE PURGED
Public voter roll records, and the list of purged voters obtained by WNYC, include each voter's name. To estimate the racial and ethnic makeup of that list, we worked from a U.S. Census Bureau analysis that calculated the way people who used each surname identified themselves in the 2000 Census.
By our calculations, 15.2 percent of people with last names that are used mainly by Hispanic people were purged from the Brooklyn rolls, compared to 9.5 percent of everyone else. 2 That means those with typically Hispanic last names were purged at a rate 60 percent greater than everyone else — about the same as the rate geographically. 
HOW IT HAPPENED: RYAN'S INITIAL EXPLANATION
So far, Executive Director Michael Ryan of the Board of Elections has placed blame squarely on the staff at the Brooklyn borough office. In response to a scathing city Department of Investigation report that criticized the board's failure to remove ineligible people from the rolls, Ryan said the Brooklyn staff took it upon themselves to clean up the rolls.
That report was published in December 2013. A few months later, staff at the Brooklyn office began a process of flagging people who had not voted since 2008 or earlier, Ryan said. Then, he said, the board mailed all the people on that list a notice telling them the board was going to cancel their registration, a so-called  "intent to cancel" notice. Voters who did not contact the board after receiving the notice were purged on two dates in 2015 — June 18 and July 5.
Ryan has been clear that the Brooklyn staff made a critical error. No voter should have been removed from the rolls before that voter was first designated "inactive" - a classification strictly delineated by election law. A voter is classified as inactive only if the post office returns the annual notice, and then the voter does not participate in two subsequent federal elections. The board is only supposed to send an intent to cancel notice to voters who are already on the inactive list. The Brooklyn staff skipped the inactive voter step when it conducted the 2015 purge, Ryan has said. 
Testifying before the City Council, Ryan called the staff's decision to pick an arbitrary date "improper" and stressed that staff at the Brooklyn office took these actions on their own without informing the executive management.
"Look, what happened in Brooklyn should not have happened," Ryan told reporters after the hearing. But he also sought to dismiss concerns raised specifically by supporters of Sen. Bernie Sanders, some of whom were protesting New York's closed primary system, which requires voters to be registered either as a Democrat or Republican up to six months ahead of the primary election.
"Although there was an otherwise political narrative out there and that fire was already stoked, by the action in Brooklyn, we added gasoline to that fire and we contributed to the lack of confidence on our own," said Ryan. "That is regrettable. It will not happen again on my watch, and quite frankly, I understand why people are concerned."
WOULD A STRONGER VOTING RIGHTS ACT HAVE PREVENTED THE PURGE?
Rep. Velázquez has been asking her own questions about the purge for weeks. She held a town hall meeting in Manhattan's Chinatown last month, along with Reps. Grace Meng and Hakeem Jeffries. The event was billed as a chance to talk about election administration in the wake of the U.S. Supreme Court's landmark 2013 decision in Shelby County v. Holder, which struck down portions of the federal Voting Rights Act requiring localities to get "pre clearance" for changes in certain election operations.
She asked Ryan if the board would have been required to clear the purge with the Justice Department if Section 4(b), which made Brooklyn a protected jurisdiction, were still intact. Ryan equivocated.
"With respect to the purge, there was clear employee error on a misinterpretation of the law, and it's difficult for me to say whether 4(b) was still intact whether that mistake still would have occurred," Ryan said. "A mistake is a mistake."
The Voting Rights Act prohibits practices or procedures that disproportionately affect a minority group, whether those actions are intentional or not. But that "mistake" shows up starkly when the Brooklyn purge is mapped according to election district. The purge is heavily concentrated in Velazquez's 7th Congressional District, where large numbers of Brooklyn's Latino voters live.
"That's [my] congressional district, almost exclusively," Velazquez said when WNYC shared the map during an interview at her district office in Williamsburg last week. "It's Sunset Park, both the Latino and the Asian communities. Then East New York, going into Cypress Hill."
Velázquez's district saw a larger purge than other congressional districts in Brooklyn, both by raw percentage and, more starkly, when weighted by the district's proportion of total Brooklyn voters. 3
As Velazquez studied the map, her reaction shifted from shock to outrage.
"I do not want to think that it was deliberate, you know, because that would be voter suppression, and at a time when the Voting Rights Act is under attack in Washington, to have this type of action in a city and state like New York, a Democratic city, it's just beyond any comprehension," she said.
Velazquez has been in Congress since 1992 and faces two long-shot challengers in the congressional primary on June 28 — Yungman Lee, a businessman, and Jeff Kurzon, a lawyer. The winner will face Republican and Conservative Allan Romaguera in the general election in November.
"How could they purge 120,000 and no one knew that this was happening?" she said. "It's just, by looking at that map I could say, 'Hey, I've been targeted or my district has been targeted,' just by looking at it. By looking at the numbers. We'll see. But it's not going to end here."
Velázquez said she wants her staff to corroborate WNYC's findings, "because I will ask for the Department of Justice to look into this."
We need to get to the root cause," she added, noting that she has frequently fought with the Brooklyn Democratic party machine without explicitly accusing her opponents of having a hand in the purge. 
"I am not satisfied with an explanation or an acknowledgement on the part of the executive director that this was a mistake. This is serious business. This is about democracy and about the voting rights of individuals to participate."
VOTING RIGHTS FIGHTS
Back in 1981, shortly before another New York City primary, advocates scored a major court victory arguing that the city was in violation of the Voting Rights Act. The primary for Mayor, Comptroller, City Council and a handful of other offices was scheduled for Sept. 10. But the night before the primary, a panel of federal judges ruled that the city had failed to secure the necessary clearance from the Justice Department before drawing new Council district lines and changing poll site locations.
"The Board of Elections was in disbelief that the Voting Rights Act could really affect them and make them do things differently," said Esmeralda Simmons, executive director for the Center for Law and Social Justice at Medgar Evers College, and one of the attorneys on that case.
The primary was rescheduled for later in the month.
In 1989, Simmons and her colleagues used another argument based on the Voting Rights Act on behalf of some 300,000 voters the Board of Elections had purged because they hadn't voted in the previous four years.
The plaintiffs argued the purge was discriminatory "because the process disproportionately affected minority-group members," according to The New York Times.
A federal court judge ordered the board to return all the purged voters to the rolls. "I note that the Voting Rights Act does not require a finding of intent to discriminate against minorities to be operative here," Judge Charles J. Sifton was quoted saying in The Times after his ruling. "It simply requires an adverse racial impact."
Since the 2013 Supreme Court ruling in Shelby, Simmons said it's fallen on advocates and watchdogs to appeal to elected officials and the Board itself to act in the best interest of voters. "I don't think it's working," she said.
In the case of the most recent purge, the board never told the Justice Department that it was removing names based on new criteria, a step that might have caught the fact that the Board was following its own process incorrectly.
When Simmons reviewed WNYC's maps of the the purged voters, she observed, unprompted, "That looks like Nydia Velazquez's district....Wow."
She said the map also made it look like the purge targeted Asian and Hispanic voters, adding of Velazquez, "I do not want to be in a room with her right now."
HOW TO FIX IT
"I am personally aggrieved. I feel like I've been purged," Simmons said. She also said that simply returning the purged voters to the rolls may not fix the problem. "It's not something that is so easily corrected. When people are turned away from the polls once, what makes you think they are going to go back?"
That question will be answered partially next Tuesday, when voters head to the polls for the congressional primary. But it will only be a partial test — unlike the presidential primary, turnout in congressional primaries tends to be far lower.
When WNYC shared its analysis with Board of Elections chief Ryan, he said, "Anytime there is a problem with the voter registration system, I'm alarmed and we're not happy about it."
But Ryan would not comment on the specifics. "I can't speak to a demographic analysis that I didn't participate in and, quite frankly, we don't know what the real effect of that is," he said.
Ryan also said there may be an honest explanation for why Hispanic voters were caught up in the purge at a rate so much higher than any other group. He said some neighborhoods may be better organized for voter registration, even if those new voters don't plan to participate. So if aggressive efforts added people to the rolls who then did not vote, they would then have fallen victim to the inappropriate purge.
He also said the board has taken steps to ensure nothing like this ever happens again. Besides returning all the purged voters to the rolls, Ryan said the board has disabled the manual function that allowed staff to flag voters one by one to be removed from the system.  
"All of that said, it should have never happened," Ryan added, "and whomever it affected, it should not have affected those individuals."
EXPLORE THE PURGE MAP
---
1 17,392 of the purged voters fall into majority Hispanic districts, 102,593 of the purged voters fall into all other districts. 125,420 of registered voters were in majority Hispanic districts and 1,183,451 were in all other other Brooklyn election districts as of November 2014. About 2,500 people on the purged list, or about 2 percent, could not be matched to a Brooklyn election district.
2 Using the Census analysis, we counted as "Hispanic" any last name where 80 percent of the people in the U.S. who used that name identified as Hispanic in the 2000 Census. By that measure, 23,012 Brooklyn registered voters with typically Hispanic last names were purged. These last names appeared 151,654 times in the pre-purge voter roll. 79,679 other purged voters had last names that appeared in the 2000 Census. These last names appeared 789,587 times in the pre-purge voter roll. We weren't able match about 16 percent of the purged voters to last names in the 2000 Census. This leaves about 20 percent of people on the Brooklyn registered voter list with last names that were not in the voter purge.
3 27,586 of the purged voters were in Congressional District 7, representing about 11 percent of the 253,107 registered voters there as of November 2014. That's the highest percentage among the six congressional districts that include Brooklyn, and a rate about 25 percent greater than the rest of Brooklyn, which had 8.8 percent of voters purged.