Brooklyn Teachers Who Watched Towers Fall Reflect On Teaching 9/11 History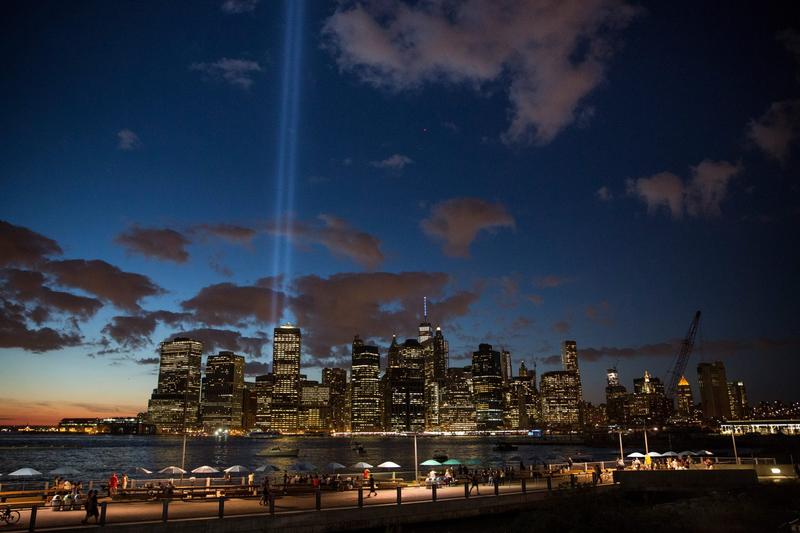 Public School 146 in Brooklyn, New York has a large bank of tall windows overlooking the skyline of Manhattan, and many teachers and students saw the planes strike the World Trade Center on Sept. 11, 2001.
Witnessing the attacks was as traumatic for teachers and staff as it was for students. The school and its teachers were recently the inspiration for the book "Towers Falling" by Jewell Parker Rhodes.
Here & Now's Robin Young talks with school faculty who were there that day about the impact 9/11 had on the school, its teachers and the curriculum.
Interview Highlights: Anna Allanbrook, Antoinette Byam & Jenny Hardy
On what 9/11 was like
Antoinette Byam: "One of my colleagues came in and said the children are asking about those funny clouds in the sky, and I looked up and said, 'I don't think they're clouds.' And just as I said that, another plane hit the second tower. It was quite shocking."
"Part of teaching is you always wonder, what has happened to the children you've taught. And when you think about the children, you think about, 'Oh, that's the child who was in my class on September 11. And that makes you begin to think about the day, and how that day was handled, and the children you were with, how you had to think about them and their families. It takes a while to unravel all of the layers you feel about the things that have happened and you talk about it bit by bit, and then you begin to think, 'Yeah, that's what happened.'"
On helping children understand the events of that day
Anna Allanbrook: "It's so hard to talk about it. I think one of the things that struck me about 9/11 is that it's only in the last year or so that we actually found ourselves able to talk about it. So one thing that happened was we became very quiet about our own upset."
Array
Jenny Hardy: "As soon as we came back to school, we gathered as a community and we did sing lots of songs of love and peace, which is a tradition we carried on since then. Every year, either on or close to September 11, including today, we gather as a community to sing songs of joy and peace and love. To comfort each other because of the events of that day."
"In my class, I actually do introduce the subject. I wasn't able to find any books that were appropriate for young kids, so I wrote one. And every year before our singing, I read it to my children, and explain to them what happened. I think it's important to do that, even though it's a little frightening for 6-year-olds, because it's part of a history, it's part of who we are. I think it's important for them to realize how communities can help each other through a difficult thing."
Byam: "We always come back to the line that you can't control what other people do, but you can control how you respond, and that gives you a lot of power. Just like the children in the book, who have taken that power to construct something, we also have that power to construct something and make new things and turn situations into as positive as we want them to be."
On remembering 9/11 and what it means
Hardy: "That day was such a beautiful day in New York City, and any time there was a beautiful morning in New York City, I'm always reminded of that morning. And I do look across the river and I do miss the towers… There were times when we look and we were reminded."
Guests
Anna Allanbrook, Public School 146 principal. New York City Public Schools tweets @NYCSchools.
Antoinette Byam, Public School 146 fifth-grade teacher.
Jenny Hardy, Public School 146 first- and second-grade teacher.
Copyright 2016 NPR. To see more, visit http://www.npr.org/.