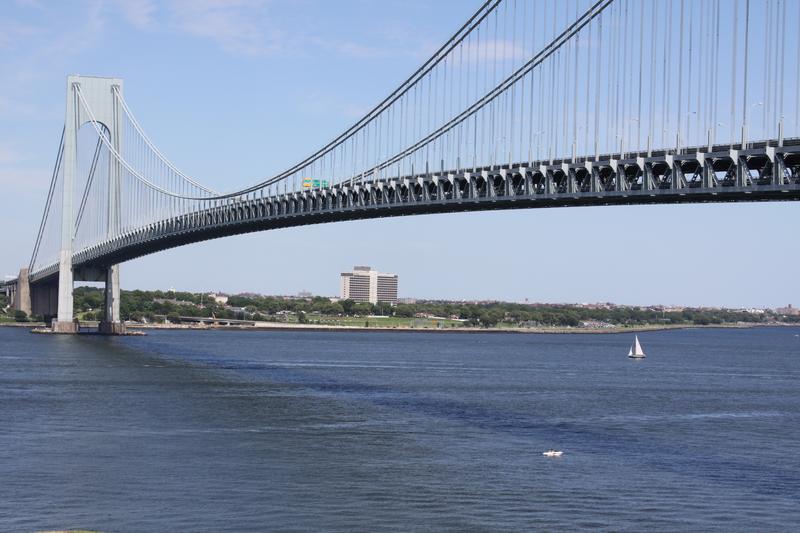 Now that the MTA has agreed to give Staten Island residents a toll cut, everyone wants in on the action.
"The Tolls Are Too Damn High!" proclaims an online petition co-sponsored by New York State Senator Marty Golden and Assemblywoman Nicole Malliotakis. The pair are calling on the MTA to reduce the cost for E-ZPass users crossing the Verrazano-Narrows Bridge at least three times a month.
In February, Governor Cuomo proposed lowering tolls over the Verrazano for Staten Island residents. Cuomo said he'd split the $14 million cost of the discount with the MTA, which operates the bridge. Following a vigorous debate at its board meeting, the MTA agreed to the toll break—meaning it said goodbye to $7 million in bridge revenue for the year.
"Cuomo busted the MTA piñata and now everyone wants some of the goodies inside," said Gene Russianoff, the head of the Straphangers Campaign, a transit advocacy group.
But Senator Golden says a discount for the rest of New York wouldn't hurt the MTA's bottom line because it would increase bridge traffic—and toll revenues.
"Right now people (from Brooklyn) don't go shopping in Staten Island," he said. "And in Staten Island they go shopping into Jersey. If we open up the economic avenues" between the two boroughs, he said, New Yorkers would remain in New York to shop.
"It's not a raid on transit," Golden said. "It's fairness."
Under Golden's proposal, drivers who cross the Verrazano at least three times a month would get a 58 percent discount, similar to a discount currently in place for Staten Island residents crossing Port Authority-owned bridges to New Jersey.
Golden said it wasn't incongruous for him to advocate for a discount over an MTA-owned bridge—despite his opposition to Cuomo's plan to divert $40 million in MTA funding away from the agency. In the past, Golden has tried to prevent the governor from making so-called transit funding raids, and has sponsored 'transit lockbox' legislation designed to preserve the MTA's state funding. Cuomo has never signed the bill.
One of his constituents, Golden said, drives between Brooklyn and Staten Island every day. "It costs him $3,500 dollars a year to go back and forth, and he's in his sixth year of doing that," said Golden. "That's almost $20,000. Do you think that's fair?"
The MTA wouldn't provide figures on how much Golden's proposed toll cut could cost the agency.
"Staten Island toll relief originated in the Legislature," said spokesman Adam Lisberg, "and that's where these questions should be directed as well."