Brooklyn Libraries Reopen For First Time Since Sandy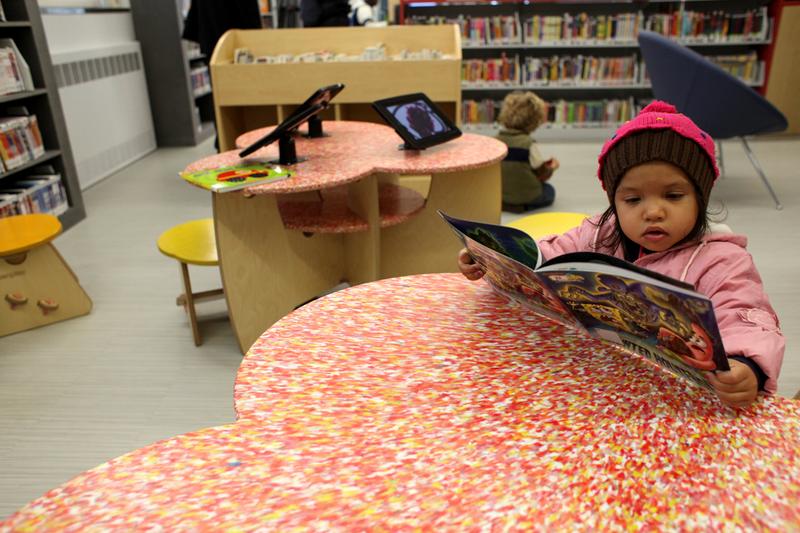 Six Brooklyn Public Library branches reopened Wednesday after extensive renovations.
The Coney Island branch received a $2.7 million upgrade. The ceiling is made of salvaged pieces of the Coney Island boardwalk and the walls are lined with vintage photos of Coney Island's landmarks.
One of the first children to enter the newly renovated library was Kimani Mention. The 7-year old took one look at the new iPads in the children's section and declared them "amazing."
"They have new books, new library, iPads, computers, it's amazing," she said, before dashing off to use the iPad.
And it wasn't just kids that rushed in on opening day. Brandon Simmons was one of the first to log in to the new computers.
"This is like heaven," he said, as he searched for a construction job online. "Big screen beats the phone," he said waving a smartphone, which he has been using for a computer at home.
The new library was paid for with a mix of FEMA funds, the Mayor's Fund to Advance New York City, private donations and out of the Brooklyn Public Library's expenses.
Reclaimed boardwalk wood ceiling at the Coney Island library branch. (Stephen Nessen/WNYC)
Entrance to newly renovated library with vintage photos. Check the lettering on the side to see the photo was printed backwards.(Stephen Nessen/WNYC)
(Stephen Nessen/WNYC)
Vintage photos from the Brooklyn Public Library's collection on display at the newly renovated branch of the Coney Island library on Mermaid Avenue. (Stephen Nessen/WNYC)
Kimani Mention, 7, and her mother Kisha on opening day at the Coney Island library on Mermaid Avenue. (Stephen Nessen/WNYC)
Coney Island branch of the Brooklyn Public Library re-opens after Sandy after a $2.7 million renovation on October 23, 2013. (Stephen Nessen/WNYC)