Trump's Travel Ban Prompts Second Day of Protests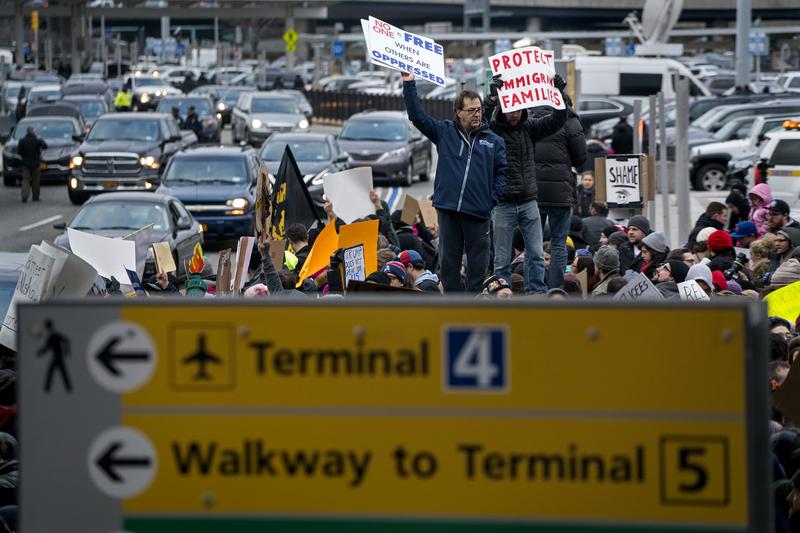 Protestors streamed into in Battery Park Sunday afternoon, a historic site where millions of immigrants were once welcomed to New York, demanding an end to President Trump's travel ban.
Mayor Bill de Blasio, addressing the crowd, called Trump's order "un-American."
"Forty percent of all Americans can trace their origins to those who went through Ellis Island," he said. "I'll tell you one thing they'd say to us, `We're all human beings, we came to this country for freedom, we came to this country because it's a beacon. We will not let that beacon be put out by Donald Trump."'
Abdul Al-Zindani, a U.S. citizen who emigrated from Yemen, was in Battery Park with his family. He said his six-year-old daughter told him: "'If Trump asks you if you're a Muslim, say no.' I was shocked and said 'why?' She said 'because he hates Muslims and wants to kick us out.'"
Sunday afternoon's rally followed a night of demonstrations at New York's JFK Airport, where thousands gathered to demand the release of the people that have been detained as a result of the White House order.
New York officials responded furiously to the ban over the weekend. "We have no tolerance for intolerance. Period," New York Gov. Andrew Cuomo said. "And that's what we're going to stand up and say."
A federal judge in Brooklyn issued an emergency order Saturday night, temporarily barring the U.S. from deporting people subjected to President Trump's executive order on immigration. The judge said travelers who had been detained had a strong argument that their legal rights had been violated.
Immigration lawyers worked through the day to try and gain the release of several people being held at JFK, with some success.
ACLU lawyers said at least seven detainees were released Sunday morning, but it was unclear how many were still being held. Becca Heller, director and co-founder of the International Refugee Assistance Project, said the numbers are fluid and there's also been confusion at the airports.
"So it's absolutely critical that customs and border patrol or homeland security provide the names of people who are being detained," Heller said, "so that they can get access to lawyers because even though they're not being deported their legal rights continue to be egregiously violated."
Protests also took place in Elizabeth, New Jersey, where hundreds gathered at a federal detention center. One of them, South Orange resident Abdul Rahman, said he was a Muslim and a green card holder.
"This is illegal, unconstitutional," Rahman said. "He can't just put down an [executive order] and expect it to be executed, when it's not even communicated across the country."
Senator Charles Schumer, the Senate minority leader, told protestors Sunday he was fighting against the White House directives. "They're against everything that is American. Those orders make us less humanitarian, less safe and less American."
But not all New Yorkers were opposed to the travel ban. Richard Sorens, a retiree living on Staten Island, said the safety of the country should come first.
"I feel that enforcing our immigration laws that are already in place take priority above everything else," he said. "Our country needs to be safe before we can worry about everything else."
On Sunday afternoon, the White House issued a statement pushing back against the protests. "To be clear, this is not a Muslim ban, as the media is falsely reporting," President Trump said. "This is not about religion — this is about terror and keeping our country safe."
He added he had "tremendous feeling" for people trapped in Syria's humanitarian crisis.