Now in Brooklyn: A High Tech Knitting Center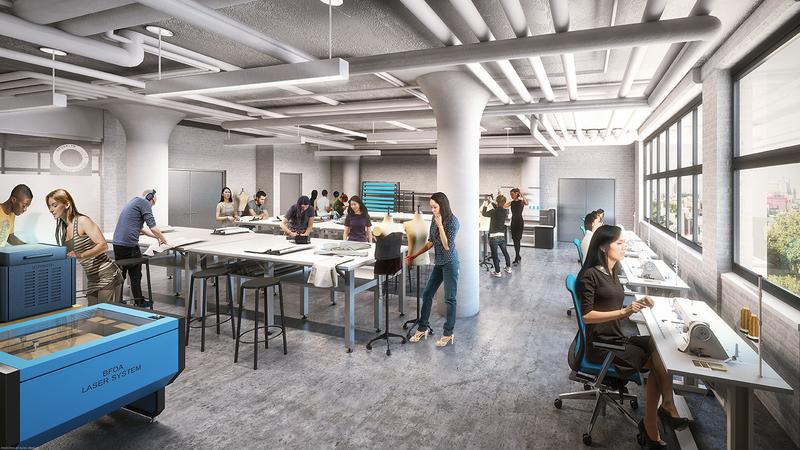 The Pratt Institute is getting into the business of making clothes, opening a business accelerator and production center in south Williamsburg on Tuesday.
The Brooklyn Fashion and Design Accelerator fills 21,000 square feet of one floor on a building on 630 Flushing Avenue that used to be a Pfizer factory. It will be home to five research fellows and about 30 designers who create clothes and accessories.
These are small businesses already in operation that will now get a push, explained executive director Debera Johnson.
"The goal is, 'I am making 10 or 20-thousand dollars a year in sale,' which you can't live on, but they need to get to 500,000 in sales to really be viable, that's where we are really interested in." she said.
The companies will pay from $350 to $600 a month to the center. That includes office space and access to mentors in business, technology and most importantly, sustainability.
"It's a 21st century mode of thinking," said Johnson. "If you are not thinking about sustainability, you are thinking in the 20th century."
One of the designers is Aza Ziegler, whose California-inspired collection is called Calle del Mar. Ziegler is 22-years-old and thinks being part of the accelerator will motivate her.
"Being in a place where there are established brands that their works are in store it's like, 'Ok, I got to get my stuff there, I got to be where they are,'" she said.
Money for the center came from the city, the state, and from Pratt: a total of $2-million-dollars. Johnson said the goal is to be profitable in a few years especially through the manufacturing facility. It has eight sewing machines and two computerized knitting machines.
The production facility can be used by designers at the center or those working elsewhere. Johnson hopes it will make an outfit for first lady Michelle Obama, who she met recently at the White House while talking about the accelerator.
"I am trying to convince her to let us develop a high-tech dress for her, laugh, so we will see," she said.
Johnson said the first lady's dress would be knitting on one of its machines and totally sustainable.