SchoolBook
Brooklyn Charter Wins Contest to Rethink American High Schools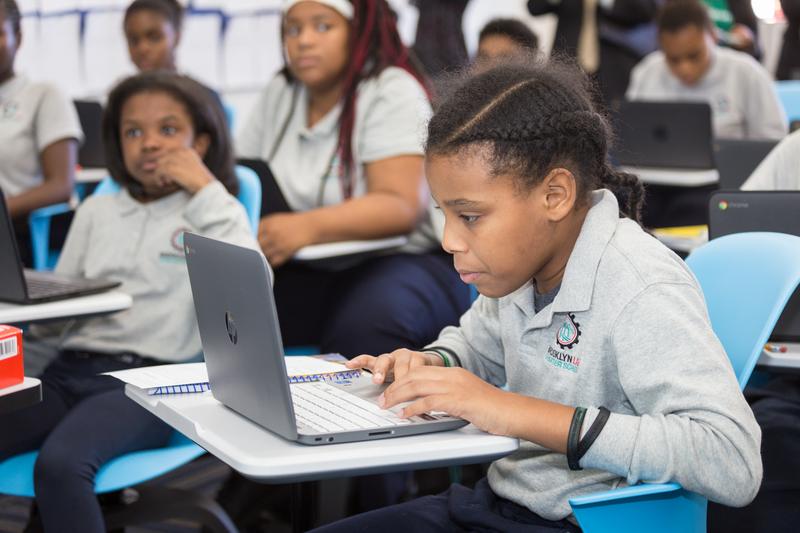 A Brooklyn charter school is among 10 winners of a national contest to rethink what an American high school should look like.

On Wednesday, the XQ: The Super School Project announced the winners at an event in Washington, DC. Brooklyn Lab Charter school will get $10 million dollars over the next five years from XQ to create a new high school for about 800 students.
In selecting the school's proposal, XQ cited its success with "complex learners." Nearly 40 percent of Brooklyn Lab students have special needs, according to co-founder Erin Mote. The two middle schools provide up to two hours of daily tutoring and use technology, including Chrome Books for every child, to customize instruction. 
Mote said she and her husband Eric Tucker, who co-founded Brooklyn Lab two years ago, learned about the award a few weeks ago. And they're actively looking for space near its two middle schools in downtown Brooklyn.
"Honestly, it took my breath away," she said. "We are honored by this generous award, and for the opportunity to create a new model for high school that fundamentally shifts a system that hasn't changed significantly over the last 100 years."
She noted that their current annual budget is $7 million; the gift of $10 million will provide some much-needed security. 
"Unlike our first middle school, where Eric and I bought the toilet paper and paper towels the first year, it's a relief to know we don't have to do that," Mote said.
When the Super School contest launched last fall, Mote said the school sought ideas from its faculty, students and families. Some were fanciful, like hoverboards at school and driverless cars to get students to show up.
But they also came up with ideas that made it into the application, such as a later start time, more internships and classes for college credit. The school also plans a college guidance program, starting in ninth grade, to help students through the application and financial aid process.
Brooklyn Lab opened its first middle school in 2014. Test scores were about the same as the citywide average in its first year. They went up this year, just as they did in the rest of the city, but the seventh-grade proficiency rate at Brooklyn Lab was higher than average. Mote said this shows teachers have gotten better at "diagnosing and understanding how to serve our students" with personalized instruction.
The new high school will take the same approach when it opens in 2017. Mote acknowledged the middle schools serve very few English Language Learners; she said she hoped the grant will help her team figure out how to recruit and retain more of them.