In The Bronx, a Family Court Gives Special Attention to Babies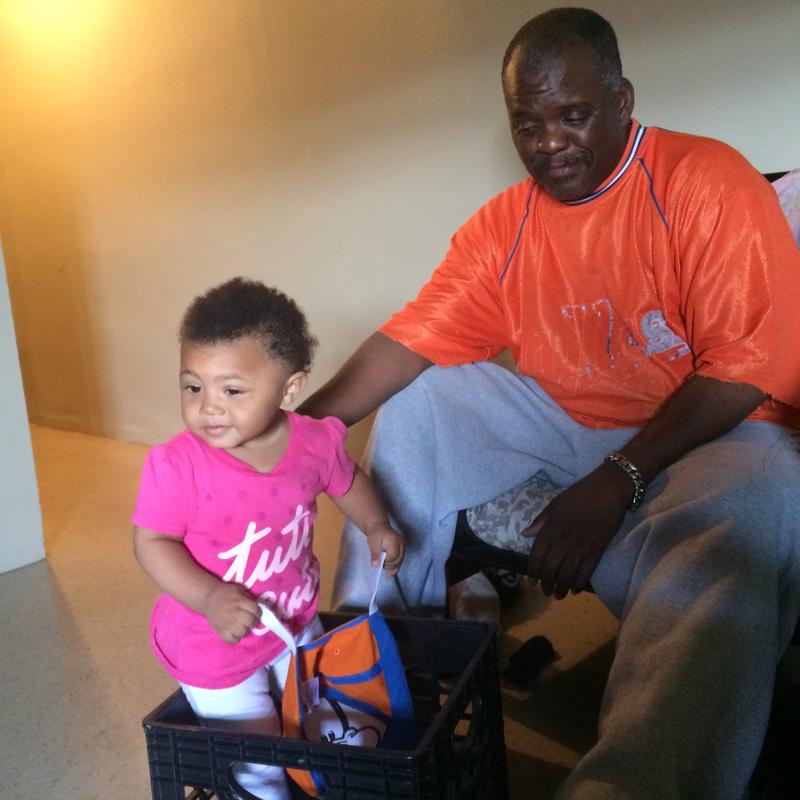 On a recent Thursday, David Dukes was balancing his 1-year-old daughter Ovenia on his knee, feeding vanilla wafers to his 2-year-old Aliana and teasing David Jr., 5, about getting pliers to take out one of his teeth.
"This is all day," said Dukes, 53, referring to the balancing act of raising three young children on his own.
A few years ago, a Family Court judge found that the children's mother — Dukes's ex-girlfriend — had physically abused Aliana. The mother didn't accept drug treatment and other services, so she faced new charges when Ovenia was born last year. 
The two thousand babies in the city's family courts are in a particularly vulnerable position, with parents accused of abusing or neglecting them at a critical time in their development.
Ovenia ended up in the courtroom of Judge Sarah Cooper in the Bronx — and a new program called Strong Starts. It's a program for 0-to-3-year-olds that tries to make sure their time in court improves their chances for a better future.
"We approach these cases very differently," Cooper told WNYC. "Babies are brought to conferences, babies are brought to court, babies are really the centerpiece of what we're doing."
Dukes said the program made things easier for him when the mother stopped showing up in court and he wanted sole custody of Ovenia.
"I had somebody else on my side, which was Kiran," he said.
Kiran Malpe is the program's social worker. She found a person to help Dukes around the house and a clinic for Ovenia that accepted their insurance. She helped with Duke's transportation costs when he went to a parenting group. In family court, a place known for perpetual delays, Dukes had monthly conferences with Malpe and monthly hearings with Judge Cooper. Within 10 months, he got sole custody.
"That's a good program at the court," Dukes said. "It made everything go faster and smoother."
It was an easy case — Dukes left the impression of a caring, engaged father. But on the eighth floor of the Bronx courthouse, in an office filled with trucks, puppets and sensory balls, Malpe said most Strong Starts families face tougher challenges.
"I call it the trifecta," she said. "The most complex families have some level of possibly domestic violence … mental health and substance abuse."
Small children's brains develop rapidly, and growing up in that kind of environment can have long-lasting consequences. So can being removed from a parent — something that happens to babies more than older children.
But that understanding often gets lost in the adversarial setting of a courtroom. Judge Cooper said Strong Starts is designed to minimize these disruptions and give parents and babies the tools they need to stay together.
"The real goal was to try to bring the science into the courtroom and to really try to give the attention that was needed to these cases in a way that was very different from how we ordinarily hear cases," Cooper said.
Around 20 families have participated so far. The Dukes family is the first one to complete the program. Strong Starts is funded by the court system and private foundations, at a cost of $150,000 per borough.
It builds on models that exist in Florida, Louisiana and Mississippi, where some evidence suggests cases are being closed faster and more babies are reunified with parents. Judge Cooper says it gives her hope the program will help address one of the most devastating things she sees: parents accused of abuse and neglect who have been in her courtroom before — as children who faced abuse and neglect.
"There is a generational aspect to this that is very frustrating and incredibly sad," Cooper said. "This was an effort to really get at the heart of where that begins. The logical place to start is at the very beginning of life."
But Jane Spinak, a professor at Columbia Law School who has practiced and taught about child welfare for the past 35 years, said it would be better to offer enhanced services on a voluntary basis in the communities where parents live.
"It means that the families do not have to go through the court system, which has not proven to be effective in helping most families," she said.
Twenty more families will get a chance to become part of Strong Starts in the Bronx in the coming months, and the court system is planning to expand it to Queens.
David Dukes is no longer involved with the family court and plans on keeping it that way for Ovenia's sake.
"She's just too smart for her own age," Dukes said. "Now she's walking around holding onto the wall, laughing at me, screaming, waking me up."