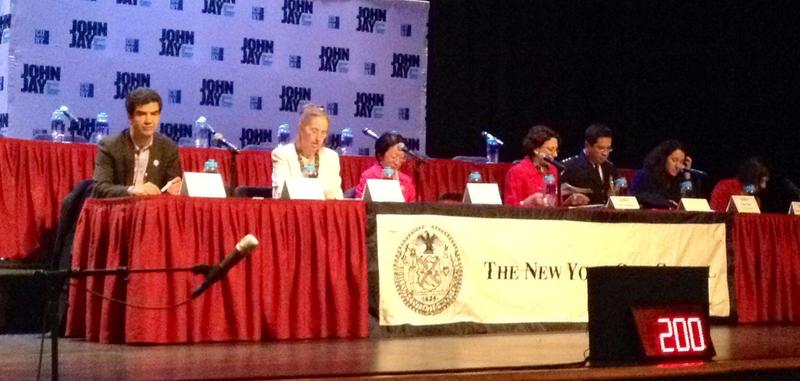 At a recent "Vision Zero" town hall, city legislators and officials talked about efforts to reduce traffic fatalities — and fielded ideas on street safety from members of the public.
Chelsea resident Gary Roth told the packed auditorium at John Jay College that he often felt bullied by cars when trying to cross the street. "There needs to be 'broken windows' for vehicles," he said. "These are repeat offenders. They don't do it one time." 
Nearly an hour of public testimony later, NYC DOT Commissioner Polly Trottenberg said she and Thomas Chan — the chief of the NYPD's Traffic Division — were already on it.
"Chief Chan and I — our teams actually met today with George Kelling, the man who wrote the original 'Broken Windows' article and worked with Commissioner Bratton in his first stint and is working with him now," Trottenberg told the audience. "We're going to search for all kinds of creative ideas."
Kelling, a Rutgers University professor, wrote an article in 1982 on the importance of stopping smaller crimes like vandalism and fare-beating before they become larger ones.
At the Vision Zero town hall, Chan gave an example of how that's playing out in the NYPD's ticketing efforts. "The areas we are going to specifically target, and we feel that will affect the reduction in injuries and fatalities, are going to be the speeding summonses, failure to yield to pedestrians, disobeying signal lights, improper turns, disobeying signs, and also utilizing cell phones and texting while operating a motor vehicle," he said.
(As WNYC reported earlier this month, ticketing for moving violations is up citywide.)
That tracks with Kelling's take. Last November, he participated in a Vision Zero panel discussion with the once-and-soon-to-be-again NYPD commissioner Bill Bratton.
"If you want to deal with a problem," Kelling told the audience, "you got to get the problem right."
He added: "Bad driving is a crime, and we can identify places and people who are chronically bad drivers. It's important then not just to focus on location, but to focus on...behavior. Bad drivers are bad in a lot of ways."
Paul Steely White, the head of Transportation Alternatives, said that's key to traffic enforcement. "People think that speeding and running a red light is a really small thing," he said, "but they can lead to big tragedies if they go unstopped."