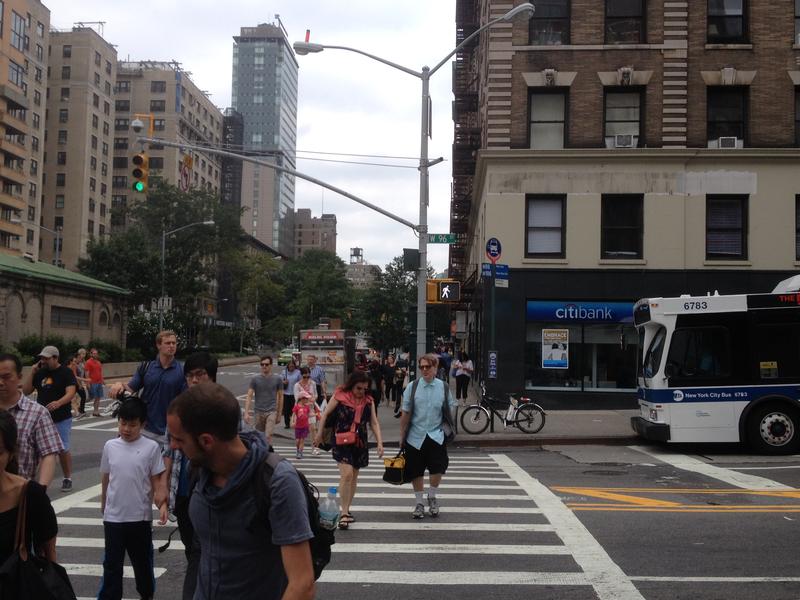 Starting Monday, traffic should be moving slower on Broadway, from Columbus Circle to West 220th Street, where the new speed limit is 25 miles per hour instead of 30.
Chauntele Robinson, who lives on Broadway in West Harlem, said she understands pedestrian deaths are driving this change. But she thinks the new speed limit will lead to traffic jams and delays.
"It's not fair that we all get punished," she said. "You should keep it 30. 30 is not fast at all. Period."
Broadway is one of twenty-seven 25 mph zones the Department of Transportation is creating this year. The initiative is part of Mayor de Blasio's "Vision Zero" program that aims to eliminate traffic fatalities. Other areas where speed will be lowered include Houston Street in lower Manhattan and Flatbush Avenue in Brooklyn.
Curtis Townsend, who lives on the Upper West side, said he supports the lower speed limit.
"I think it's a good thing," he said. "Take your time. You're gonna get where you're going. Take it easy and think about the pedestrians."
The slowed-down stretch of Broadway will include the area around West 95th and West 96th street, where there have been four traffic deaths within a two-block radius there this year.
But some like Susan Winston, who lives on the Upper West Side, say they are not sure this speed limit will make much difference.
"People are gonna walk pretty much the way they walk anyway and a five-mile decrease in the speed limit may or may not affect that," she said.
The new speed limit may soon become the norm. The State Legislature passed a bill in June that lowers it to 25mph in New York City. It is currently awaiting Governor Cuomo's signature.

With the Associated Press
Correction: This article was updated to correct the following error. The DOT is creating 27 slow zones, not 14.