Studio 360
Bringing Female Heroes to the LEGO Universe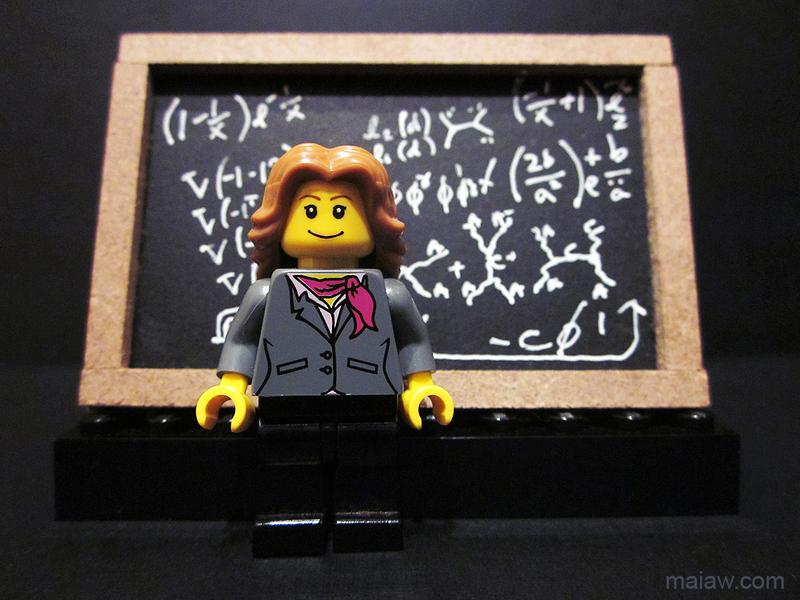 The LEGO brick as we know it was released in 1958. But it wasn't until 20 years later that the company made its first minifigure, or "minifig." It was a little modular man with a yellow face: just two dots for eyes and a black curve for a smile. But the humble minifigure populated the LEGO world and gave it heart. It was a very smart move. LEGO has since made a fortune creating Star Wars and Harry Potter sets. There are now hundreds of different minifigures.
But one thing has not changed. It's truly a man's world when it comes to LEGOs. Very few minifigures are female — and they're often relegated to being sidekicks. Maia Weinstock is hoping to change that. She's a LEGO provocateur, rearranging these stock minifig parts to challenge the company to create more options for girls.
Weinstock, who works as a science journalist, was particularly frustrated that LEGO had no female scientist minifigs (over the years, LEGO did make a female astronaut and surgeon, but no lab scientists). But unlike, say, Barbie or G.I. Joe, LEGO makes it possible for you to create your own. And that's where Weinstock saw her opportunity. She began to work on her own line of minifigs, based on living female scientists (and some male scientists as well). "Most people can't name a living scientist at all," she says. "So this would be a way to give them a platform of being awesome superheroes."
Her inaugural custom minifig was of planetary scientist Carolyn Porco. She was part of the Voyager mission and currently leads the Cassini imaging team, helping beam to earth the most vivid photographs of Saturn ever made. Weinstock has now done dozens of other scientist minifigs. She creates props for each one, takes a photo, and posts it on Twitter. Her photographs have a cult following. Although she's critical of the LEGO company, there's another way to look at it — she's helping the company identify a new market.
In the last couple months, Weinstock has taken on a new challenge. She's created minifigures of all four female Supreme Court justices and built a LEGO version of the court itself. And in April, Weinstock gave the set to Justice O'Connor at an event for her organization iCivics.
Weinstock isn't done pushing LEGO to change. She's put the Supreme Court set on the company's crowdsourcing site "LEGO Ideas." LEGO wouldn't allow the actual Supreme Court justices, so it's been renamed the "Legal Justice Team." If she gets 10,000 votes, LEGO will consider creating and selling it as on official set.
Music Playlist
Zulie

Artist: Julian Kasper Band

Album: New Imperial

Label: Nugene Records

Social Lego

Artist: C418

Album: One

Metal on Metal

Artist: Kraftwerk

Album: Trans-Europe Express

Label: Capitol

Metropolis

Artist: Kraftwerk

Album: The Man Machine

Label: Capitol

The Model

Artist: Kraftwerk

Album: The Man Machine

Label: Capitol