Disgraced Christie Aide Goes Before Court and Cameras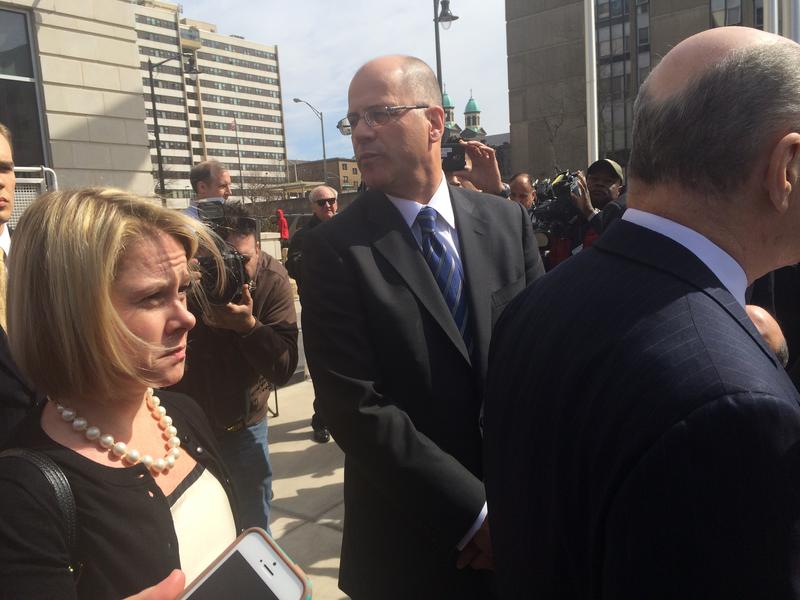 Bridget Ann Kelly, the former Gov. Chris Christie aide made famous for her "time for some traffic problems in Fort Lee" email, looked distraught as she watched her attorney argue that she should not have to turn over documents subpoenaed by a legislative investigative committee.
After a three-hour hearing, attorney Michael Critchley brought Kelly out to a crush of reporters and photographers. He instructed her not to speak and declared her innocence to a bank of microphones, refusing to even concede that she sent the "traffic problems" email.
And then he went for the heart strings.
"She's a 42-year-old single mom with four children trying to make due in a difficult time. She's unemployed doing her best to try to seek unemployment," Critchley said. "I don't know if I should say this, but if anyone needs someone to work give me a call, because I have an excellent employee." 
Critchley and an attorney for Bill Stepien, Christie's former campaign manager, were at court to fight subpoenas from the New Jersey Legislature's special investigative committee that seek a range of correspondence and other documents. The main thrust of the attorneys' argument is that the Fifth Amendment of the Constitution protects them from self-incrimination. "Pleading the Fifth" is commonly used in reference to oral testimony, but the lawyers said the very act of deciding which documents comply with the subpoena is "tesimonial," and therefore protected under the Constitution.
An attorney for the legislative committee countered that Kelly and Stepien are all over bridgegate documents that have been released — and are also mentioned in more documents in the committee's possession that had never before been publicly acknowledged. Attorney Reid Schar said that means they have more information about the scheme, and any argument over privacy is a fallacy because the aides were doing work that affected the public on the public's dime. 
The Democrats who control the investigative committee want to know this: Did someone contact Kelly before she sent the August 2013 email demanding the September lane closures, and was Christie potentially involved?
But because there is a federal investigation into the matter, lawyers for Stepien and Kelly said any information they provide could end up implicating them in a federal crime. And that's something the Constitution says Americans cannot do.
"Don't blame me," Crictchley said, "blame James Madison."
Mercer County Superior Court Judge Mary Jacobson asked many questions during the three-hour hearing. Her decision on whether to quash the subpoenas isn't expected for weeks, and even then the matter could be appealed to a higher court.