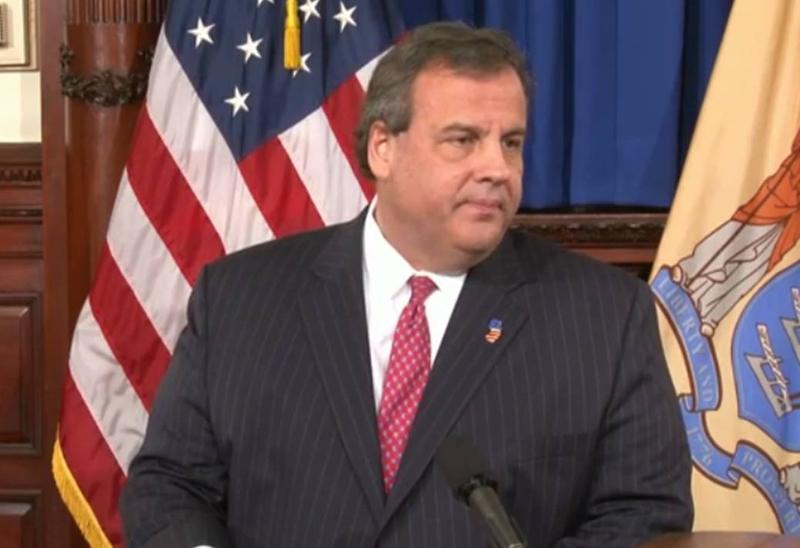 Chris Christie says he "did not understand the true nature of the problem" surrounding a recent George Washington Bridge traffic snarl. Texts and emails released Wednesday detail top Christie aides appearing to plan a traffic disruption as payback to the Fort Lee mayor, who didn't cross party lines to endorse the governor for reelection. Saying he was "blindsided" by the content of the emails, Christie announced the firing of deputy chief of staff Bridget Anne Kelly and that top adviser Bill Stepian has been asked to leave the GOP leadership, while reiterating that he is still "responsible for what happens under my watch." Saying "this is not the tone I've set up over the last four years," Christie responded to questions from the press about his reputation as a bully that "politics ain't bean-bag." But he emphasized that the behavior of his staff went beyond "the tone that we've set here."
Christie traveled to Fort Lee later in the day to apologize in person to Mayor Mark Sokolich. While Sokolich accepted Christie's public apology, he urged the governor to delay his visit, saying he suspects the whole story has yet to come out. He said the governor's office was tainted by "venomous, petty" politics.
An email message to the central figure in the fray surrounding the closure of traffic lanes to the George Washington Bridge links a top aide to Governor Chris Christie to the growing scandal. "Time for some traffic problems in Fort Lee," wrote Christie Aide Bridget Anne Kelly.
See The PDF of Emails and Texts Here
Providing his timeline of events, Christie says he gave his staff a chance about a month ago to admit their involvement in the scandal, but that they denied it. He now says "he never would have joked" about the story had he been told the truth. Christie admitted that, in previous press conferences, he'd lied, but that he'd done so "unwittingly."
The New York Times reported Thursday that the US Attorney in New Jersey is opening an inquiry into the bridge closing. On this morning's Brian Lehrer show,  Barbara Buono, New Jersey State Senator and Christie's opponent in last year's Governor's race, said that the idea that Christie did not know his staff was involved "strains credulity." Calling for federal oversight, Buono demanded that "people need to be put under oath." Christie says he will conduct interviews with senior staff to gain more information about the closing.
---
---
---
Christie opponent Barbara Buono's first words on show: "I told you so." http://t.co/oM0y5Qurwq

— Brian Lehrer Show (@BrianLehrer) January 9, 2014
Christie says he's asking himself "What did I do wrong to make these folks think it was okay to lie to me." http://t.co/oM0y5Qurwq

— Brian Lehrer Show (@BrianLehrer) January 9, 2014
Christie claims he gave staff a chance to admit involvement and they denied it. Now says he will conduct interviews with senior staff.

— Brian Lehrer Show (@BrianLehrer) January 9, 2014
Christie says he "has not had a conversation with Bridget Kelly" since emails and that he's "not interested" in her rationale right now.

— Brian Lehrer Show (@BrianLehrer) January 9, 2014
.@daveweigel points out that next steps in this case will take place within NJ, and that "nothing we heard is going to change that."

— Brian Lehrer Show (@BrianLehrer) January 9, 2014
Our @NancySolomon2 says she's having a hard time wrapping her head around "how huge and yet how petty" this scandal is.

— Brian Lehrer Show (@BrianLehrer) January 9, 2014