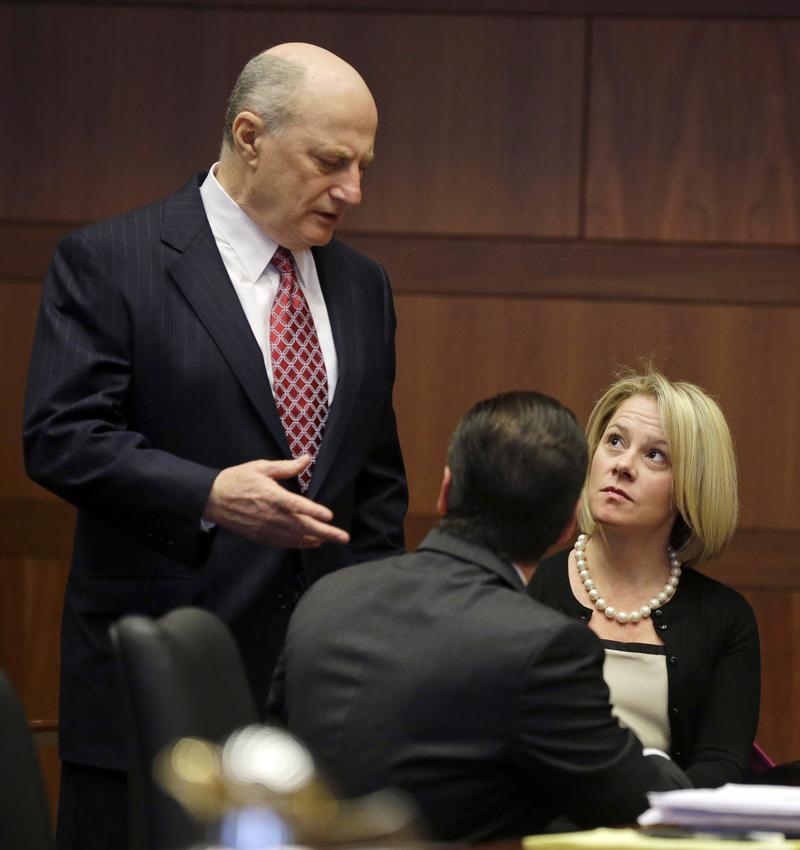 In the first major court battle of what could be many in the Bridgegate saga, two former aides to New Jersey Gov. Chris Christie are fighting Democratic attempts to subpoena their documents in Mercer County Superior Court Tuesday.
The state legislature's special investigative committee on Bridgegate wants emails and other documents from Bridget Kelly, Christie's aide who declared it was time for some traffic problems in Fort Lee, and from Bill Stepien, the two-time Christie campaign manager who made disparaging remarks about the mayor of Fort Lee.
Their lawyers, though, are refusing — by pleading the fifth. That is a well-known maneuver in courtrooms when witnesses refuse to testify by using the U.S. Constitution's Fifth Amendment protection against self-incrimination.
But lawyers can also seek to apply that argument to documents, explains Dennis Braithwaite, a former state appellate court judge and Rutgers-Camden law professor.
"What they're saying is that by turning over these documents that they are in fact testifying in a way that could be incriminating to them," Braithwaite said. The very act of handing in the documents, they will argue, is "testimonial."
Attorneys for the Legislature are arguing Tuesday that such an interpretation restricts government's investigatory power.
Kelly is at the hearing, but Stepien is not.
"It will take me a while to review...decision...as soon as possible." - judge at #BridgegateHearing @wnyc

— Matt Katz (@mattkatz00) March 11, 2014
News: Dems lawyer reveals that they have more Bridgegate-related emails involving Kelly & Stepien. #BridgegateHearing @wnyc

— Matt Katz (@mattkatz00) March 11, 2014
JUDGE:"What message would I be sending...that there's discretion to destroy docs?" ATTY:"Ur job is not to send messages." #BridgegateHearing

— Matt Katz (@mattkatz00) March 11, 2014
Witnesses have to "guess" what emails, records Dems want, says ex-Christie aide attormey. But Dems say it's specific: LANE CLOSURES. @WNYC

— Matt Katz (@mattkatz00) March 11, 2014
To be eligible to be subpoenaed, courts have ruled that it must be DEFINITE that docs exist, @GovChristie ex-campaign aide lawyer says.@WNYC

— Matt Katz (@mattkatz00) March 11, 2014
Atty for ex-Christie campaign manager: Wouldn't turning over docs "possibly furnish a link in the chain of evidence...to incriminate him?"

— Matt Katz (@mattkatz00) March 11, 2014
Atty: "We think we have right to everything" that Stepien & Kelly have" re: lane closures. Handwritten notes, etc. #BridgegateHearing @WNYC

— Matt Katz (@mattkatz00) March 11, 2014
#BridgegateHearing issue over "fishing expedition"/"It cannot be that the rule is u subpoena docs that you absolutely know exist."- Dem atty

— Matt Katz (@mattkatz00) March 11, 2014
Does Pleading the 5th Amendment apply to documents? Central #BridgegateHearing question. @WNYC http://t.co/ZtSMDrIayD

— Matt Katz (@mattkatz00) March 11, 2014
Buzz in courtroom at #BridgegateHearing is why Bridget Kelly showed up to watch lawyer argue against releasing docs. No Bill Stepien. @WNYC

— Matt Katz (@mattkatz00) March 11, 2014