From Brian: Five Things About Appearing on The Colbert Report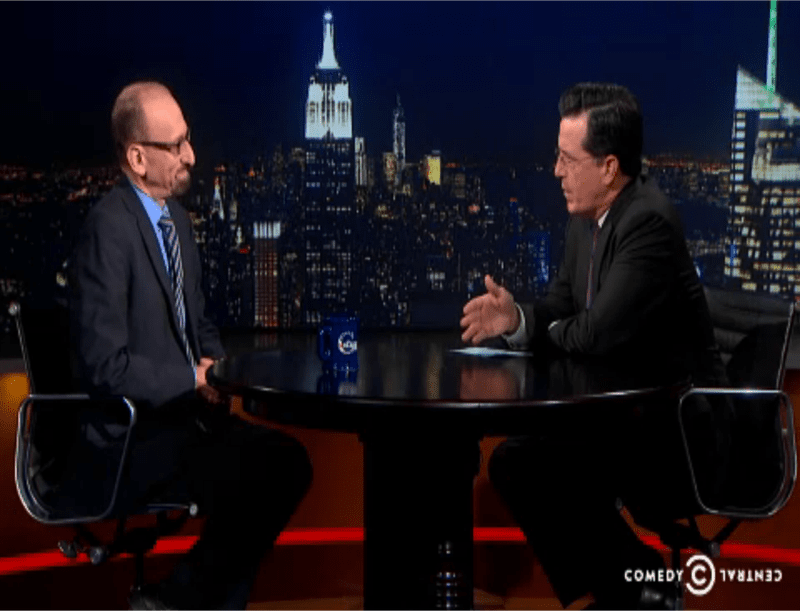 On Wednesday night, Brian was invited to the Colbert Report to speak with Stephen about the New York City mayor's race and more. A few of Brian's takeaways:
The entire staff is gracious and professional. Some are even listeners!
They pre-interviewed me on the day before, which I guess helps Stephen and the producers write jokes. 
Stephen himself was very nice, touching base with me out of character before the taping.
It's a real trick to be a guest on that show, because you're there to deliver some kind of real information or opinion, but wrapped in the context of talking to the fake blowhard character.
The best advice I got from his producers was to talk to him like he was some rich drunk idiot at a bar.
Below is video of the appearance, and a few behind-the-scenes pictures taken by the BL Show staff, who also got to attend the taping.
Brian's Note in the Guest Book (Dr J Was On The Day Before)
Art in the Green Room
The Spread in the Green Room
Green room sneak peek: Brian and @stephenathome Airs tonight! pic.twitter.com/jeDOgz5trf

— Brian Lehrer Show (@BrianLehrer) November 7, 2013