On The Media
Breaking News Consumer's Handbook: Bearing Witness Edition
Summary
As another disturbing video of police action goes viral, we provide a handbook for filming police encounters as a bystander. Brooke speaks with journalist Carlos Miller of Photography is Not A Crime, former police officer and current law professor Seth Stoughton, and Jennifer Carnig, communications director for the New York Civil Liberties Union.
Find the ACLU's apps for recording police action here. 
Songs:
Ornette Coleman: Croydon Ballad, Sleep Talkin'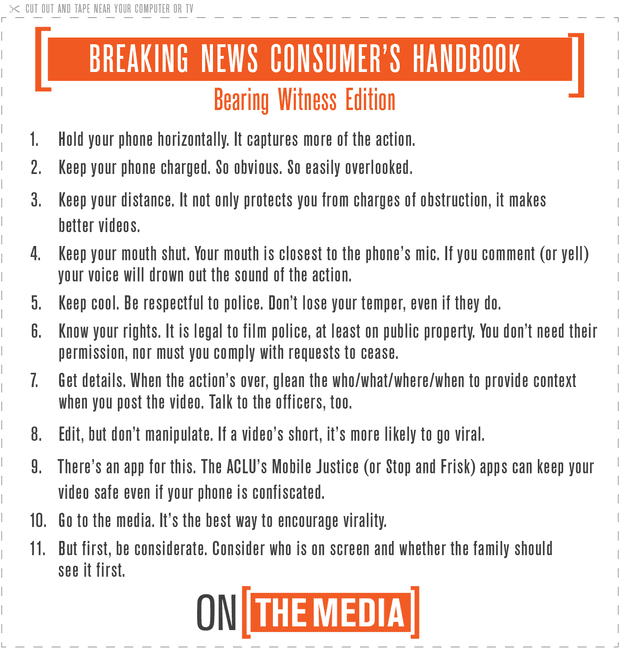 Transcript
BROOKE: And I'm Brooke Gladstone. With all the horror that accompanies the recent stream of videos of deadly police encounters, there is a bit of light. And that is that most of us who could not see, or would not see what's going on, are watching now. And that's making a difference.
On Monday, a South Carolina police was indicted for the murder of Walter Scott.
[CLIP]
ANCHOR: Michael Slager was arrested in April for shooting and killing Walter Scott, an unarmed Black man, after a routine traffic stop.
ANCHOR 2: It was all caught on cell phone video...
BROOKE: On Tuesday, Texas police officer Eric Casebolt, who last weekend assaulted one teen and pointed his gun at others at gated community pool, quit the force.
[CLIP]
ANCHOR. In a video that went viral, he was seen throwing a Black teenage girl to the ground, and pointing his gun at other Black youths.
BROOKE: On Thursday, a Cleveland judge finds probable cause to charge officers in the shooting death of a 12-year-old with a pellet gun.
[CLIP]
ANCHOR: Judge Ronald Adrian said in his 10-page ruling that the video is notorious and hard to watch. After viewing it several times, he said he's still thunderstruck by how quickly this event turned deadly.
BROOKE: Also Thursday, a grand jury indicted a Norwalk policeman in the death of a mentally-ill man holding a knife in his doorway. There was no video, but one could reasonably argue that those other videos, all those gut-wrenching videos, may have made a difference there.
I watched some videos Thursday. The pool party tape. A man hammered by police batons in Salinas on June 5th, Walter Scott gunned down on the run in April, a homeless man shot by LA police on Skid Row in March. Then I went back and I watched the death of Oscar Grant in San Francisco's Fruitvale Station in 2009. And the beating of Rodney King in 1991.
Even though I'd been reporting on these videos for years, I'd only watched snippets, through splayed fingers. For this piece, I really had to look. Because this is a Breaking News Consumers Handbook, on how to make a video, like that.
MILLER: The number one rule is: learn to hold the camera. It boils down to holding the camera in a horizontal manner. Just turn the phone sideways because then you'll record video in landscape mode.
BROOKE: Journalist Carlos Miller founded the blog "Photography is Not a Crime," in 2007 to document his own trial for filming police while on assignment. Now it's a news site focusing on the right to record police misconduct nationwide.
MILLER: Learn how to edit videos. Because a lot of times people put videos up that are 15 minutes long, and you're seeing the sky, sidewalk, trees...then suddenly, maybe 13 minutes into the video, the main thing happens. So why not just delete those first 13 minutes if it's not really moving the story forward. The shorter the video, the more viral it will go.
BROOKE: More important, keep your cell phone charged. And most important...
MILLER: Keep your mouth shut. I say that because I've seen so many videos over the years where people are recording an incident of police abuse, and the person who is recording, they're outraged and they're angry. And what happens is their mouth is very close to the microphone. So when we're looking at this video all we do is hear this person screaming and yelling, and we can't hear what's actually going on with the incident.
STOUGHTON: Ideally, a civilian recording the police officer should be a fly on the wall. Certainly present, but not particularly noticeable.
BROOKE: Seth Stoughton was a Tallahassee policeman for five years, now he teaches at the University of South Carolina School of Law.
STOUGHTON: This is to the benefit not just of the officer who can handle the scene, do his job, or her job, the way they feel it needs to be done at the moment, but also to the benefit of the civilian who is doing the recording. The less intrusive they are, the better recording will be. And also the better their personal outcome will be. They're unlikely to be approached, accosted or arrested by an officer.
BROOKE: Because officers have the right to tell you to back away if you obstruct them. They also have the right to eject you from private property, like a mall. You could even be arrested. Plus, a little distance improves the evidence. A prime example, says Stoughton, is that indicting video of the death of Walter Scott.
STOUGHTON: It was far enough away from the event that viewers could get some idea about what the entire scene looked like. They could tell that there was no crowd around, for example.... no imminent threat to the public. A very close shot wouldn't have captured that information. It was close enough that we could hear the audio, not all of the audio. I would have loved to hear for example what the officers were talking about as they somewhat halfheartedly tended to Walter Scott as he lay on the ground after the shooting, but it captured the most relevant portions of the audio.
BROOKE: Something I should have established earlier: it is legal to film police interactions, is it not?
STOUGHTON: Yes. Every appellate court that I'm aware of at the state or federal level has indicated that there is a first amendment right to film police interactions in public. So it is legal. With some limits. There are certain activities that someone will not be able to film.
BROOKE: But interactions with the public..
STOUGHTON: A traffic stop, a pedestrian stop, a stop and frisk. Those sort of normal interactions, yes, are subject to filming.
BROOKE: What do you say to a police officer who tells you to stop when you are legally and not obstructively filming their interactions?
STOUGHTON: It's a situation that I think calls for significant caution. I would urge people to be aware not just of their right to film, but also any relevant case law, that is the name of the case that allows them to film in their jurisdiction. For example if I'm in Michigan, it's awfully nice if I can say, officer, I appreciate that and I will respect your authority and stay at a safe distance, but the case X versus Y gives me the right to film you in public.
CARNIG: I'm sure that's great advice, it also is really frustrating to hear that kind of thing because you shouldn't have to be able to cite case law to be able to do something that is protected by the First Amendment of the United States.
BROOKE: Jennifer Carnig is communications director for the New York Civil Liberties Union, which has developed an app that's now being used by affiliates nationally, to safeguard civilian video.
CARNIG: It will film whatever you are pointing your phone toward, and then when you stop recording, the video goes directly to us so that's one of the cool things about it is, it's then impossible for somebody, or a police officer, to take your phone and delete the video because it's already going to be with us, so you kind of have a back-up.
BROOKE: So just by stopping it or do you have to give it a shake?
CARNIG: Depends what you're using, if you have an Android phone, you just shake your phone and that stops it and it sends it to us. If you have an iPhone you actually have to go in and hit the stop recording button. But the video, as soon as you stop recording, comes to us automatically.
BROOKE: She says they received tens of thousand of submissions, none so far actionable, but that's not the point. The point is to open the eyes of people unfamiliar with policing in Black and Latino neighborhoods. To show that stop and frisk is not a polite encounter, that it may involve being manhandled, thrown against a wall.
CARNIG: It forces people to actually have to confront this idea that people that are supposed to protect and serve us, don't always do that.
STOUGHTON: The value of videotaping police is not just holding officers accountable for misconduct, although that is certainly important. It also gives us an opportunity to record officers doing a good job
BROOKE: And Seth Stoughton cites that infamous video of that officer run amok at the Texas pool party.
STOUGHTON: About second 50 we see a police officer who's interacting with a group of young Black men very calmly. He is listening and engaged with them as they try to tell him who was or was not involved in an incident earlier. And he responds to their concerns by saying okay well they're free to go….. it's a very professional, positive interaction. Having that on film is useful because it gives us a contrast to the actions of the other officer.
BROOKE: You know, as somebody who just follows this kind of thing in the media, I get the impression that no policeman ever wants to be filmed, and will always object. Tell me I'm wrong.
STOUGHTON: I would like to...I can't think of too many people who do like being filmed when they're at work.There are certainly officers though who have recognized that they are not just representatives of their agency but really representatives of the law, of government generally. I'm not saying that they should all be eager to be videotaped, but I don't think they should shy away from it or be defensive. If they want to inform people about what good policing is, then they should certainly be willing if not embrace the opportunity to do it on camera.
BROOKE: Hell, I wouldn't want to be filmed at work. Who would? But if you're a cop, increasingly it comes with the territory. And he's right about their being representatives of the law. Because ultimately that's what those lenses are fixed--on the cops, the courts, the judges, the whole justice system. They're all being filmed at work. Because the stakes are immeasurable, and the camera never blinks.
You can find the ACLU apps and our Breaking News Consumer Handbook: Bearing Witness edition on our website, on the media dot org.