Breaking Barriers in Brooklyn, from Jackie Robinson to Jason Collins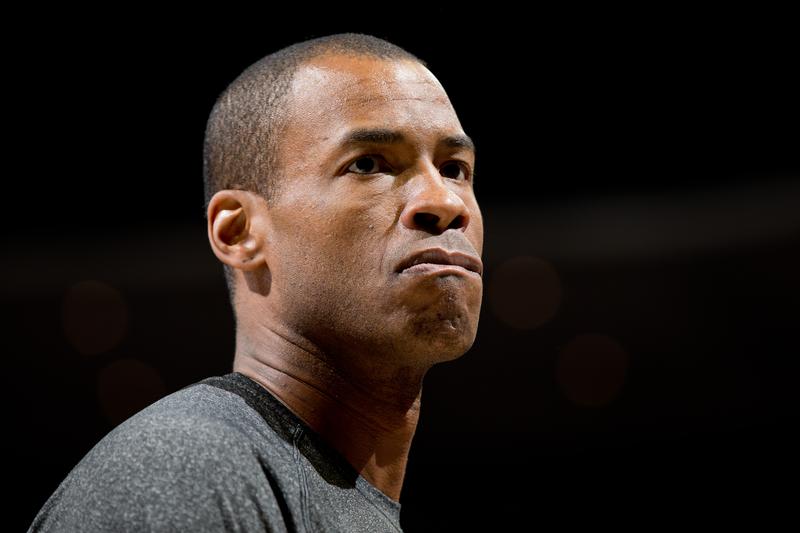 Jason Collins, the first openly gay NBA player, is being cheered by Brooklyn Nets fans who expect him to sign another 10-day contract—and some are comparing him to another barrier-breaking Brooklyn athlete: Jackie Robinson.
The backup center may be in the twilight of his career, but he's been in the spotlight ever since coming out in an article in Sports Illustrated last spring. He received a standing ovation at the Barclay's Center Monday night, his first home game since signing with the Nets, even though he only played for the last two minutes and 41 seconds. LGBT civil rights activists say he is paving the way for other gay athletes.
At Modells Sporting Goods, across the street from the Barclay's Center, Collins mania is evident. Employee Nelly DeLos Angelos said Collins T-shirts have been flying off the shelf.
"We got them in today, and so far, we've sold maybe all of them, almost all of them," she said.
Collins wears number 98, in honor of Matthew Shepard, who was murdered in Wyoming in an anti-gay attack in 1998. The NBA plans to donate proceeds from his jersey sales to the Matthew Shepard Foundation and the Gay, Lesbian & Straight Education Network.
But just like Robinson, Collins wants to be known first and foremost as a ball player.
"It's about being an athlete, it's about going out there and winning and competing and playing hard," Collins said after his first game with the Nets on Feb. 24.
Baseball historian Lee Lowenfish, who wrote a book about Branch Rickey, the Major League Baseball executive who signed Jackie Robinson to the Dodgers, thinks that Brooklyn was the right place for Robinson in 1947, and it's the right place for Collins now.
"[Brooklyn] was diverse in [the] 1940s too, and that's why Branch Rickey brought up Robinson, because he felt that would be the best place for a black player to be accepted," Lowenfish said.
But Brooklyn Borough Historian Ron Schweiger says there's a big difference between Collins and Robinson: though both have been respected in Brooklyn, Collins is having an easier time with the national audience than Robinson did.
"When Jackie played in other cities, especially Cincinnati, St. Louis, believe it or not Philadelphia, there was outright hostility toward him," Schweiger said.
The Barclay's Center itself is another historical link between the two athletes. The arena is at the corner of Flatbush and Atlantic avenues, across the street from where Jackie Robinson would have played if Brooklyn Dodger's owner Walter O'Malley had gotten his way. A new Ebbets Field would've stood where the Atlantic Center Mall is now, according to Normal Oder, author of The Atlantic Yards Report. 
Correction March 18, 2014: This article has been changed to remove the implication that the Barclays Center was built where Ebbets Field would've been, rather than across the street, as historic blueprints show.